Katy Barrett, Curator of Art, talks about the work she did for our latest exhibition Unseen: Lives of Looking. 
If you've been to the Queen's House recently, you'll have noticed something different about the Great Hall. The entrance way to the North West Parlour is lit by a red light and there's intriguing music and dialogue emanating from the room. This is the major feature of our latest contemporary art show Unseen: The Lives of Looking by Dryden Goodwin.
A visitor examines one of the displays within the exhibition
For the show, Goodwin has created his first feature-length film, which looks at the different processes of intensive looking and recording required by three modern individuals in their working lives: an eye surgeon, a planetary explorer and a human rights lawyer. He combines live action with filmed sequences of him drawing. It is portraiture, but an expanded form, in an immersive and mesmerising film, which gets you thinking about how we look, and what we do and don't choose to see. Goodwin frames both his film and his shots so that you never quite see the whole picture and you focus on different details. The three individuals' lives are framed by his observations of London, of the passing lives of strangers, and of his father and son. It's both panoramic and minute in scale and thoroughly beautiful.
The process of working on an exhibition that includes a digital element has been a new one for me. I too have had to work with both panoramic and minute scales of looking and recording. Turning a historic space like a parlour in the Queen's House into a projection room is quite a project. We've added a new entrance wall to help control light and sound both into and out of the space, we've added light absorbing and sound-deadening materials to the walls and floor, and we've installed a specially-made screen to show the film in all its beauty.
We've also, of course, added seating, and this has a nice little story of its own. The three benches in the space are rather special. They're three of eight benches that came to the museum from the Old Royal Naval College. They used to be used in the Painted Hall, where the Greenwich Hospital Collection paintings were hung. It's nice to think that there's a continuity between the visitors who came to see some of the museum's most iconic paintings there in the 19th-century, and the process of watching Goodwin's film today. Looking has long been a central story to the history of Greenwich, and these benches have seen it in action.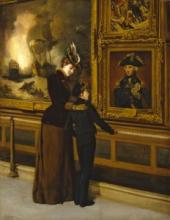 Our portrait of Nelson by Lemuel Abbott when it was displayed in the Old Royal Naval College