I'm a single mum of two very cheeky children. Being a mum is the hardest but bestest job in the world; it makes marathon running seem easy in comparison!
'Mummy can you try and win the gold medal please?'
 My "real" job is working in communications for the National Railway Museum in York. I've worked with the trains for seven years now, and although I'm not a spotter I absolutely love the ethos of the museum and the way it connects generations; bringing together families and friends for a fantastic engaging experience. I love how museums like the Railway Museum and Cutty Sark bring history to life and I'm really excited to be swapping trains for ships on 26 April.
Me working hard (as a train announcer - my favourite exhibit at work!)
I've always enjoyed running, but the 100m sprint was more my thing at school. Back then I wasn't a fan of long-distance running, especially cross-country; running around endless muddy fields in the freezing cold, trying to work out if there were any shortcuts! But after having my children I found running a great way to clear my head, keep strong and stay healthy. Those endorphins work wonders! Most of my Saturdays are spent with my little ones visiting museums and heritage attractions. We're very lucky that Yorkshire is full of them! And every Sunday, when the kids are with their father, I run. I started running shortly after my marriage sadly broke down last year. I was really worried I'd sink into a dark place, but thankfully amazing friends, family and running - LOTS of running - saved me. It might sound a bit of a cliché, but it's true.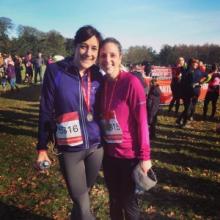 Conquering a very hilly and muddy half marathon.
Sundays to me are all about valuable family time, trips to the park, roast dinners and making a mess with glue and glitter, so not getting to spend them with my kids felt very lonely. That's why I decided to run a marathon - as you do! I joined a local amateur running group to help me stay focussed and I haven't looked back since. It's brilliant; we are all ages, shapes, sizes and abilities and we support each other 100%. They helped me complete the York marathon in a very respectable four hours last October. We meet every Sunday morning at 8am for a long run, good gossip and lots of jelly baby pit stops around the city! I've made some amazing friends, who are supportive and definitely entertain and distract me during an 18 mile run; whether we're gossiping about hamsters on leads or discussing our ideal breakfast locations (food seems to be a very popular topic of conversation).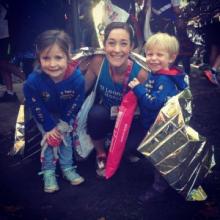 My monkeys and me after the York marathon.
I still feel like I'm riding the biggest, scariest rollercoaster (and I HATE rides!), but feel stronger and braver to cope with life than ever before. I've grown up watching the London marathon - we're actually the same age - and vowed to do it one day. I can't believe that day is actually going to happen… very soon! Just one small problem: after bedtime story the other night my five year old daughter Millie asked me: 'Mummy can you try and win the gold medal please?' No pressure then! 
By Dawn Theaker