It being Father's Day today, I thought it would be a good moment to talk about a paternal quirk of the longitude story. In preparing our now imminent exhibition, Ships, Clocks & Stars, I've been struck by the number of historically significant father-son relationships in the Board of Longitude's dealings, particularly around the development of marine timekeepers. It's not something we'll have space to go on about much in the exhibition itself, so I thought a post was in order.
Given that an important part of the story is about manufacturing, it's not a huge surprise that families loom large. After all, passing skills and  businesses down the line from parent to child was common in artisanal trades of all sorts - clock-, watch- and instrument-making included. What's struck me as significant in the longitude story - and in particular the horological part of it - is the number of what one might call 'proud' sons not only contributing to and/or continuing their father's work, but also arguing and lobbying for due recognition and reward for their father's ingenuity and years of toil.
So here's my top three:
William, son of John Harrison
Born in 1728, around the time John began building his first marine timekeeper, William Harrison was presumably learning some of his father's skills by the 1740s and was certainly involved in the making of H4, which is signed 'John Harrison & Son'.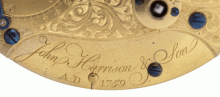 William effectively became John's stand-in, accompanying H4 on its sea-trials to Jamaica in 1761-62 and to Barbados in 1764. From the late 1750s he was also John's main mouthpiece at Board of Longitude meetings. Indeed, according to the 'Harrison journal', which was written for him, William was going to the Admiralty almost daily by the mid-1760s to further his father's cause.
William Harrison was equally bound up with George III's involvement in the testing of H5 (which he also helped to make), writing to the king's private astronomer, Stephen Demainbray, in 1772 in the hope of gaining royal support to persuade the Board of Longitude to give over the final £10,000 of the anticipated longitude reward. Once the king agreed to help by running a test of H5 at Kew Observatory, William was part of the daily inspection with the king and Demainbray (each of them holding a key to H5's box).
William seems to have been a difficult character, but can't be faulted for his filial devotion to his father's work.
Thomas junior, son of Thomas Mudge
Thomas Mudge junior is more unusual, since he didn't simply follow the family trade, becoming a lawyer rather than a watchmaker. But his legal training seems to have stood him in good stead in the 1790s, as he lobbied Parliament in pursuit of a longitude reward for his father's timekeepers. He was also responsible for some rather verbose printed apologias for Thomas senior's work - books that openly criticised Nevil Maskelyne's conduct of the trials of Mudge's two marine timekeepers, 'Blue' and 'Green', at the Royal Observatory.
The result was good for the Mudges, since Parliament overruled the Board of Longitude - to Joseph Banks's horror - and awarded Thomas senior a further £2,500.
Mudge junior's mistake was to leave things at that. Instead, he tried to market his father's very complex designs by setting up a manufactory. Only a few timekeepers were made and the venture failed.
John Roger, son of John Arnold
John Roger Arnold took the most traditional route of my three devoted sons, learning horology as an apprentice in his father's firm from about 1783, then taking it over when John retired in 1796 (the firm was already known as John Arnold & Son from 1792). With the long dispute between John Arnold and Thomas Earnshaw still live at the time of John's death in 1799, John Roger continued defending his father's reputation in discussions with the Board of Longitude which were only resolved in 1805-6 (with rewards to both Earnshaw and Arnold). This letter is just one example from his correspondence:

Funnily enough, John Roger is the only one of the three sons of whom a known image survives - he appears as a boy in a  family portrait painted by Robert Davy in the 1760s. It's one of my favourite paintings in Ships, Clocks & Stars. Come and have a look from 11 July - there's going to be plenty else to see too.