Ahoy shipmates, I'm Sharon and I am the Learning Officer on board the Cutty Sark. I work alongside the Learning Manager to make the ship and her stories accessible and engaging for families and school groups. I spend a lot of time on the ship either delivering award winning school workshops or running super fun family activities. I also spend some time in the office, planning and preparing for future programmes with the Learning Manager. During term time a typical day for me would start by setting up for school workshops. The workshops that I deliver last about an hour and take the groups through all of the ship. Through stories, role-play, images, maps and crew letters, the children learn about the ship, what life was like on board (what the sailors ate, where they slept) and they also learn their port from their starboard. We run workshops throughout the year - and if it's really cold and raining hard, well it's all part of the experience. The sailors would have worked in tougher conditions.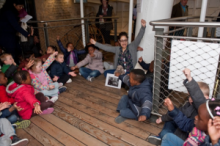 A reception class steering the ship.
We run family activities on the first weekend of the month and during school holidays. All of the activities are related to the ship and her stories. We have made everything, from telescopes and bouncy woolly sheep, to weather mobiles and tea cups. Most of these activities are run by freelancers and I run a few as well. We are usually supported by our wonderful family volunteers. I also manage our learning store, prepare the art trolley for activities and order resources when needed – it's really fun shopping for stickers, dazzle dots, feathers, sequins, etc. In February half term our family activities are themed around Chinese New Year (the ship was built to bring tea from China to London) and we will be making Chinese tea hats, animal masks and dancing dragons under the ship. We're also hosting a special tea-tasting event with Twinings.
Jack the Rat likes ship's biscuits.
After studying History at university, I volunteered in many museums and heritage sites to gain lots of experience, before I applied for the Learning Officer post. I have been here just over a year now, and no two days are the same on the ship. My favourite part of the ship is the bow – from there you can look up at the beautiful masts and rigging and when you turn around you get an amazing view of London.