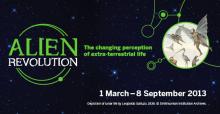 1 March 2013 – today may or not mark the start of the season of spring, but it definitely does see the start of our exciting Alien Season here at the Royal Observatory.
Are we alone in this Universe? If aliens exist, would they be friendly or hostile? Have they in fact already visited Earth?
Free display Alien Revolution opens this morning at the Observatory, taking an intimate look at the history of our relationship with extra-terrestrial life through science and culture from Copernicus to SETI, including E.T., the Mars Curiosity rover, and American couple the Hills who in 1961 were among the first people to claim to have been abducted by aliens.
Alien Revolution explores our obsession with other worlds, from luminous 19th-century paintings of whimsical bat-men and ethereal Moon maidens, through the violent depiction of invading Martians in H.G. Wells's War of the Worlds, to the first appearances of mysterious crop-circles in 1970s England.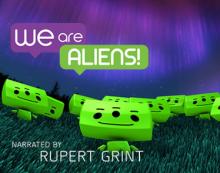 Also starting today is new daily planetarium show We Are Aliens!, narrated by Rupert Grint of Harry Potter fame. The immersive show balances scientific understanding with family entertainment to explore how our understanding of life on Earth guides the hunt for alien life elsewhere in the Universe.
The Royal Observatory's Alien Season also includes a special-themed evening of activities for Museums at Night; cult classic sci-fi movie screenings; public talks with guest astronomers; and a Summer Science programme of events with unique live shows and a short Aliens in Science Fiction course.