194 years ago today, Sir Joseph Banks died at his home in Isleworth, London. Aged 77, he had become one of the foremost figures in British science, and had a reputation across Europe for bringing together the worlds of science and government. He had been President of the Royal Society for 42 years, and an influential advisor to the government on exploration, trade, agriculture, and the settlement of Australia. He had therefore also played an important role at the Board of Longitude, being one of the most constant attendees at Board meetings. His close friend, William Eden, Lord Auckland, jokingly described Banks as HM minister of philosophic affairs.
This position arguably all stemmed from Banks' choice to accompany Captain James Cook on his first voyage to the Pacific (1768-71). As naturalist on board the Endeavour, Banks not only collected hundreds of specimens that he and, his assistant, Daniel Solander would research for the rest of their lives, but he was also a crucial member of the voyage that created the model for all future exploration. Cook's ship was effectively a floating laboratory, as well as a voyage of exploration and a political mission to gain new lands for the British crown. Although Banks would eventually not accompany the second voyage as intended, he remained influential on the planning and staffing. It was Cook's second voyage that saw the trials of the two main solutions to the longitude problem, with Larcum Kendall's timekeepers, and Nevil Maskelyne's Nautical Almanac.
Banks also made the crucial choice to employ two artists to form part of his team on the first voyage: Alexander Buchan to record the landscapes and peoples, Sydney Parkinson the flora and fauna. Although both men died on the voyage, the drawings that they produced demonstrated the need for artists to form part of these specialist teams, and led to the appointment of official Admiralty artists on Cook's later voyages: William Hodges on the second, and John Webber on the third voyage. Banks also continued to place art at the centre of his approach to the voyages, after his return to Britain. He commissioned George Stubbs to paint unique portraits of a kangaroo and a dingo, based on specimens, drawings and descriptions brought back. He also commissioned a masterly portrait of Cook from the society portrait painter Nathaniel Dance. All three hung at his house in London's Soho Square, where he moved in 1777, the year before becoming RS President. The house became a virtual scientific institution, and crucial to the establishment and maintenance of his reputation.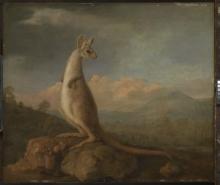 The Kongouro from New Holland (Kangaroo), by George Stubbs 1772 © National Maritime Museum, Greenwich, London, 2014
It is this story that makes Banks a central figure in the fourth exhibition of the Longitude season at Royal Museums Greenwich. The Art and Science of Exploration, 1768-80 will open in the Queen's House on 7August, showing how the artists on Cook's voyages were crucial to their representation and legacy. They acted both as accurate scientific recorders of topography, climate, flora, fauna, peoples and societies, and as sensitive, imaginative respondents to the extraordinary new places that they encountered. The display will feature the museum's high-profile new acquisition of Stubbs' kangaroo and dingo alongside painted landscapes, portraits and scenes of encounter by Hodges and Webber. Prints made from Parkinson's detailed botanical drawings will be shown alongside the original drawings, watercolours and engraving plates on loan from the Natural History Museum.
Print of Castanospermum australe, after Sydney Parkinson, found at Endeavour River, Australia © Natural History Museum
Dance's portrait of Cook, and a number of Hodges' landscapes will also be on show in Ships, Clocks and Stars, so make sure you take in both exhibitions, to get a sense of the art that the quest for longitude also enabled, and of the crucial role that Joseph Banks played in its creation.
Dr Katy Barrett will be further exploring the relationship between art and science with a gallery tour of The Art and Science of Exploration on Saturday 18 October as part of our Science, Voyaging, Art, Empire: Study Day.