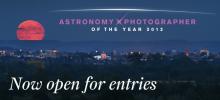 The Astronomy Photographer of the Year competition is back! Now in its fourth year, the competition continues to showcase incredible images from amateur astrophotographers all around the world, featuring beautiful objects from within our solar system and far into deep space.
Anyone can enter - whether you're new to astrophotography or a seasoned amateur, and whatever your age. We've had a huge range of images in previous years, from amazing landscape photography that captures the Moon and the Sun to stunning deep space images taken by robotic telescopes. Find out how to enter and what you could win.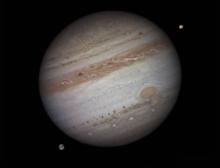 Overall winner 2011: Jupiter with lo and Ganymede, September 2010 by Damian Peach (UK)
To enter the competition you will first need to add your photos to the Astronomy Photographer of the Year group on the photo-sharing website Flickr. Once you have done this, please fill in the relevant online application form on the Astronomy Photographer of the Year website.
The four main competition categories are Earth and Space, Our Solar System, Deep Space and Young Astronomy Photographer of the Year. The judges will also be awarding three additional special prizes: People and Space, Best Newcomer, and Robotic Scope Image of the Year. Find out more about the categories and prizes.
Entries to the competition close at midday (BST) on Friday 29 June 2012.
The winning images will be displayed at the Royal Observatory Greenwich from September in the free Astronomy Photographer of the Year exhibition. There's still time to see the winning images from 2011 (closes 12 February).
Good luck, and we look forward to seeing your photos in Astronomy Photographer of the Year 2012!