From 10am to 4pm on this coming Saturday 28 June we are having a  Caird Library Open Day.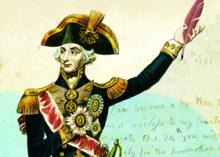 Read Nelson's will, see the note from a mutinous crew he claimed he found pinned to the door of his cabin, see a letter he wrote to his wife, Frances and compare with the candid letters he wrote to his mistress, Emma Hamilton! Or read some unique accounts of the Battle of Trafalgar written by ordinary seamen.
There will also be Prints and Drawings, the medical text book bound in sail cloth and taken by the mutineers from HMS Bounty, plus a bloodthirsty pirate's journal of misdeeds in the Mediterranean. Staff will be on hand to answer questions about these and other remarkable documents.
There's no need to register or complete any forms- just wander in and have a look at the Treasures on display, talk to the staff about the collections and get advice on how to research your own family history. More details here: See you there!