We know Cutty Sark as a tea clipper but over her working career of 52 years she carried much else besides tea.
The ship was built for the China tea trade and on the first three voyages she sailed directly to China, but after this she always sailed first to Sydney and picked up a cargo of over 1,000 tons of steamer coal before sailing on to Shanghai. She never left England empty but carried a mixed, general cargo for Shanghai or Sydney and within her hold had such varied goods as pianos, beer, candles, anvils, hops, straw hats and sardines.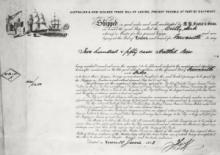 Bill of lading for 250 cases of beer from London to Newcastle NSW, 1883 © Cutty Sark Trust
The ship was driven out of the tea trade due to competition from the steamships – on her maiden voyage in 1870, 59 sailing ships loaded tea for London, but by 1877, this number had been reduced to just nine. The sailing ships, including Cutty Sark, were forced to seek alternative cargoes as the steamers were now dominating the tea trade.
From 1878 until 1883, Cutty Sark began a short career 'tramping' - travelling from port to port with whatever cargoes could be found. She carried jute from Manila to New York, coal from Wales to Singapore and Indian tea and the Australian mail from Calcutta to Melbourne.
Advert for outward freight leaving London for Newcastle NSW on 17 August 1887 © Cutty Sark Trust
The ship entered the regular Australian wool trade in 1883 and made twelve successful voyages to Australia. She loaded at Sydney eight times, at Newcastle NSW three times and once at Brisbane. Between 4,300 and 5,000 bales were loaded, ballasted with 200 tons of chrome nickel. As a wool clipper, she made her record-breaking passages back from Sydney – her fastest being just 73 days.
In 1895, when the ship was sold to a Portuguese company and re-named Ferreira, she became a general cargo carrier, particularly to the Portuguese colonies in Africa and Brazil, but also to the USA and Britain. We do not know much about the cargoes carried while sailing under the Portuguese flag, but they included guano, whale oil, pitch pine and cocoa beans.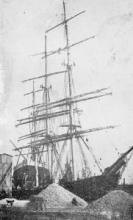 Ferreira discharging cocoa beans in London © Brodie Collection, La Trobe Picture Collection, State Library of Victoria
You can explore the ship's cargoes on board Cutty Sark today, maybe by smelling the tea, cocoa and coal, feeling the soft wool or playing our cargo quiz on the 'Tween Deck.