Cutty Sark is one of the last remaining examples of an extreme clipper– a ship of elegant and beautiful design, with a refined hull shape, raked masts and a huge sail area. She represents the pinnacle of sailing ship design, carrying a remarkable amount of canvas for her size, nearly 3000 m2 of canvas with all her sails flying. The clippers were designed for speed - the word 'clipper' coming from the American expression 'to go at a clip', to go quickly. They evolved in response to the burgeoning international trade in the mid to late nineteenth century and to meet the market demands for ships designed for speed and profitability.
Cutty Sark, however, is really the last word in commercial sailing vessels because five days before her launch, on 17 November 1869, the Suez Canal opened which marked the death knoll for the sailing ship. The canal shortened the route from China by 3,000 miles but was only a viable route for the steamers –the unfavourable winds in the Red Sea and the Mediterranean, plus the towage fees made the canal impractical for sailing ships. In 1870, steamers Diomed, Agamemnon and Erl King loaded at Hankou and the Achilles at Foochow; they all reached London via the Suez Canal in less than 60 days compared to the clippers' journey which was nearer 110 days; suddenly there was a rush to build steamers for the China trade.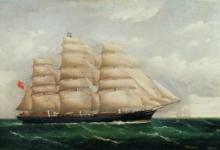 Cutty Sark by Frederick Tudgay, 1872 © National Maritime Museum, London
The sailing ships, including Cutty Sark, were driven out of the tea trade, and forced to find alternative cargoes. So Cutty Sark entered the regular Australian wool trade in 1883 and there used the trade winds to her advantage, making record-breaking passages of 73 days from Sydney to London. The Sydney Morning Herald, 4 August 1890 reports "The Cutty Sark—Another Splendid Performance. For a ship of 20 years of age, the composite-built little ship Cutty Sark has a record as a sailer not eclipsed by any sailing vessel afloat. She can sail rings round quite half the ships of more recent build, and there are few steel or iron clippers capable of showing their heels to her."
But soon these trades also turned to steel and steam and in 1895, John Willis – Cutty Sark's owner who commissioned the building of Cutty Sark back in 1869 – thought the days of sail were coming to an end. The ship was bought by a Portuguese company, Ferreira & Company, and she was re-named Ferreira. Although now not striving for fast passages she worked as a cargo carrier out of Lisbon, calling at Angola, Mozambique, Brazil and ports on the East coast of North America.
Moving into the twentieth century, the era of sail was coming to an end. Sail offered an economic solution for merchants carrying cargo on windjammers – large square-sailed ships with three to five masts designed for long voyages. They usually carried bulk cargo such as lumber, guano, grain or ore from one continent to another and were captured on film and in photographs by the great adventurer Alan Villiers.
In 1922, the Portuguese owners put Cutty Sark up for sale and she was bought by Captain and Mrs Dowman who wanted to preserve this iconic ship, bringing her back to British waters to use as a training ship in Falmouth. Cutty Sark continued as a training vessel when in 1938 she was brought to Greenhithe, now part of the Incorporated Thames Nautical Training College, to give cadets experience in using traditional seamanship skills.
Cutty Sark's mast © National Maritime Museum, London
Cutty Sark was preserved in Greenwich in 1954 as a memorial to the Merchant Navy and a reminder of the bygone era of sail. At the heart of the UNESCO World Heritage Site of Maritime Greenwich, London's very own tall ship Cutty Sark serves as a fitting reminder of Britain's great maritime heritage. Cutty Sark's original dedication plaque marking her preservation in dry dock in Greenwich appropriately ends with lines from John Masefield's poem Ships: "They mark our passage as a race of men, Earth will not see such ships as these again".
---
Travel to Greenwich with MBNA Thames Clippers this Bank Holiday, and explore two famous Tall Ships on the River Thames. Your Tall Ships ticket also gives you a 50% discount on tickets to Cutty Sark - London's very own Tall Ship!  Find out more.