Cutty Sark was built specifically to serve the China tea trade, to meet the demand in Victorian Britain for fine black teas. Speed was of the essence in the China trade at this time because the first ship back with the fresh new season's tea could command the highest returns.
As the supply of tea grew, a fashion arose for 'fresh' tea and particularly for the very first of the year's crop, so there was intense competition between ships and their crews to be the fastest. John Willis, Cutty Sark's owner, wanted her to be the fastest ship of her day, and his aspirations are clear in the advert for her maiden voyage. Cutty Sark made eight voyages from China to London with tea, the first in 1870, the last in 1877.  On her first four voyages, Cutty Sark loaded tea at Shanghai. After that, on the next four voyages, she loaded tea at Hankou which required a 600 mile tow up the Yangtze River.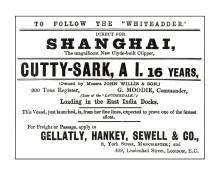 Cutty Sark usually loaded over 600,000 kg (1.3 million lbs) of tea, packed in over 10,000 tea chests - enough tea to make more than 200 million cups. The value of this cargo was around £272,000 – over £18.5 million today. Cutty Sark never left Britain without a cargo in her hold. She carried out of London everything from beer to books, toys to tobacco and paper to pianos.  On the first three voyages the ship sailed directly to China, but after this she sailed first to Sydney and picked up a cargo of over 1,000 tons of steamer coal before sailing on to Shanghai.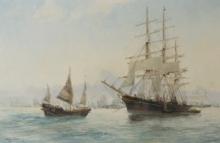 Cutty Sark in a Chinese port, by Gerhard Geidel © Cutty Sark Trust
A week before Cutty Sark's launch, the Suez Canal opened which shortened the route from China by 3,000 miles. Steamships could now reach London in 60 days, whereas Cutty Sark's fastest voyage from China to London took 109 days from Hankou. The Canal was not a viable route for sailing ships so they were gradually pushed out of the tea trade and had to seek alternative cargoes.