Once a month, Cutty Sark's Curator leads a guided tour of the ship, her structure and spaces on board, covering the history of the vessel from the launch in 1869 to the recent 2006-2012 project to conserve Cutty Sark.
Tours start with an examination of the original 1869 structure in the Lower Hold and the conservation project to preserve the ship. Despite a major fire in 2007, 90% of the ship's hull is original, although buckling from the fire is still evident to this day.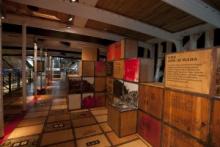 Lower hold @National Maritime Museum, Greenwich
The ship has called at dozens of ports, across the continents, and in the Lower Hold and 'Tween Deck many varied cargoes would have been stowed. The tour explores these cargoes spaces and provides an overview of the ship's 52 years at sea, including the period as a Portuguese sailing ship named Ferreira.
Portuguese crew when ship was named Ferreira © National Maritime Museum
Up on the Main Deck, the Curator will lead you through the crew's living quarters, from the ordinary seaman's cabin to the panelled master's saloon. Find out about daily life on board and sailing conditions Cutty Sark's crew would have encountered – from the icebergs of the Southern Ocean, to the hazardous waters around Cape Horn and the calm of the Doldrums at the equator.
Master's Saloon @National Maritime Museum, Greenwich
The tour ends in the Dock, a permanent berth built especially for the vessel when she came to Greenwich in 1954. Standing under the magnificent hull of the ship, now lifted over 3m above the dock, the story continues through to Cutty Sark's preservation in the 20th century and how she will survive into the 21st century.
Tours take place every month. Visit the website to join our next tour!