Today is #DisabiltyStories, an international twitter based event where we can celebrate the work carried out to ensure our culture remains accessible to all audiences. We caught up with the team who delivered an audio described tour of the ship and learnt what extra considerations they had to take on board.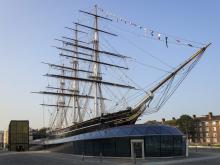 There is a lot to explore at Cutty Sark for visitors with visual impairments, not least the unique opportunity to get hands on with history and touch the original 1869 structure that sailed across the world 145 years ago. A visit to this iconic tea clipper is truly an immersive experience from exploring the ship's cargo hold and smelling the tea she once carried, to climbing in a bunk in the crew's deckhouse or handling some of the 11 miles of rigging on the Main Deck.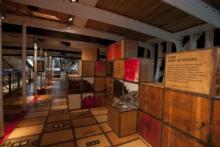 Explore the ship's cargo hold and smell the tea she once carried
Included in the displays at Cutty Sark are a number of tactile exhibits such as tactile plans, models showing the shape of the hull, the ship's iron 'skeleton' and the hold fully laden with tea chests as well as a full-sized tactile figurehead. All tactile exhibits have braille and embossed text labels and visitors can also borrow large print and braille guides to the ship as well.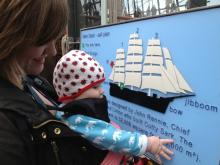 A family enjoying a tactile 'Maps for All' sail plan
We have been looking to increase our provision for visually impaired visitors and on Disabled Access Day - 17 January 2015 – we piloted an audio described tour with Clare le May, an audio describer from Vocal Eyes. The tour was over-subscribed and went really well. It not only gave us the opportunity to get some useful visitor feedback but also really helped us to appreciate the particular challenges of describing a site like Cutty Sark!
Staff at Cutty Sark have now been trained by Vocal Eyes to deliver audio described tours which have become part of our regular programme of events. We can also accommodate pre-booked groups, for groups of six or more with enough notice. Tours start in the unique space under the hull, walking the length of the ship before going on board and exploring Cutty Sark's fascinating history and original structure.  Visitors can even finish off their visit with a cup of tea in the Even Keel café for the full immersive experience!
Visitors with disabilities receive year round concessions on entry to the Cutty Sark. For more info on our audio described tours see the website.