Today's guest blog was written by the Author Kelley Swain who was inspired to write a book about the amazing Caroline Herschel whilst visiting the observatory. She will be signing copies at our Clocking Off Late event on 13 November.   The Royal Observatory and National Maritime Museum Greenwich are what poet Don Paterson calls "a treasure-trove of outrageous pretexts". Here are endless ideas for writers. Simply wandering around, looking at interesting objects and the interesting people who invented them, provokes the imagination.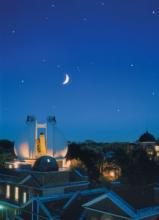 Royal Observatory Greenwich
One chilly winter day seven years ago, I heard Gallery Assistant Simon Nosworthy's short talk about a woman from the history of science, whom he greatly admired for her perseverance and adaptability. "I think more people should know about Caroline Herschel," he said. Simon's enthusiasm made me want to know more about Caroline Herschel, too. I learned that in 1844, at 94 years of age, she sent her memoirs to her niece Arabella, writing that she hoped the girl would "twist it into a Novel entitled The Life and Adventures of Miss Caroline Herschel". Arabella never wrote the proposed novel, and it is not Caroline, but her brother, William, who has earned most of the literary attention in recent years. He is one of the main figures in Richard Holmes's delightful book The Age of Wonder. Little did I expect my spark of interest to become a seven-year journey where I would become friends with artist Cassie Herschel-Shorland (a great-grand-niece of Caroline's,) explore archives in Cassie's family home, visit the Herschel Museum of Astronomy in Bath, and undertake a four-year residency at the Whipple Museum of the History of Science in Cambridge. Caroline Herschel was the first woman in England to earn a salary for scientific work. She discovered eight comets and corrected the all-important Flamsteed Catalogue of Stars. She was petite, tough and brassy. She did all her work wearing skirts and petticoats. She was friends with Queen Charlotte and Fanny Burney. She lived for such a long time that she was a subject of 'mad' King George III, the Prince Regent, William IV, and Queen Victoria. Early on, with the help of research access from Public Astronomer Marek Kukula, I stood in the grand Octagon Room of Flamsteed House – that castle high on the hill – and said, "I will have my book launch here'.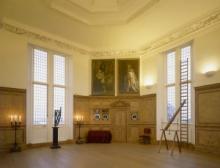 Octagon Room at Flamsteed House
Thanks to many people, on Sunday 28th September 2014, I did! One of the most wonderful parts of the launch was a performance, by my friends Patricia Hammond and Richard Barnett, of a real song written by John Herschel, Caroline's nephew, about the 40-Foot Telescope. You can visit the remains of that telescope in the courtyard next door to Flamsteed House.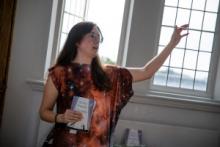 Launch of Double the Stars in Flamsteed House
To our delight, the novel has been taken up by Waterstone's and WH Smith's Travel – a first for a Cinnamon Press book. We hope it becomes a star! You can buy Double the Stars from the our online Shop.