Today (3 April) marks the 322nd birthday of Mr John Harrison. To celebrate, the very talented Emily Churchill from the RMG Photo Studio baked a special cake, commemorating one of Harrison's greatest achievements, his H4 seawatch (and very delicious it was too!).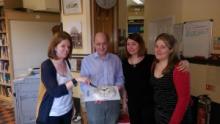 In 1726 John Harrison, a carpenter and clock-maker, learned of the rewards being offered under the Longitude Act. It inspired him to design an accurate and reliable 'sea-clock'. Harrison was the first person to be given funding by the Commissioners of Longitude. Over the course of more than 30 years, he produced five timekeepers for use at sea. Four of these timekeepers are on display in our newly refreshed Time & Longitude gallery.
Not too far away from the gallery, in the Observatory's horology workshop, in a sealed Perspex case, is the latest legacy of Harrison's work. Before Harrison learned of the rewards offered by the Board of Longitude and turned his hand to marine timekeepers, he was busy making pendulum clocks. Harrison claimed that his wooden clocks would keep time to within a second in a month, which for the 1720s was way ahead of the capabilities of the best London-made clocks, such as those made by George Graham.
In 1977, a number of horological scholars, who became known as The Harrison Research Group, began to look at Harrison's theories afresh, taking their cue from the scattered descriptions of Harrison's mechanical approach that sit in between vitrilioc and often imprenetrable prose in Harrison's book, A description concerning such mechanism as will afford a nice, or true mensuration of time; together with some account of the attempts for the discovery of the longitude by the moon as also an account of the discovery of the scale of musick.
'Clock B' at the Royal Observatory, Greenwich
Martin Burgess, an artist and clockmaker, was one member of the Harrison Research Group who set about making two clocks according to the Group's understanding of Harrison's specification. The first of these clocks, known as the 'Gurney Clock', has been on public display in Norwich since 1984 and for a time at Upton Hall; the second, its sister clock ('Clock B') has been sealed in it's Perspex case since 1 April 2014, and will form the subject of our upcoming Harrison Decoded conference on Saturday 18 April 2015. The day will include the opportunity to visit the newly refreshed Time & longitude gallery, as well as the opprtunity for a behind-the-scenes look at the horology workshop and Clock B itself.