This week H1 is to be dismantled for repairs in the conservation workshop here at the Royal Observatory. The Harrison timekeepers are so popular that they're rarely off display.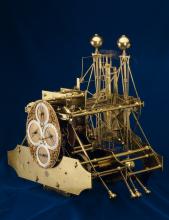 Harrison's first timekeeper, H1
The problem with the timekeeper occurred last year when the connection broke between one of the balances and its lower balance spring. The balances and springs are the vital 'beating heart' of the timekeeper, and being complete and well adjusted is fundamental to the good going of the instrument.
H1's right balance and its broken spring connection
As Senior Specialist in Horology at the Museum it's my job to undertake this exciting and delicate work, and it was with some trepidation that we prepared H1 for its 40 metre trip yesterday morning to the workshop. It's now on the 'operating table' (a medical trolley we use for transporting) and my first task is to take photographs all round the timekeeper before any dismantling takes place.
During the work, there is a screen set up in H1's showcase with a short slide show telling visitors what's happening. If staffing allows, the on-going work on H1 can be seen from the Time for the Navy gallery, which is next to the workshop and has a glass-backed showcase through which parts of the workshop can be viewed.
Working on H1 is going to be very special for me as one of my great heroes in the Harrison story is Lt.Cdr R.T.Gould, who rescued the timekeepers from oblivion back in the 1920s and 30s. It was almost 90 years ago, in 1920, that he first started that work. I'll be contributing two or three entries a week to this blog, so keep an eye out if you're interested!