Dismantling of H1 has progressed smoothly this last week, and there has been considerable interest in the project from colleagues and the public. Last Thursday the Guardian newspaper's delightful Maev Kennedy paid us a visit with photographer David Levene, and an extraordinary double page 'centrefold' picture appeared in the paper on Monday with H1 pictured from a fascinating and engaging angle. If I'd known my rough notes, visible next to the timekeeper, would be readable in a national newspaper I'd have tried to make them less inscrutable!
Also on Monday we had a visit from the current students and tutor, Matthew Read, from the Clock Course at West Dean College, who were duly impressed by being able to inspect H1 partially apart, and were consequently able to better understand some of its intricacies.
So far, the dials are all off and the front plate has been removed, revealing the 'motion work' (the gears which ensure the hands go round at the correct rate). The calendar wheel had a particularly lovely surprise, in that I found Harrison had decorated the little part on the wheel called the 'jumper' with a most beautiful, rather Celtic style tail and with a front end shaped in the form of a little bird's head!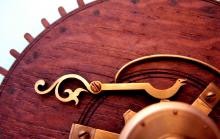 None of this can be seen when the clock is complete of course, and it must have been included entirely to please himself, and future clockmakers. Well, it certainly pleased me John!
Next will be the main train of wheels and all their roller bearings; it will be interesting to see if much wear is evident after nearly half a century of virtually constant running.