Today we're really pleased to announce the publication of Irregularity, a new speculative fiction anthology.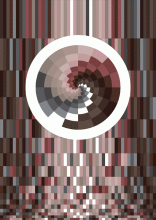 Published by Jurassic London, Irregularity has been put together to complement our new exhibition, Ships, Clocks & Stars: The Quest for Longitude, which opens next week. It's a really good match, since the challenge of finding longitude at sea was all about finding regularity and the frustrations of nature's evident irregularities.
Prospective authors for Irregularity were asked for stories inspired by the history of science between the seventeenth and mid-nineteenth centuries. This encompasses the Longitude Act and the events that followed, of course, but the longer time-frame also takes in everything from the foundation of the Royal Society in 1660, through the Enlightenment and Industrial Revolution, to the publication of Charles Darwin's On the Origin of Species in 1859.
The results show what rich imaginative potential the history of science offers. You can expect dinosaur automata, Restoration sky-ships, elusive chimera and prophetic spiders ... not to mention Darwin on a climate-changing misson, Isaac Newton as Brian May lookalike, and a troubling tale inspired by John Harrison.
This is the complete rundown of stories:
"Fairchild's Folly" by Tiffani Angus
"A Game Proposition" by Rose Biggin
"Footprint" by Archie Black
"A Woman Out of Time" by Kim Curran
"The Heart of Aris Kindt" by Richard de Nooy
"An Experiment in the Formulae of Thought" by Simon Guerrier
"Irregularity" by Nick Harkaway
"Circulation" by Roger Luckhurst
"The Voyage of the Basset" by Claire North
"The Assassination of Isaac Newton by the Coward Robert Boyle" by Adam Roberts
"Animalia Paradoxa" by Henrietta Rose-Innes
"The Last Escapement" by James Smythe
"The Darkness" by M. Suddain
"The Spiders of Stockholm" by E. J. Swift
There are also some great new illustrations by Gary Northfield and a cover design by Howard Hardiman. And Sophie and I have produced an afterword that explores some of the historical links.
As well as the paperback edition, there's going to be a very fine-looking limited Meridian Edition, available only through the National Maritime Museum.
If you want to meet some of Irregularity's authors, come along to the launch, taking place as part of the Dark and Stormy Late at the Museum on 24 July. We hope to see you there.