This item of the month is a 1970s journal kept by the merchant navy's first female navigating cadet, 18 year old Nina Baker on board British Petroleum (BP) Tanker Vessel British Willow. Nina's journal influenced me to explore women's developing role in the merchant navy during the second half of the 20th Century and beyond.
by Hannah Tame, Library Assistant
Visit the Caird Library and Archive
Women's role at sea has been an ongoing struggle for centuries, with the sea having always been regarded as a predominantly male domain. At the start of the twentieth century the variety of jobs for women continued to be restricted to 'traditional' female roles such as cleaners and waitresses. It was not until after the Second World War that those women were allowed to take on varying and challenging roles at sea. Through further background research I have discovered mixed accounts on how women were (or are) treated in the merchant navy.
Although the odds were against her, Nina Baker was determined to find her place at sea, wanted or not. Nina's journal represents the long overdue beginning of women working at sea; not travelling as passengers or hiding their gender but proudly working alongside the rest of the crew.
Born in the 1950s on a Thames barge, Nina joined the sea rangers at 14 and her love of ships and the sea grew from there. Her light-hearted account of life at sea includes postcards, sketches, photographs, pressed flowers, and many other forms of collected ephemera. The journal makes for some very colourful and often rather entertaining reading. 
An enticing reason to join the navy is the opportunity to travel the world. This is something Nina clearly embraces; filling her journal with photos and memorabilia of the many new places she visits. (Such as Australia, New Zealand, Japan and Portugal).
All deck cadets were strongly encouraged to have hobbies. When taking a break from working and studying hard, Nina clearly enjoyed watching films with her crew members, as she reflects on page 19 'we watched the thriller called 'villain' it was quite a good film starring Richard Burton & Ian McShane (Wow!)'.
Within the Caird Library pamphlet collection, I came across a prospectus of navigating cadetship for BP, published in 1967. Perhaps unsurprisingly, the pamphlet does not suggest any intention to take on female cadets, and the information provided is very specific to male cadets.
'After careful selection the company accepts young men as indentured navigating cadets and trains them to become qualified officers'.
The prospectus also includes annual salary scales for BP navigating cadets, giving the first years service salary as £239 (as of 1969). It would certainly be interesting to know if this is what Nina was paid, or if there was variation in male & female cadet pay. The prospectus also outlines uniform requirements, although only for male cadets. There is no mention to women's uniforms and this is something Nina herself mentions in her journal:
'I got a boiler suit from the catering officer, it needs some drastic reductions as it is about 4 sizes too large, but looks more normal than tropical uniform'.
Nina was something of a guinea pig for the Merchant Navy, and changes had to be quickly made to accommodate a female crew member on board. The usual sleeping quarters and bathroom arrangements had to be amended and Nina explains this in the journal 'the 4th officers cabin has been made over for my use, as it's has its own bathroom'.
Surprisingly, Nina does not seem to have experienced any hostilities from her colleagues. Or at least not that she records. Nina's fellow crew members make her feel immediately welcome and part of the team. Nina and her mates are always off exploring new places, 'in the afternoon, Mark, Brian, Paul, Adrian, Alan, & I lowered one of the lifeboats & set off'. Nina's keenness for exploring is also displayed by the number of night permission passes signed off by the master 'it was very quiet, everyone seemed a bit subdued after two nights on the razzle' .All cadets were required to keep a journal that reflected their day to day activities on board, which may include offshore adventures. These journals were regularly signed off and checked by the Master. Whether this means Nina censored her own writing, it is difficult to know.
Nina is a popular member of the crew; there are examples throughout her journal of the easy rapport she shares with her fellow crew members. This is also indicated in a handwritten poem from Nina's 19th birthday card from the crew, just one of many sentimental keepsakes in the journal.
The Caird Library holds two 1975 crew lists for Nina Baker, the first being for British Aviator, where Nina seems to be the only female merchant crew member on board. (Although it's difficult to be sure of this, as only the crew's initials are listed).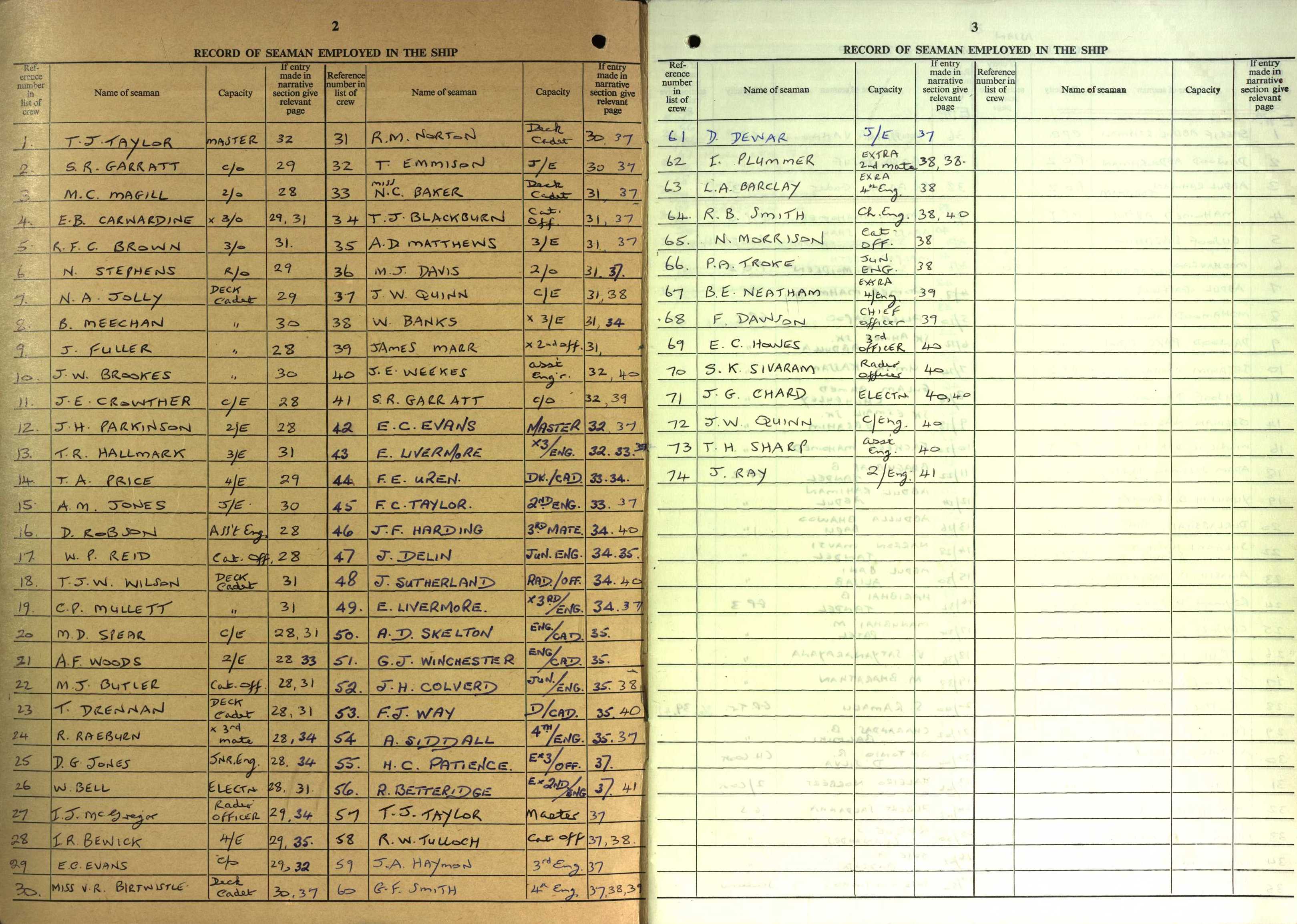 The second example is a crew list for British Osprey (pictured above) in which 'Miss N.C Baker' is listed along with Miss V.R Birtwistle, also a cadet. With a crew complement of 74, mostly male, I would love to know how it felt for Nina to have another woman as part of the crew.
Nina's determination certainly helped pave the way for female navigating cadets of the future. 
To find Nina's Journal in the archive catalogue search finding reference JOD/225