The annual Lyrid meteor shower is underway and will be growing to its peak on Weds 22–Thurs 23 April.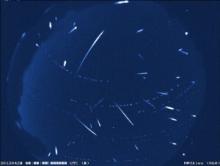 Composite image of Lyrid and non-Lyrid meteors, seen over New Mexico from 21-23 April 2012. (NASA/MSFC/Danielle Moser)
This year the young Moon shouldn't interfere so at the shower's height you can expect to see 10-20 meteors per hour, weather permitting.
Viewing the Lyrids
The point from which all the meteors in a shower seem to travel outwards is called the radiant, and for the Lyrids it's near the constellation Lyra, hence the name. From London at midnight on 23 April the radiant will be about 34° above the eastern horizon. The best place to look for meteors is always at a distance of around 90 degrees from the radiant in any direction, where meteors are typically brightest. The best time to view meteor showers is between midnight and dawn. And if you're out on Thursday 23 April with binoculars or a small telescope, look out also for the (faint) Pinwheel galaxy (M101, NGC 5457), which reaches its highest point in the sky at around midnight, 80° above the northern horizon from London.
Lyrid fireballs and meteor storms
The Lyrids are a reliable annual shower of bright fast meteors linked with Comet Thatcher. Occasionally we pass through a thicker part of the comet's dust stream producing a more intense shower – in 1982 amateur astronomers counted 90 Lyrid meteors per hour, and in 1803 an even stronger 'storm' brought up to 700 per hour. Most Lyrid meteors are around magnitude +2 (roughly the same brightness as the stars in the Plough). But a few 'Lyrid fireballs' can be much brighter, casting shadows for an instant and leaving smoky trails of debris. The Lyrids were first observed 2700 years ago by Chinese astronomers, making them the earliest-known meteor shower.
Upcoming meteor showers
Other upcoming meteor showers include the Alpha-Scorpiids peaking on 28 April, and the Eta-Aquarids around 6 May, though this year the near-full Moon will make viewing difficult for both. Find out about other annual meteor showers in our fact file.
Take a tour of the night sky
Love the night sky? Come on a fantastic guided tour of what you can see for yourself in The Sky Tonight live planetarium show, presented by one of our astronomers. And see beautiful imagery of space from our Solar System to distant galaxies in the Astronomy Photographer of the Year exhibition. Or if you're looking for stargazing equipment, why not kit yourself out for observing with our extensive range of telescopes and binoculars recommended by Royal Observatory astronomers?