A local dog-walker last night found a strange object in Greenwich park which is currently baffling scientists.
"I was taking my dog Horatio for an evening walk round a patch of trees in the park," explains Greenwich resident Alf Poroli, "when he started barking wildly and digging up something which I thought was just a large rock".
The 'rock' turned out to be the tip of a mysterious, probably ancient 3.5-foot object weighing over 20 kilos, seemingly resembling some kind of crustacean carapace. The origin and exact nature of the item are currently a matter for some debate, and local experts studying the item have so far been unable to reach a consensus.
Ancient sea creature?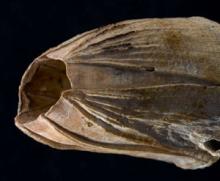 The 'Greenwich mystery' object is currently at the centre of heated speculation.
Local marine scientists are currently unable to say more than that it may be prehistoric in origin, though it seems to defy carbon dating.
"One possibility is that it might date from when Greenwich Park was under the sea in the late Triassic period – or it may have crawled out of the Thames more recently"
...says a source at the Thames Palaeontology Project. However, others are unconvinced by the crustacean theory.
"Over the years we've uncovered some unusual artefacts at the Old Royal Naval College – from 17th-century Witch bottles to Victorian Bowler Hats, but this discovery has me stumped", said Lawrence Short, Director of Findings Old Royal Naval College.
Some are suggesting that the mystery item may be extra-terrestrial or even supernatural in origin. According to one local mythology specialist who preferred not to be named, "that patch of trees is a known conjunction of ley-lines" (lines of magical energy). The National Maritime Museum's own Curator of Oddities has been called upon to comment and we expect an update shortly. Look out for his and other local experts' responses on the Twitter debate, using the hashtag #GreenwichMystery. Summing up the local speculation, a spokesperson from Visit Greenwich has commented: "Greenwich Park is ancient so there could be any number of mysterious things buried there. We know there have been Roman artefacts and Tudor relics found there, so I'm not at all surprised by this latest mystery."
Drake's drum?
Finally, in a possibly related - though as yet unconfirmed incident - another local resident claims to have heard Drake's drum beating at twilight in the Park for the past three evenings. Legend has it that the drum belonging to England's greatest seafarer only beats when the country is in grave danger. However, others have put the noise down to a lesser spotted woodpecker. Happy April Fools' Day!