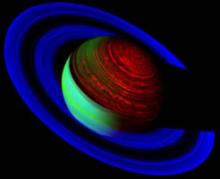 NASA announced on 3 February that it is extending the international Cassini-Huygens mission to explore Saturn and its moons to 2017, with a budget of $60 million per year.
This is the second extension to the mission which was originally launched in October 1997. Dubbed the Cassini Solstice Mission, this seven-year extension will allow scientists to study seasonal and other long-term weather changes to the ringed planet and its moons as it moves from winter to summer. It also will allow continued observations of Saturn's rings and magnetosphere.
The Cassini-Huygens mission is a cooperative project of NASA, the European Space Agency (ESA) and the Italian Space Agency. JPL manages the project for NASA's Science Mission Directorate in Washington. The Cassini orbiter was designed, developed and assembled at JPL.
Read the full story on NASA's JPL website. Further Cassini information is available at www.nasa.gov/cassini and http://saturn.jpl.nasa.gov.
Image: Looking down on Saturn's northern hemisphere, Cassini uses false-colour imaging to reveal different layers of cloud. PIA09212. © NASA/JPL/University of Arizona. View the ROG's online gallery of Cassini-Huygens images, Visions of Saturn.