New Horizons set to continue Kuiper Belt odyssey
by Colin Stuart
Earlier this year the world was gripped by the New Horizons fly-past of Pluto. For the first time we were able to see what its surface really looks like and there were a few surprises in store too. Astronomers expected it to be a relic, little changed since the formation of the solar system. It should have been covered in craters, the battle scars from billions of years of bombardment. And yet we found very few craters, which suggests that in the last 100 million years - no time at all in space terms - some mysterious process must have given the dwarf planet a face lift.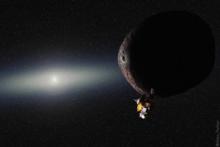 New Horizons should arrive at its new target in 2019 [credit: Alex Parker]
The data from the mission is still being streamed back to Earth and there are surely more exciting revelations to come. The probe isn't done yet, however. Mission controllers have just announced that they are setting their sights on another object in the Kuiper Belt - 2014 MU69. At just 45 kilometres across it is tiny. With any luck New Horizons should reach its new target on January 1 2019.