Cutty Sark wears a number of flags which identify the ship, her owner and her country of registry.
Like all British merchant ships, Cutty Sark flies the Red Ensign at the stern, a national flag with a red background and the union flag in the upper left quarter. From the main mast, the Willis house flag is flown, a flag shared by all vessels in the fleet of John Willis and sons. The flag has a blue background, white diamond and red cross and not only decorated the Willis ships, but also was used to adorn the crockery for the captain's table.
Dinner service
Cutty Sark herself is identified by four signal flags from the International Code of Signals.  The code is a series of flags, each one representing a letter of the alphabet, which is used by ships for communication between ships and from ship to shore. Signal letters are the four letters assigned to every ship as a means of identification and are known as the ship's "number". For Cutty Sark these flags represent the letters JKWS, referencing the owner's name JocK WilliS.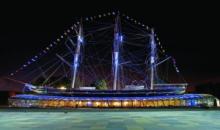 Cutty Sark dressed overall
On special occasions the ship is dressed overall with flags from the International Code of Signals arranged in a prescribed sequence from the bow to the stern via the mast head.