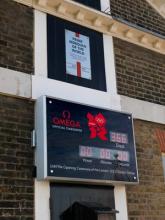 The Royal Observatory, Greenwich is famously the home of the Prime Meridian of the World (0° Longitude) where each day and year officially begins, and of Greenwich Mean Time (GMT), as well as of the celebrated Harrison timekeepers.
Now the Royal Observatory is also home to OMEGA's London 2012 Countdown Clock. Installed on the Prime Meridian Line by OMEGA, the Official Timekeeper of the Games, the clock will tick away the seconds, minutes, hours and days until the start of the London 2012 Olympic Games - some of which will be hosted in Greenwich Park.
The clock was unveiled yesterday (27 July 2011) in time to celebrate 'One Year to Go' to the start of the Games.