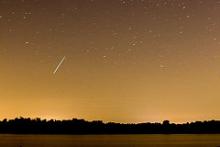 Originally uploaded by Leviathor
It seems like the Perseid meteors put on a good show on Sunday night. I saw a couple from my back yard, even against the bright lights of South East London.
Several people have posted photos of the Perseids on Flickr. Visit our Flickr favourites page to see a few that caught our eye, including the nice photo of a Perseid shown above.
The BBC has a round-up of comments about the Perseids from people around the UK.