Today's guest blog is by Eleanor Taylor, who won this year's Prize for Illustration competition with a beautiful picture of our Observatory. She talks about her choice for the competition and the processes involved.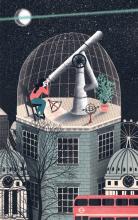 The Royal Observatory - Eleanor Taylor
When I received the competition brief from the AOI and London Transport Museum for London Places and Spaces I was in no doubt about what subject I would choose.  I visited the Royal Observatory in Greenwich about three years ago for the first time.  Walking around the grounds, it felt like a magical place with an amazing sense of history and time.  The Royal Observatory at Greenwich is a place where you can sit and reflect and look out on the beautiful city of London.  You have space to breathe.
Eleanor is the winner of the 2015 Prize for Illustration
At the top of the hill by the Royal Observatory there is a magnificent view of Greenwich Park. You can see the stately white buildings of the Old Royal Naval College and behind them the skyline of London twinkling away in the distance.  London at night is so exciting - you notice things you don't see during the day - like restaurants that open up, or buildings lit up against the night sky.
My process is pretty long and complicated.  Coming up with a good idea takes up most of my energy. I spent a long time writing, brainstorming and drawing little thumbnails for the Royal Observatory. It took me longer than usual to get it right and I ended up spending a few days just playing with the composition.  Once I had a thumbnail I was happy with I enlarged it and started creating rough drawings on my light box, tracing and retracing until I was happy with the drawing. I went through sheets and sheets of printer paper.  It's probably a bit wasteful but sometimes it takes a lot of drawing for me to be satisfied.
I treated the image a bit like a screen print or lithograph - layering up colours, textures and line.  The light box is my most valuable tool.  I stuck my rough drawing down and drew and painted every component of the image on different papers over the top.  Everything was drawn and painted by hand and then scanned in and layered up on the computer where the colour was changed digitally.  I like to use spray paint, conte crayon, brushes, pens and an ink roller to get different textures.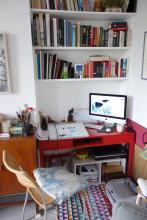 Eleanor's workspace where she created the winning illustration
I work from the top floor of a tall building and I love the sense of having a quiet oasis but also still being connected to the hustle and bustle of the city.  I really enjoy the quiet, contemplative spaces you sometimes find tucked away behind a busy road where you can sit, and reflect.  I imagined the woman in my picture to be doing just that and quietly getting on with her work.
You can see her work on display in an exhibition at the London Transport Museum. To see Eleanor's other work, visit her website.