I'm returning to the subject of one of my first posts because, excitingly, today sees the publication of a special edition of Edward Everett Hale's The Brick Moon.
Published by Jurassic London, it includes not only Hale's short(ish) story but also a new one by Adam Roberts, whose 'Another Brick in the Moon' recasts the earlier tale in a typically eclectic and beguiling way (and gives the Royal Observatory a significant role). There's also an introduction by Marek Kukula and me, and a great cover by Gary Northfield.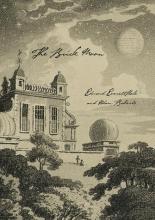 From the Museum's perspective, this was an obvious thing to do since The Brick Moon touches on themes that are so relevant to the Royal Observatory and the subjects we cover: the quest for longitude, the Greenwich Meridian, satellite technology. And it's a perfect complement for Longitude Punk'd, Stars to Satellites and, when we get there, Ships, Clocks & Stars. So it was great to find people as enthusiastic as us about doing something with it. Thinking historically (briefly), Hale's story has some great parallels with the ways in which longitude proposals were put forward after the 1714 Longitude Act: the worthy discussion of scientific principles; references to shipwrecks and loss of life; and the doing down of other schemes (rather wonderfully, it's the accuracy of chronometers that gets questioned here). There are even descriptions of how the Brick Moon's projectors raise funds, although that bit does sound suspiciously easy, if you ask me. Anyway, give it a read and see what you think.