On 22 November 2014, Cutty Sark will be celebrating the 145th anniversary of the ship's launch. Originally designed to last just 30 years, Cutty Sark has reinvented herself throughout her career, surviving nearly five times her life expectancy thanks to her world-wide success, fame and beauty.
Cutty Sark - 1872
Commissioned by Scottish shipowner John Willis, Cutty Sark was built in Dumbarton by a young company called Scott & Linton. Cutty Sark is a clipper ship – a ship designed for speed – and John Willis had high aspirations that his new vessel would earn him handsome profits as the fastest of the clippers coming back from China in the tea trade.  Unfortunately for Cutty Sark, the Suez Canal opened the same week she was launched and steamers soon entered and dominated the trade.  Sailing ships like Cutty Sark were unable to use the canal so after just eight voyages to China (1870 – 1877) Cutty Sark was forced to move on and seek alternative cargoes.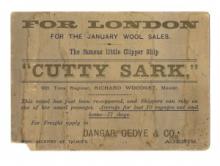 Cutty Sark advert for wool
In fact, it was as a wool clipper that Cutty Sark would realise John Willis's ambitions to become the fastest ship afloat. Between 1883 and 1895, Cutty Sark made many successful passages back from Australia loaded with wool, her fastest passage being just 73 days from Sydney to London. Her fastest recorded speed was 17.5 knots and she would often travel 300 miles in a single day; these successes earned her a world-wide reputation for speed.
Cutty Sark was sold to a Portuguese company, Ferreira & Co., in 1895 and the second half of the ship's career was as a general cargo carrier under the Portuguese flag.  Re-named Ferreira, she sailed to ports across the continents until 1922, carrying cargoes such as whale oil, coal, pitch pine and cocoa beans. Even under a different name, she was still recognised across the globe as Cutty Sark and the Portuguese crew even served sometimes as tour guides, showing visitors around the famous ship.
In 1922, the ship pulled into Falmouth for repairs and was spotted by retired sea captain Wilfred Dowman. He and his wife paid over the odds to buy the vessel and bring her back to Britain. Restored as a tea clipper and named Cutty Sark once more, Dowman put her to use as a training ship for young cadets and also opened her up to the public. Following Dowman's death, Cutty Sark was presented to the Incorporated Thames Nautical Training College in 1938, to continue her role as a training ship in Greenhithe, Kent.
The Cutty Sark Preservation Society was established in 1953 to bring the ship to her permanent berth in Greenwich as an icon of the bygone era of sail and a memorial to the Merchant Navy. After a major restoration project, Cutty Sark was officially opened as a visitor attraction by HM The Queen on 25 June 1957.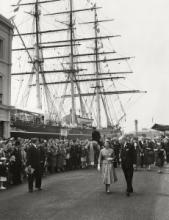 HM The Queen leaving the Cutty Sark gardens - 1957
50 years later, major works were needed to treat Cutty Sark's fragile structure and the 2006-2012 Conservation Project began. Despite a terrible fire in 2007, the vast majority of her original structure survives and the project was completed in early 2012. HM The Queen returned to the ship on 25 April to officially re-open Cutty Sark to the public. The project not only conserved the ship's structure for the next 50 years, but also regenerated Cutty Sark, ensuring she lives on for future generations to enjoy.