Today's guest blog was written by Nic Vanderpeet from the Imperial War Museum. He looks at the propaganda drive in the wake of the Lusitania sinking, particularly the fascinating story surrounding one German-made medal.
The representation of events takes many forms. Paintings, overtures and statues are among the forms in which important historical events have been portrayed. The sinking of the Lusitania inspired posters, literature and more unusually a medallion. The story of the "Lusitania Medal" is one that has a twist in the tail, another piece in the jigsaw of controversy that is the story of the sinking of the Lusitania.
Lusitania entering New York harbour in 1907
The sinking of the Lusitania was viewed in the same fashion as the invasion of Belgium in August 1914. It was viewed as an example of the "criminality" that the Germans were using to prosecute the war.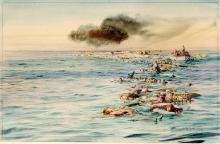 "Track of the Lusitania" painting in our collection
The reaction produced posters, pictures and literary responses which had those already involved in the fight encouraged to "avenge the Lusitania". Hitherto the relationship between the USA and Germany was also damaged as a result of Americans losing their lives in the sinking.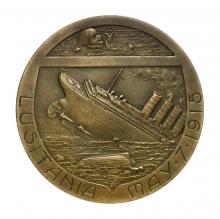 Medal commemorating the sinking of the Lusitania
Where this may have concluded as a standard propaganda campaign where the enemy was portrayed as criminals a simple mistake led to a propaganda coup for the British Intelligence Services. The plan by one German medallist to castigate the United Kingdom and the USA backfired, a case of carelessness in its design led to a story that has added another layer of interest to the already fascinating story of the Lusitania.
German made medal of the Lusitania © IWM (Q 70854)
To hear the full details of the story, join us on the 28 May at the Maritime Lecture Series.