NASA's Solar Dynamics Observatory (SDO) is currently scheduled for launch tomorrow (10 February 2010) from the Kennedy Space Center in Cape Canaveral.
NB launch actually took place on Thursday 11 February, 10:23 EST (15:23 GMT).
SDO is a powerful solar observatory which will look deep into the Sun and record images at 10 times higher resolution than HDTV. It is the first mission to be launched for NASA's Living With a Star (LWS) Program, designed to understand the causes of solar variability and its impacts on Earth. It is hoped that it will reveal how solar storms erupt, help us understand the Sun's influence on Earth and Near-Earth space and also help scientists build effective models for space weather forecasting.
The SDO spacecraft will orbit the Earth at a distance of about 22,300 miles, relaying its readings instantly to a ground station in New
Mexico.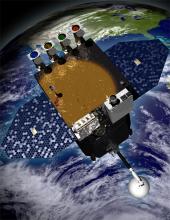 Image: Artist's impression of SDO (NASA)