Ahead of International Slavery Remembrance Day (23 August), Dr James Poskett from the University of Cambridge explores nineteenth-century abolitionist politics through our collection of wax seals.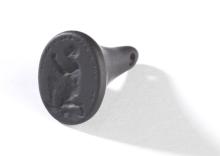 Abolitionist wax seal
Wax seals were the email signatures – perhaps even the emojis – of the nineteenth century. In a world before mobile phones and Facebook, a wax seal stamped on a letter provided a neat way to signal your social status and political leanings. This particular set of seals, held as part of the Michael Graham-Stewart Slavery Collection at Royal Museums Greenwich, gives a brief glimpse into the world of nineteenth-century abolitionist politics.
The first, dating from around 1790, is moulded with the image of a kneeling African slave surrounded by the words 'Am I Not a Man and a Brother?'. This image of a slave, along with the accompanying slogan, had originally been developed in the 1780s by Josiah Wedgwood, the antislavery potter. Fittingly, the seal is a piece of ceramic. For historians, this image carries an ambivalent message. On the one hand, it does illustrate how white abolitionists in Britain attempted to present African slaves as human beings above all else – as brothers. But on the other hand, the seal also depicts slaves as passive victims in need of white salvation.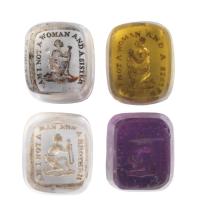 Abolitionist glass seal
The second collection dates from slightly later, around the 1820s. Carefully engraved in coloured glass by the artisan William Tassie, you can see the traces of wax deposited nearly two-hundred years ago. Among this collection are two particularly precious examples. By the early nineteenth century, Josiah Wedgwood's original motif had been adapted to reflect the increasing role that women played in the abolitionist movement. We now have an image of a kneeling female slave, accompanied by the words 'Am I Not a Woman and a Sister?'.
In my own research I've seen a number of examples of female abolitionists using wax seals exactly like this. Lucretia Mott, one of the most famous female abolitionists of the nineteenth century, stamped this image onto almost every letter she wrote, no matter what the contents. In a world in which political expression was deemed unladylike, this proved a subtle but powerful way for women to turn polite correspondence into political action.
We commemorate International Slavery Remembrance Day with a day of free talks and tours at the National Maritime Museum. This year we focus on the links between the transatlantic slave trade and local history in Greenwich and Lewisham.