Reginald Vernon Dowler
Researching medals can be fascinating. We recently acquired a British Empire Medal awarded to Reginald Vernon Dowler who served in both World Wars. Unusually, during both conflicts he was employed in roles that involved caring for others.
He was born in Aldeburgh, Suffolk in 1879, into a seafaring family. His father Vernon de Horsey Dowler qualified as a second mate and his brother Hugh eventually worked in the London docks. The family had moved to West Ham where Reginald met his wife Eliza. At the time of the 1911 census, Reginald Dowler was employed as a ship's steward, living in Epsom with his wife and daughter Leticia aged 2.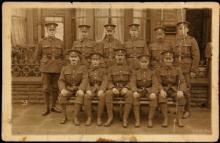 Dowler in the Royal Army Medal Corps
During the First World War he served as a private in the Royal Army Medal Corps. The RAMC transported wounded back from the front line and their men also worked in military hospitals in the United Kingdom. A group photograph shows an already middle-aged Dowler amongst the ten men of his section, lined up for a group photograph with a NCO (probably a lance-corporal) seated in the middle of the front row. The domestic building behind is stone-built and 'LYTHAM TRAMS' can be seen on a notice board on the wall—the headquarters of the RAMC was at Blackpool. Unfortunately, we do not know his unit so cannot establish where he was deployed and his army record seems to be among those destroyed in World War II.
In the latter stages of the war, Dowler went back to sea and qualified for the Mercantile Marine Medal as merchant shipping was now under threat from German U-boats. It was during this time that the term 'Merchant Navy' was coined. Thanks to 'seaman's certificates online', we know that in 1920 he was a 3rd class steward on the New Zealand Shipping Company vessel Hororata and during that year he also worked for Cunard.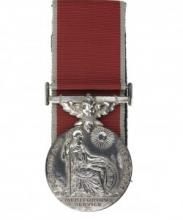 British Empire Medal (Civil) awarded to Reginald Dowler
Throughout World War II he stayed with the New Zealand Shipping Company as a 3rd class steward on their liner Rimutaka formerly P & O Mongolia. Throughout the war, the ship travelled between the United Kingdom and New Zealand, returning via the Panama Canal and New York loaded with New Zealand troops. She would have been under threat from German U-boats and surface raiders en route so Dowler became entitled to receive the Atlantic and Pacific Star in his service medal group.
He was also awarded the British Empire Medal (Civil), gazetted on 11 June 1942. This was an award for merit, but we do not yet know precisely why he was recommended. His long and faithful service to the New Zealand Shipping Company undoubtedly played a part. The medal is accompanied by a letter from Charles John Cowan (company chairman) congratulating him on the award. After the war, Mr Dowler lived in Wembley and died aged 80 in 1959.
We are very grateful to his grandson for presenting the medal and photograph.