My name is Shirley Eaton and I am the Documentation Officer here at the Cutty Sark clipper ship.
I have been here since 2006 and took part in the conservation work during the ship's recent conservation project. For me this involved recording items as they came off of the ship to be worked on; labelling them, organising the storage facilities, tracking the items in storage, collaborating with site and construction managers and advising on works to be done to items - then photographing and  recording all of this in our database.  Because I had to be close to the action, my office used to be a cabin next to the ship, behind the hoarding. These days it's in a proper building!
Photographing objects
My role during the project was a fantastic opportunity for me to work with people from across different sectors, from shipwrights and boat builders to shot blasters,  fabricators, carpenters, riggers and construction managers.  I watched the entire enthralling process of the ship being partially taken apart, carefully cleaned, repaired and reassembled - an amazing opportunity very few people have ever had, and I count myself very lucky to have had the experience!  Because of this unique insight into the ship I have very much fallen in love with her and I feel a great deal of responsibility to help the team here look after her and keep her ship shape for present and future generations to enjoy.  I am thrilled to walk around the ship today and see so many people exploring, learning and just relishing being aboard, and even more so knowing I am part of the team that has helped to make that happen.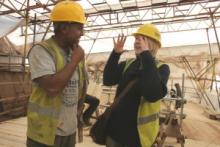 On the main deck with carpenter Fabian D'Gama, during the conservation project
At the end of the project there was still a lot of paperwork which I have been organising, including some 160,000 photographs!  I have also been supporting the curator in helping to organise our research files and undertaking research training to help me delve deeper into Cutty Sark's history and construction, in an effort to make the information we hold an even richer resource for the team.  I am currently putting finishing touches to our database and organising the whole so that the information can be made more accessible to my fellow colleagues, and enhance the public experience – a huge project in itself!