Ahoy there! My name's Nina and I'm an illustrator. I live in Hastings, East Sussex (right by the sea) and have always had a love for maritime history and stories. I've recently been working with Cutty Sark to create an Explorer Trail which kids and families can use to navigate themselves around this amazing ship; learning facts and playing fun games along the way.
I was asked to work with the Cutty Sark team after they saw my previous illustration work with other museums and educational institutions. My aim is to engage an audience (particularly younger visitors and families) with exhibits and information and to make these things relevant to them, in a modern day context. I find the challenge of translating information into a visual and fun format really exciting and insightful - I often learn a lot myself in the process and like to feel as immersed as I can when working on a project.
The Cutty Sark Explorer Trail project appeals to me on various levels. When I was young, I remember my dad taking me and my sister to visit the ship and I was fascinated by it then as much as I am now. I love the scale of its masts, the portholes and bunks and above all, imagining her in a raging storm at sea and with sailors scuttling up the rigging and across the deck. It's amazing to think of all the history that surrounds Cutty Sark and her crew.
One of my favourite parts of the project was wandering around the ship with Jessica (the Curator) and Catherine (the Learning Manager) and hearing the various stories and facts as we explored each level. It was funny revisiting the ship as an adult and as someone working for Cutty Sark - I wonder how I would have reacted if someone had told me that as a young girl; I wouldn't have believed it! Another favourite part of the job was looking through all of the archived photographs and documents from the ship; Captain Woodget's photographs of his dogs, a letter from a young sailor, Jock Willis' dinner service and the crew at work. It conjures up so many stories in my head and makes it all seem so real and imaginable.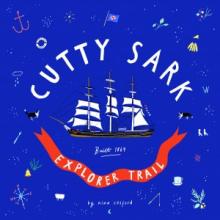 I'm really looking forward to the Trail being published and put to use by people visiting Cutty Sark. It was great working so closely with the Cutty Sark team, and I feel we've got something very fun and engaging to offer, which I know I would have enjoyed in my youth!
---
Ask for the free Cutty Sark Explorer Trail at the admissions desk at the ship and let us know what you think!
For more information about Nina, visit www.ninacosford.com