Discover more about the world famous tea clipper.
Colour in the Cutty Sark
Colour in the Cutty Sark and learn all about the different parts of your colouring below!
Colour in the Cutty Sark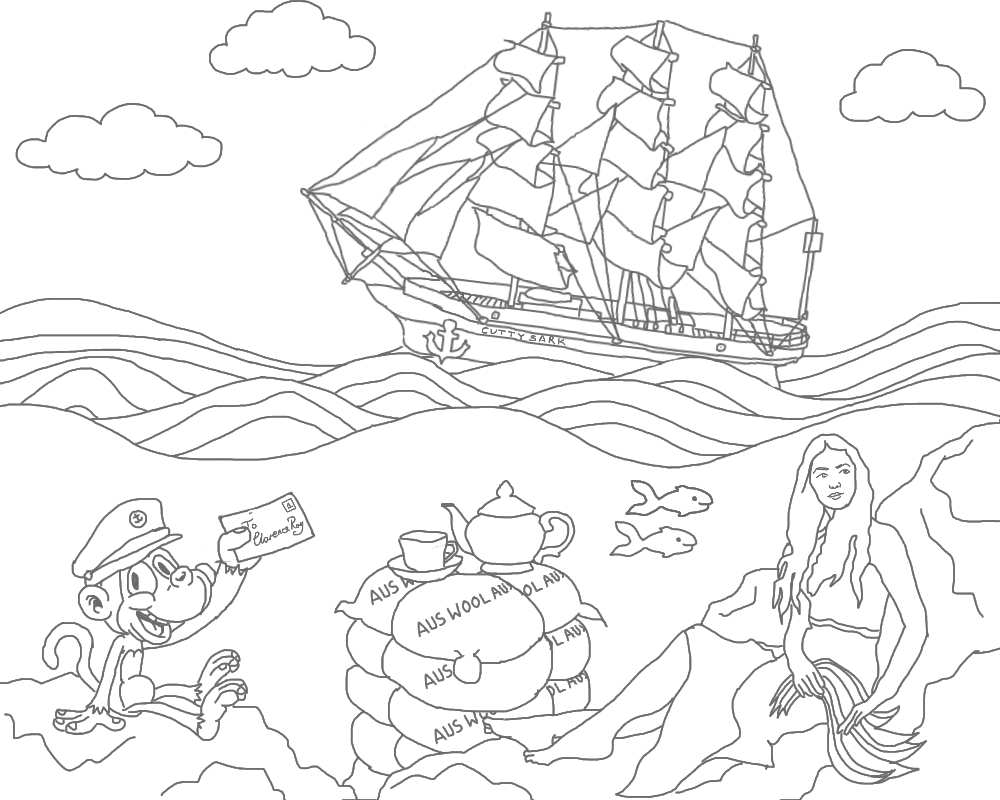 Who is Nannie?
Nannie is the Cutty Sark's figurehead. A figurehead is a model that sits at the front of the ship. XX more here XX. 
Nannie is named after a witch from a poem by Robert Burns. 
Were there monkeys on the Cutty Sark?
Captain Woodget, one of the captains of the Cutty Sark, was a keen animal lover. He bred prize-winning collies, and kept monkeys that he bought in Anjer, a town in Indonesia. 
What did the crew of the Cutty Sark do?
The crew did not have much spare time, as there was much to do on board. When they did have free time, they might write letters home. 
In letters to his mother the apprentice Clarence Ray wrote:
'I am always mending, sewing bottoms on, and washing.'
What did the Cutty Sark transport?
Tea
Cutty Sark was built to transport tea from China to England. At the time, in Victorian Britain, tea was a very popular drink. 
The Cutty Sark made eight trips in total, carrying tea. 
On these trips, the Cutty Sark would carry 600,000 kgs of tea - that's enough for 20 million cups of tea! 
In today's money, this cargo was worth 18.5 million pounds. 
Wool
Because of the opening of the Suez Canal, the Cutty Sark was no longer fit to transport tea. Instead it began to transport wool.
Travelling from Australia to England, 12 times, the Cutty Sark would carry 5000 bales of wool. 
It was when carrying wool that the Cutty Sark became the fastest clipper. It's fastest journey was 73 days from Sydney to London. 
Take a mindful moment 
Take a moment, and listen to our story about the Terra Nova as you do some colouring in.