In the 16th Century, it was commonly held that marvellous creatures inhabited the waters of the North Atlantic. Combining ancient learning with descriptions brought to Europe by fishermen, the sea monsters were included on this map of Iceland to help describe the conditions, opportunities and dangers in northern seas.
Discover more about maps like this in Tudor and Stuart Seafarers, part of our four new galleries.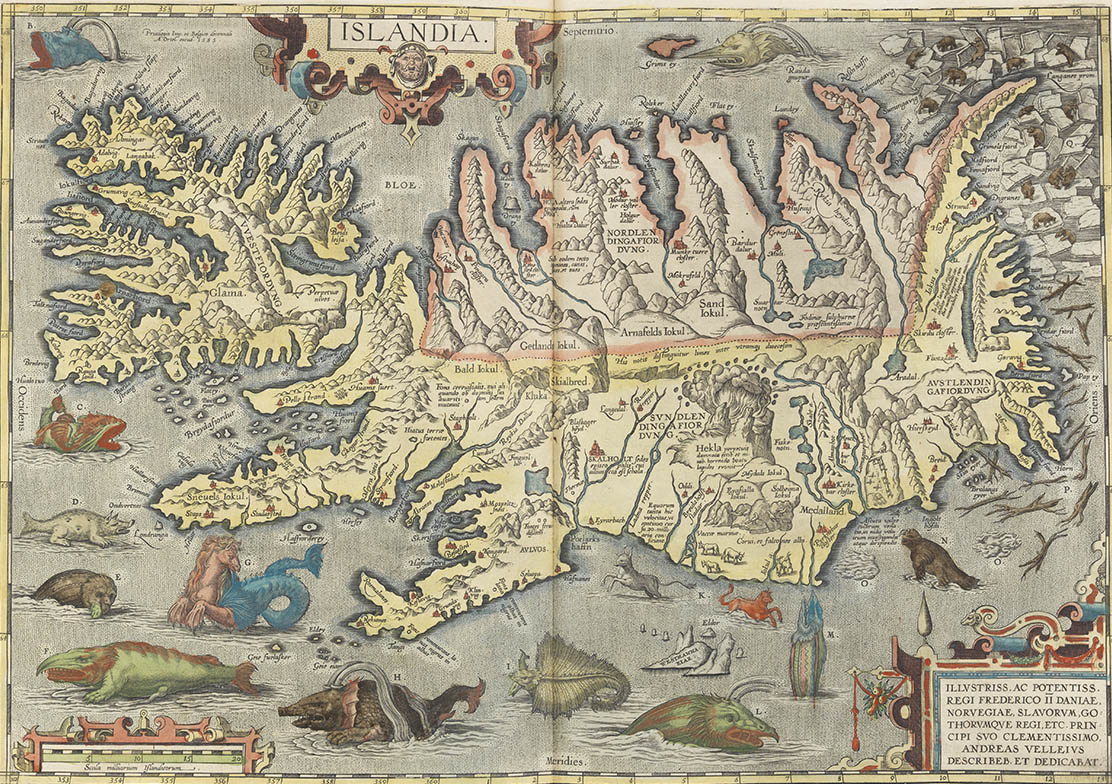 This early map of Iceland was published in Abraham Ortelius's atlas, Theatrum Orbis Terrarum. The large number of sea monsters included were copied from a map by a Swedish writer, Olaus Magnus, who was determined to make scholars further south aware of the wondrous creatures in northern waters. The alphabetised list helps readers identify the creatures, and the information below comes from the printed text on the other side of the map.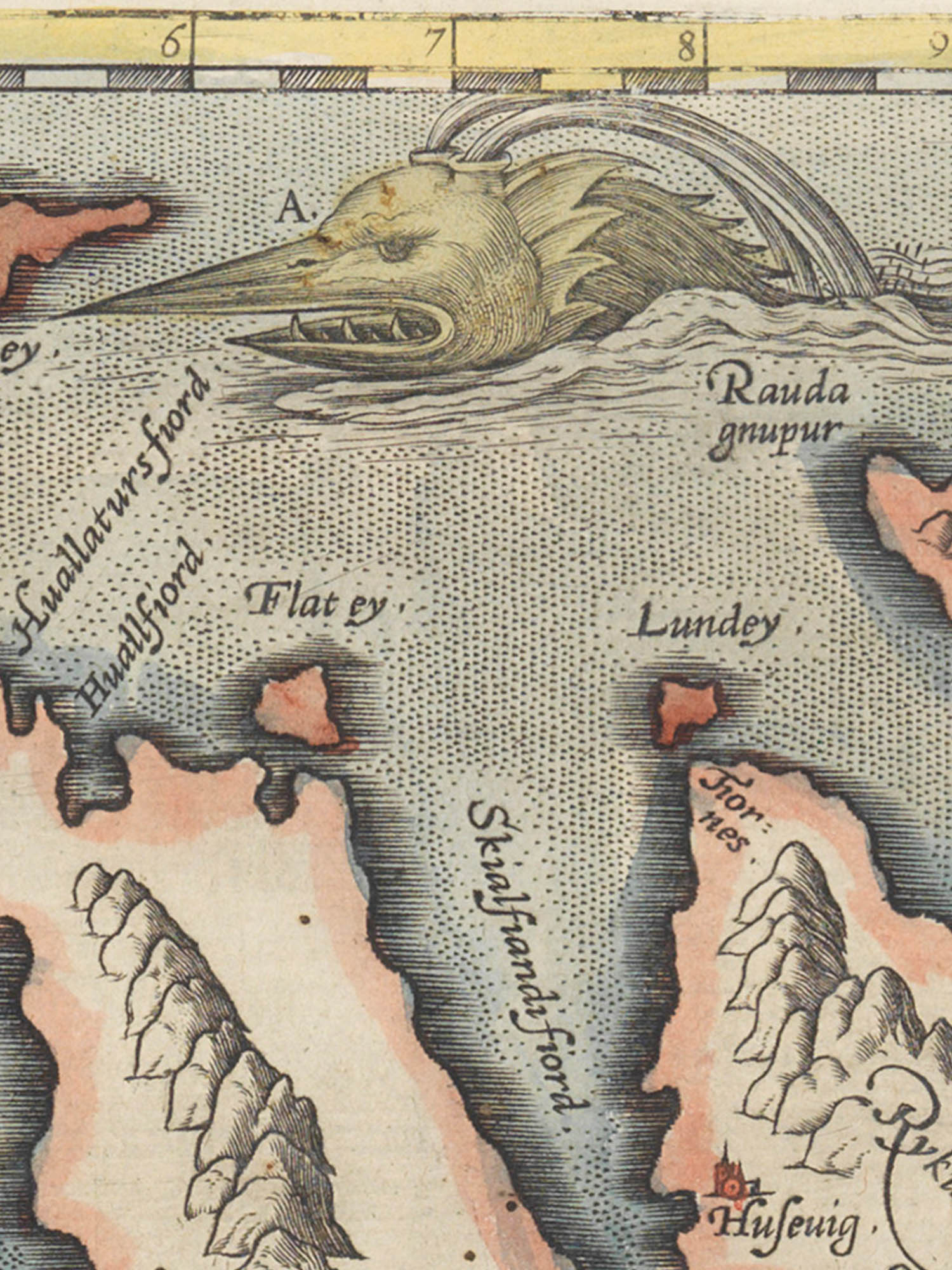 A. The Nahval
Is a fish they commonly call Nahval. If any man eateth of this fish, he dieth presently. It hath a tooth in the forepart of his head, standing out seuen cubittes. This diuers have sold for the Unicornes horne. It is thought to be a good antidote and soueraigne medicine agents poison. This monster is forty ells in length.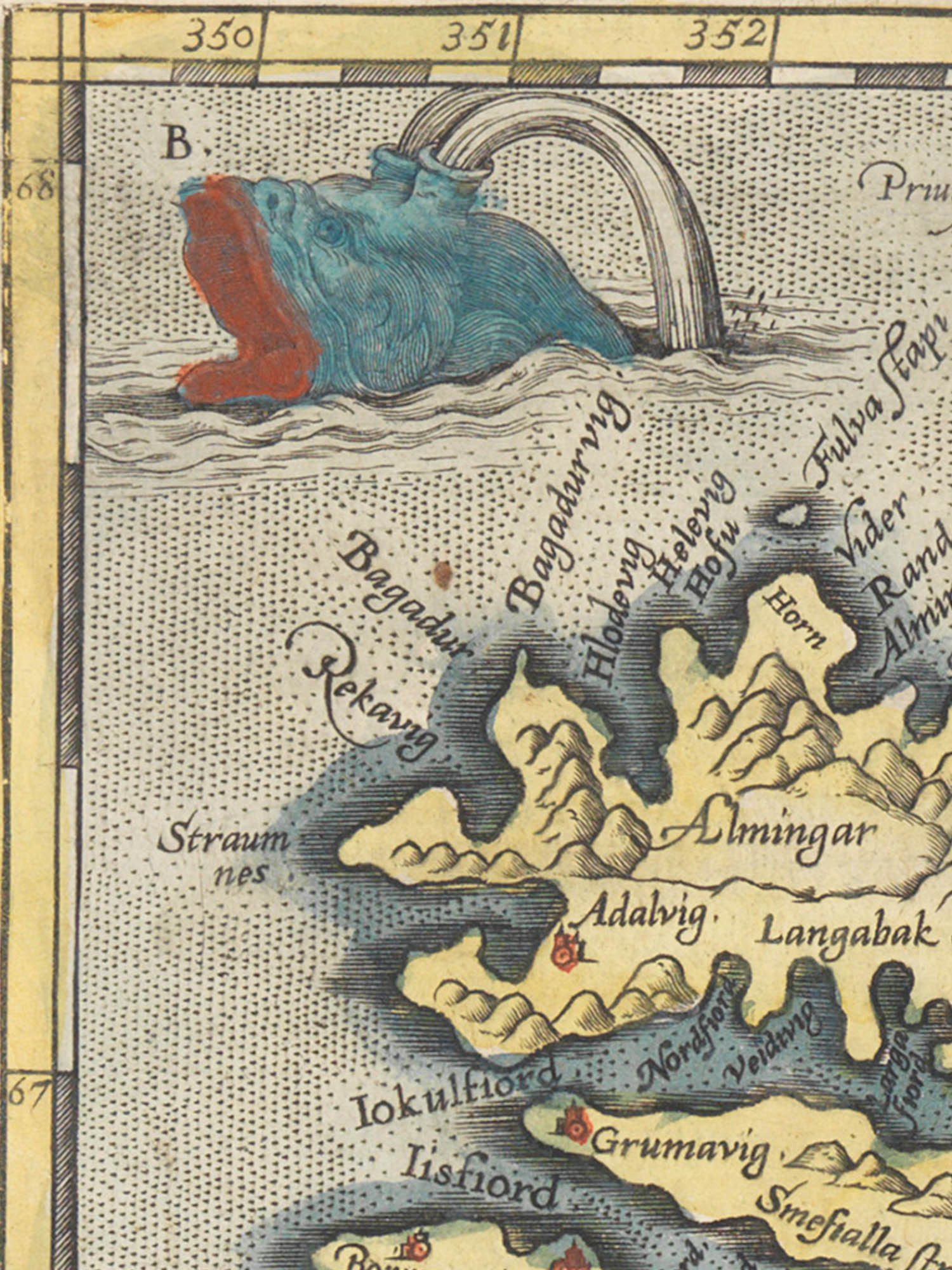 B. The Roider
The Roider, a fish of an hundred and thirty ells in length, which hath no teeth. The flesh of it is very good meat, wholesome and toothsome. The fatte of it is good against many diseases.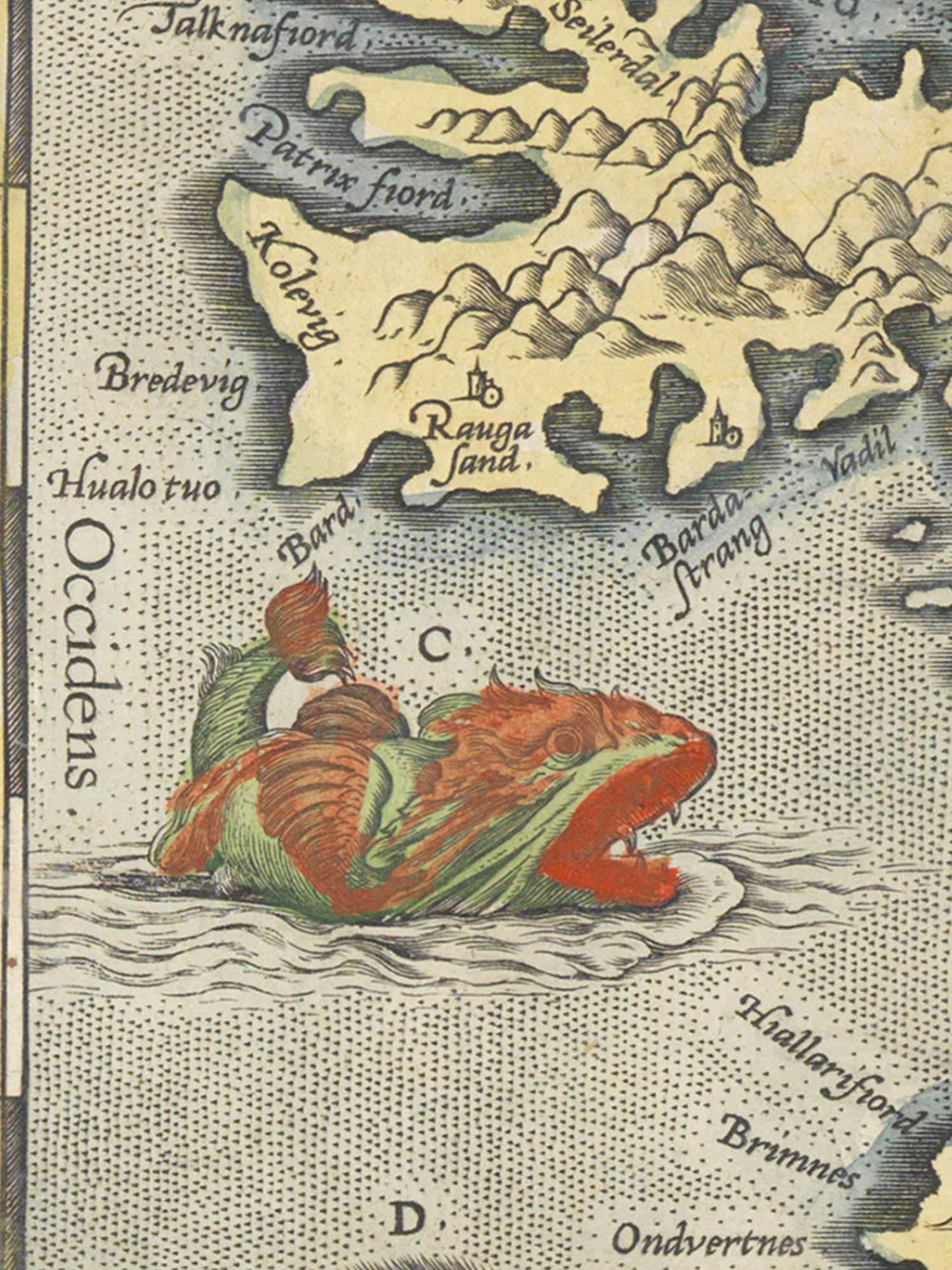 C. The Burchaulaur
The Burchaulaur, hath his head bigger than all the body beside. It hath many very strong teeth, whereof they make chessmen or Tablemen. It is threescore cubites long.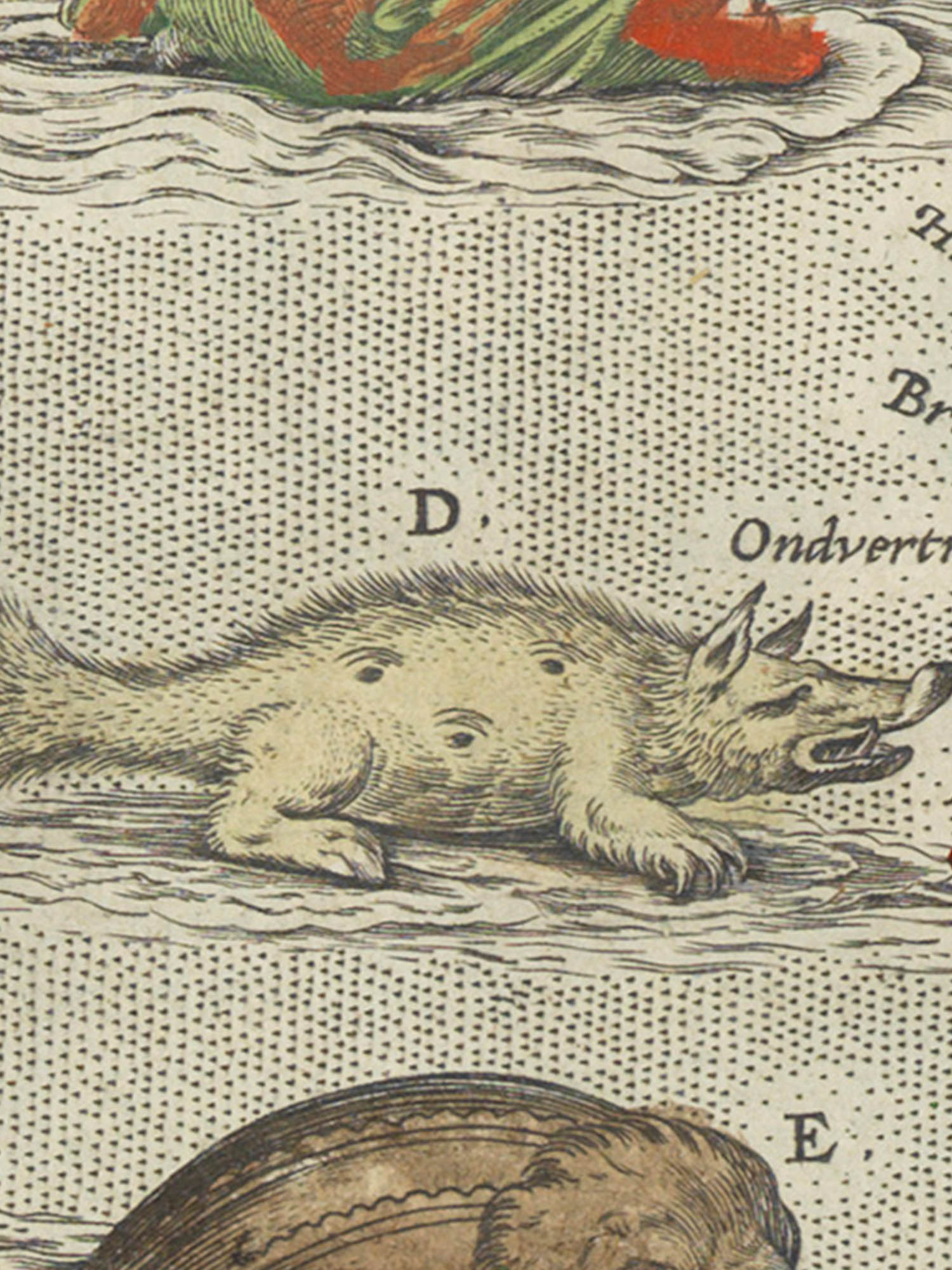 D. The Hyena/ sea hogge
The Hyena, the sea hogge, a monstrous kind of fish, of which thou maiest read in the 21 booke of Olaus Magnus.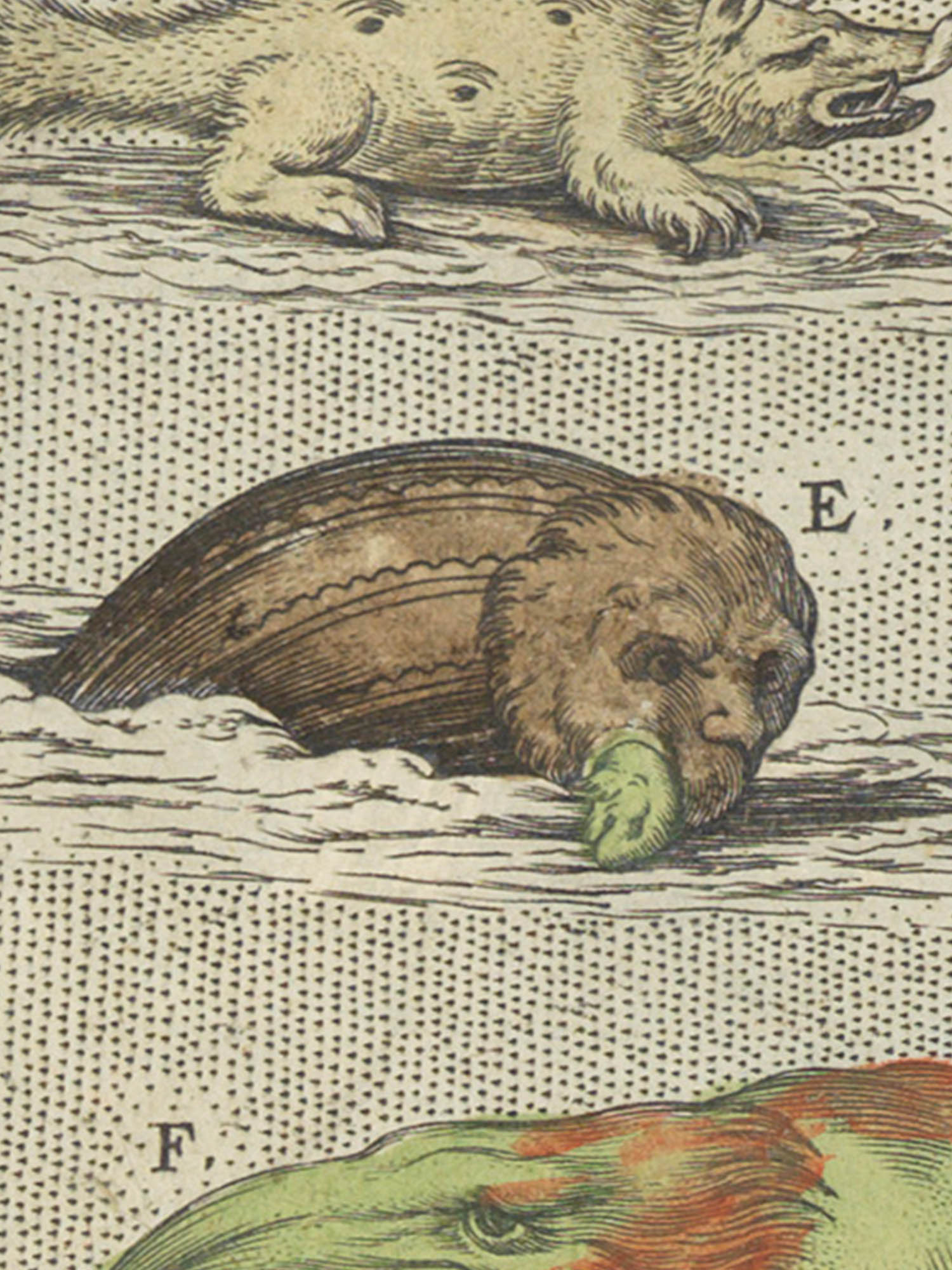 E. The Ziphius
Ziphius (it may be he meanest Ophius, the sword fish) an horrible sea monster, swallowing the black seal, in one bitte.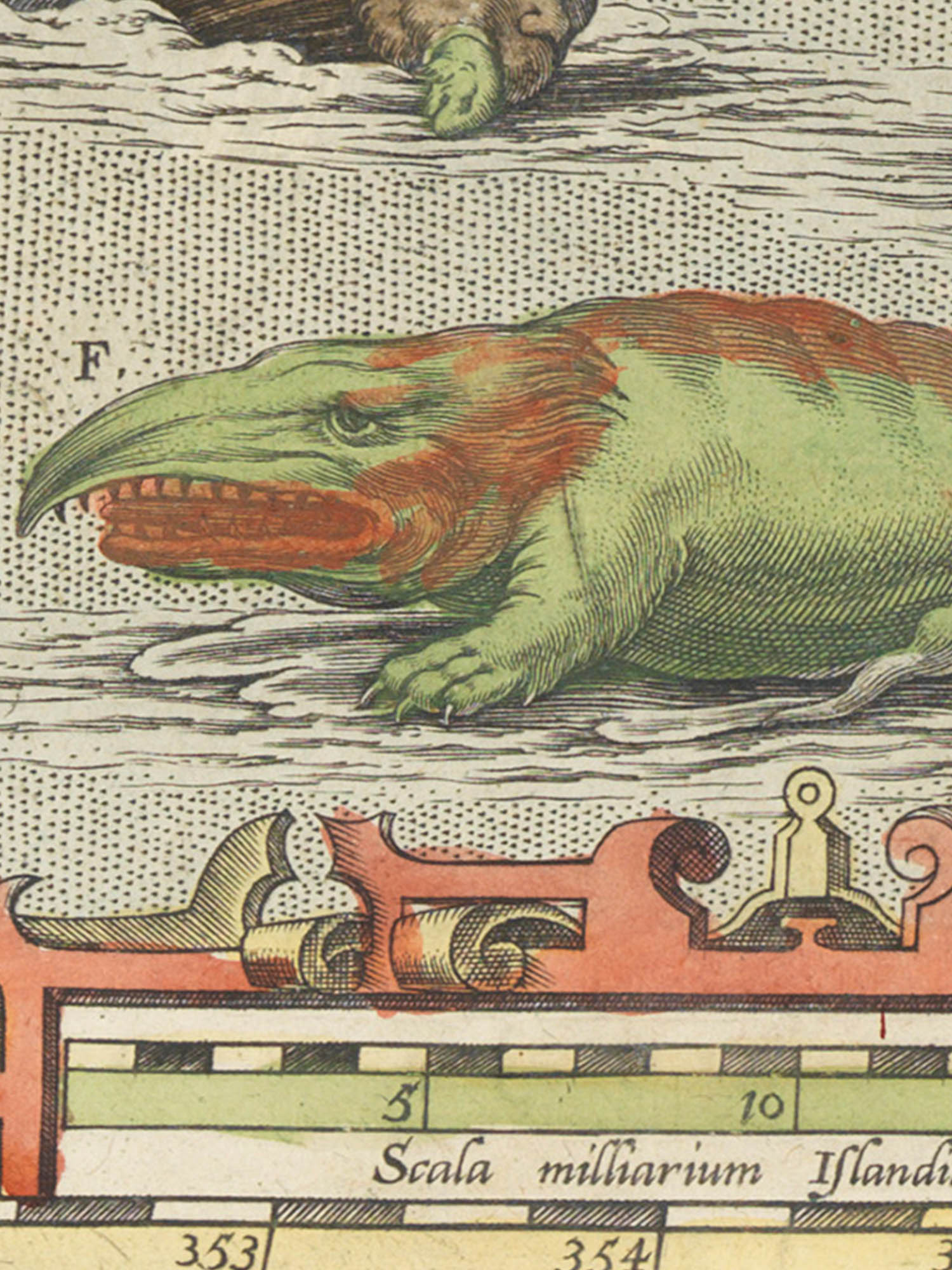 F. The English whale
The English whale, thirty ells long: it hath no teeth, but the tongue of it is seven ells in length.
G. The Hroshaulur/ Sea-horse
Hroshaulur, that is as much to say the Sea-horse, with a mane hanging downe from his neck like an horse. It doth the fishermen great hurt and skare.
A common belief was that every creature found on land had its counterpart in the sea. It was also thought that due to the ocean's constant churn and movement, familiar animals became combined into hybrid creatures, composed of different parts.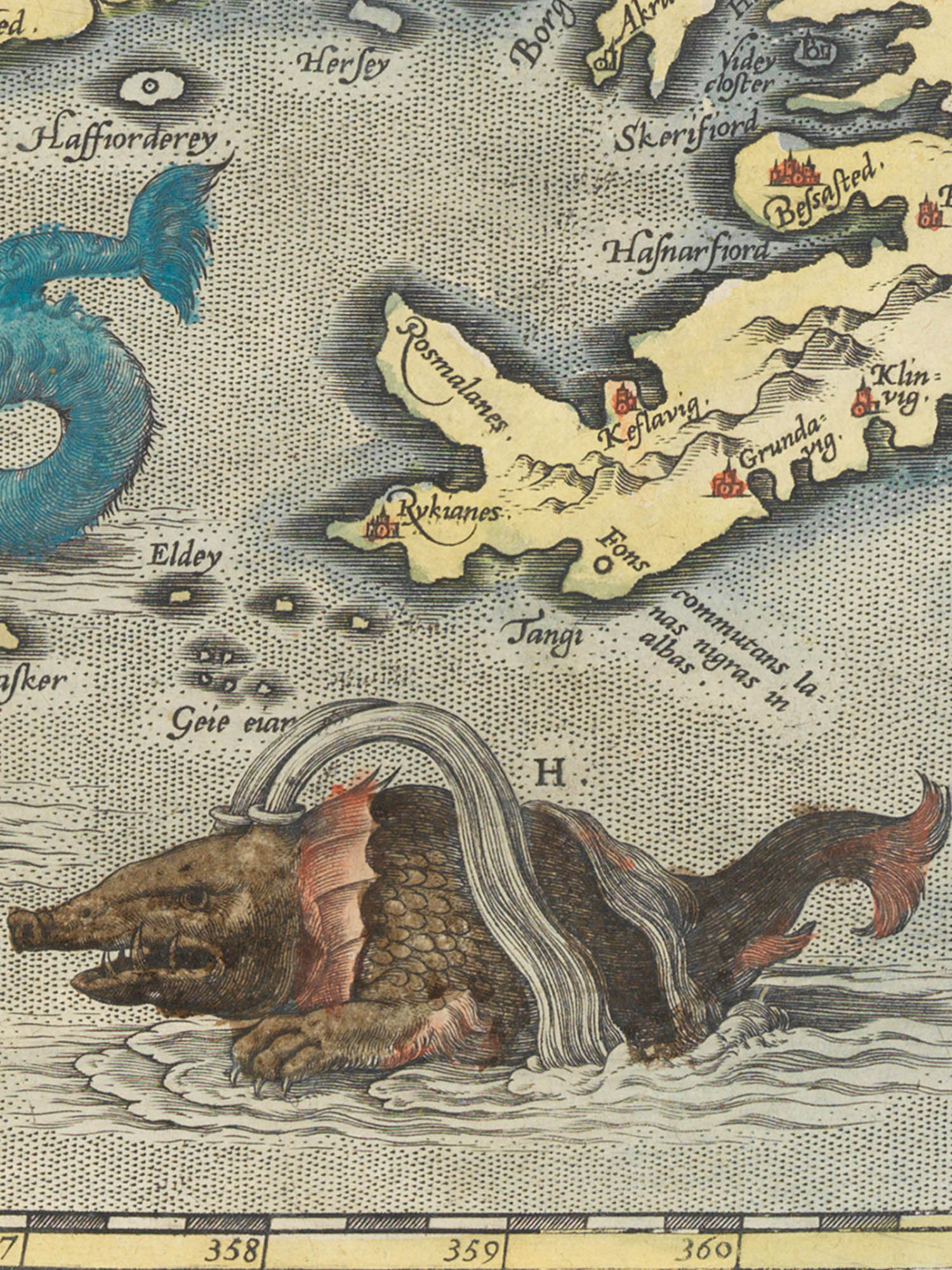 H. The Whale
The greatest kind of Whales, which seldome sheweth itselfe; it is more like a little island, than a fish. It cannot follow or chase the smaller fishes, by reason of the huge greatnesse and weight of his body, yet he preyed upon many, which he catcheth by a natural wile and subtilty which he useth for to get his food.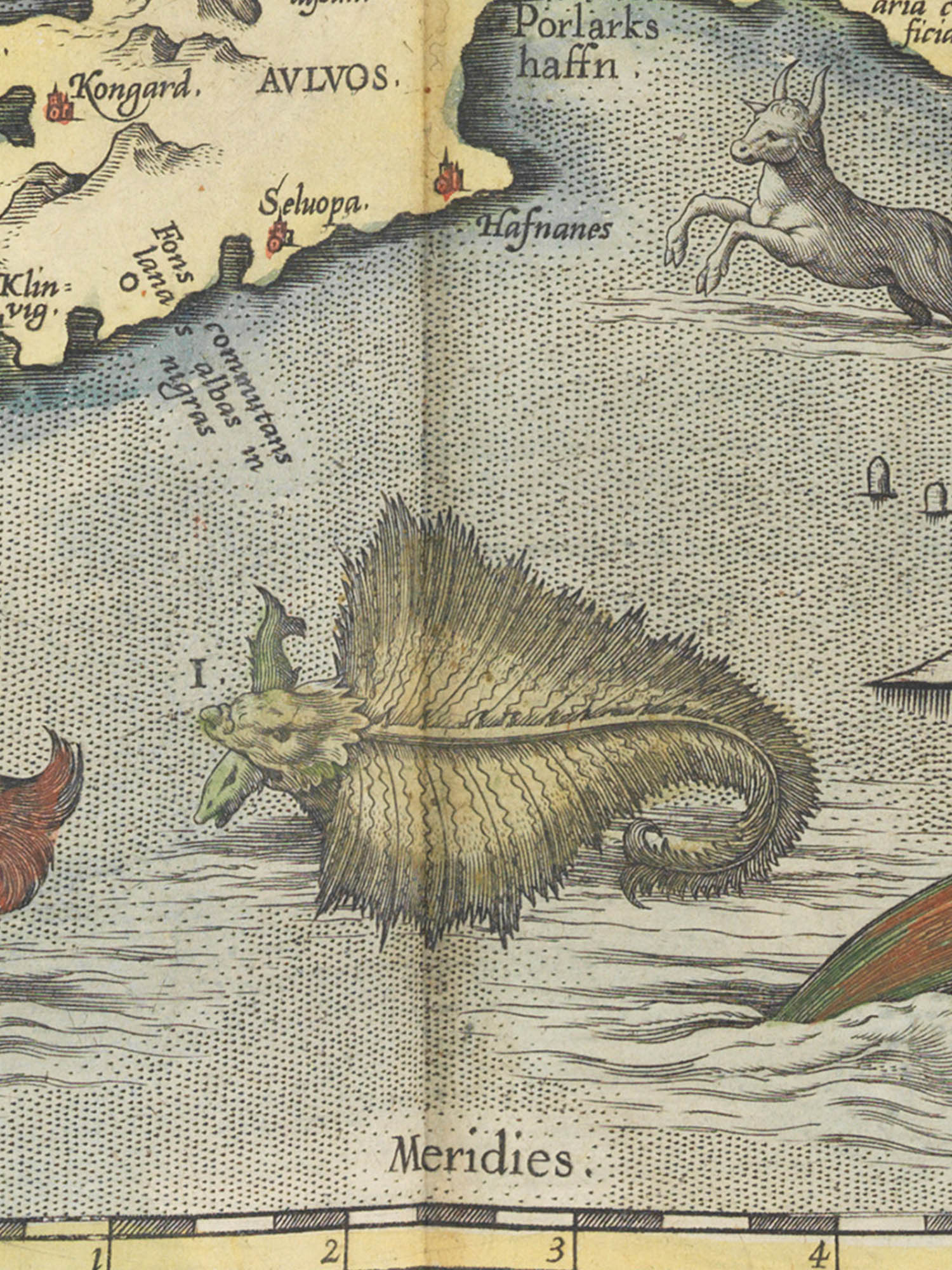 I. The Skautuhvalurm
Skautuhvalurm: this fish altogether full of griffes and bones; is somewhat like a ray or skaite but an infinite deal bigger: when it appeareth it is like an island, and with his finnes overturns shippes and boates.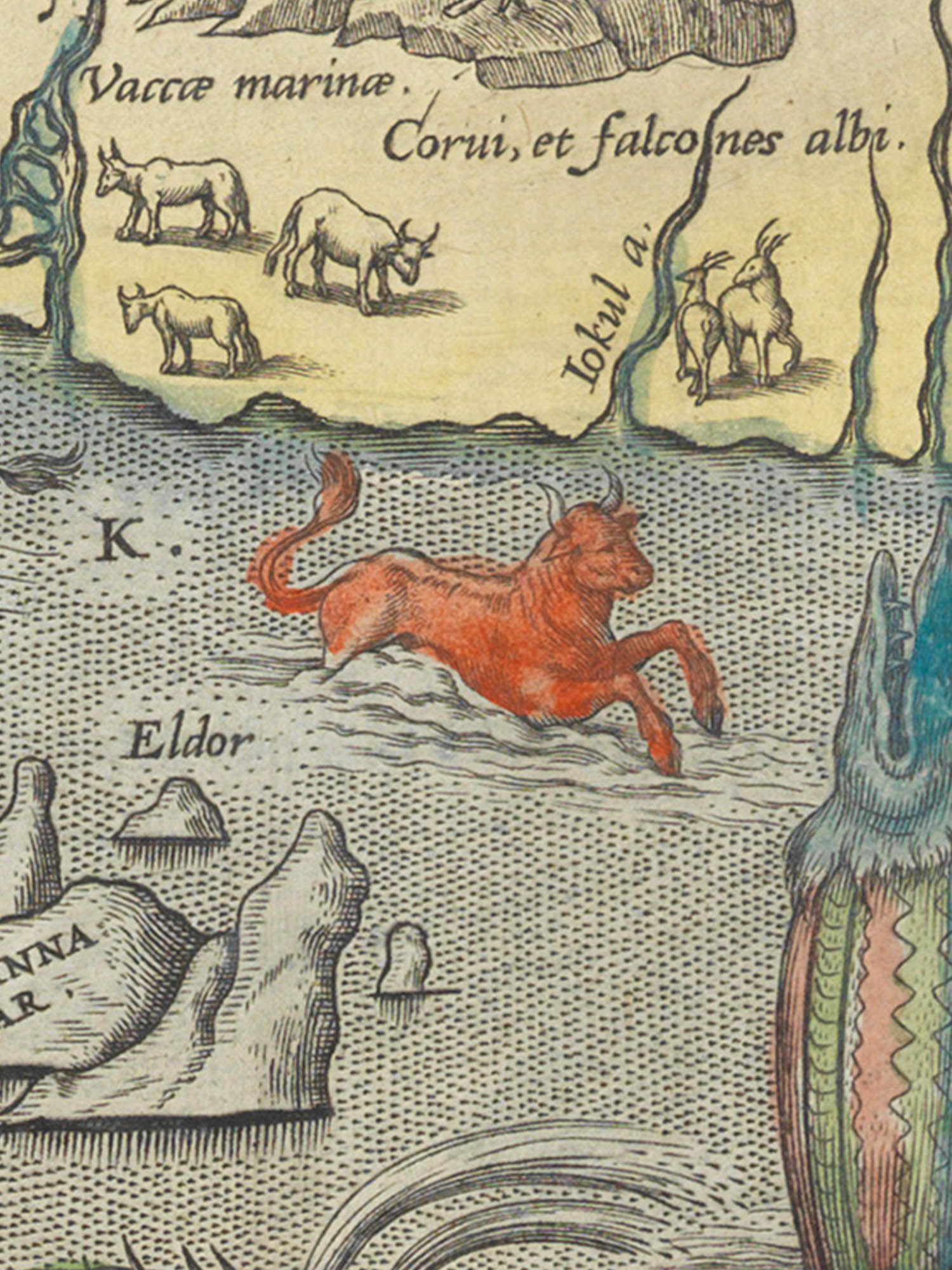 K. The Seenaut/ sea cow
Seenaut, sea cowes, of colour gray: they sometimes come out of the sea and do feed upon the land, many in company together. They have a little bagge hanging at their nose, by the help of which they live in the water: that being broken, they live altogether upon the land, and do accompany themselves with other kine.
You'll notice that the alphabetised list skips from 'i' to 'k', with no 'j'. This is because 'i' and 'j' were only just starting to be distinguished as different letters at this time rather than typographical differences within the same letter.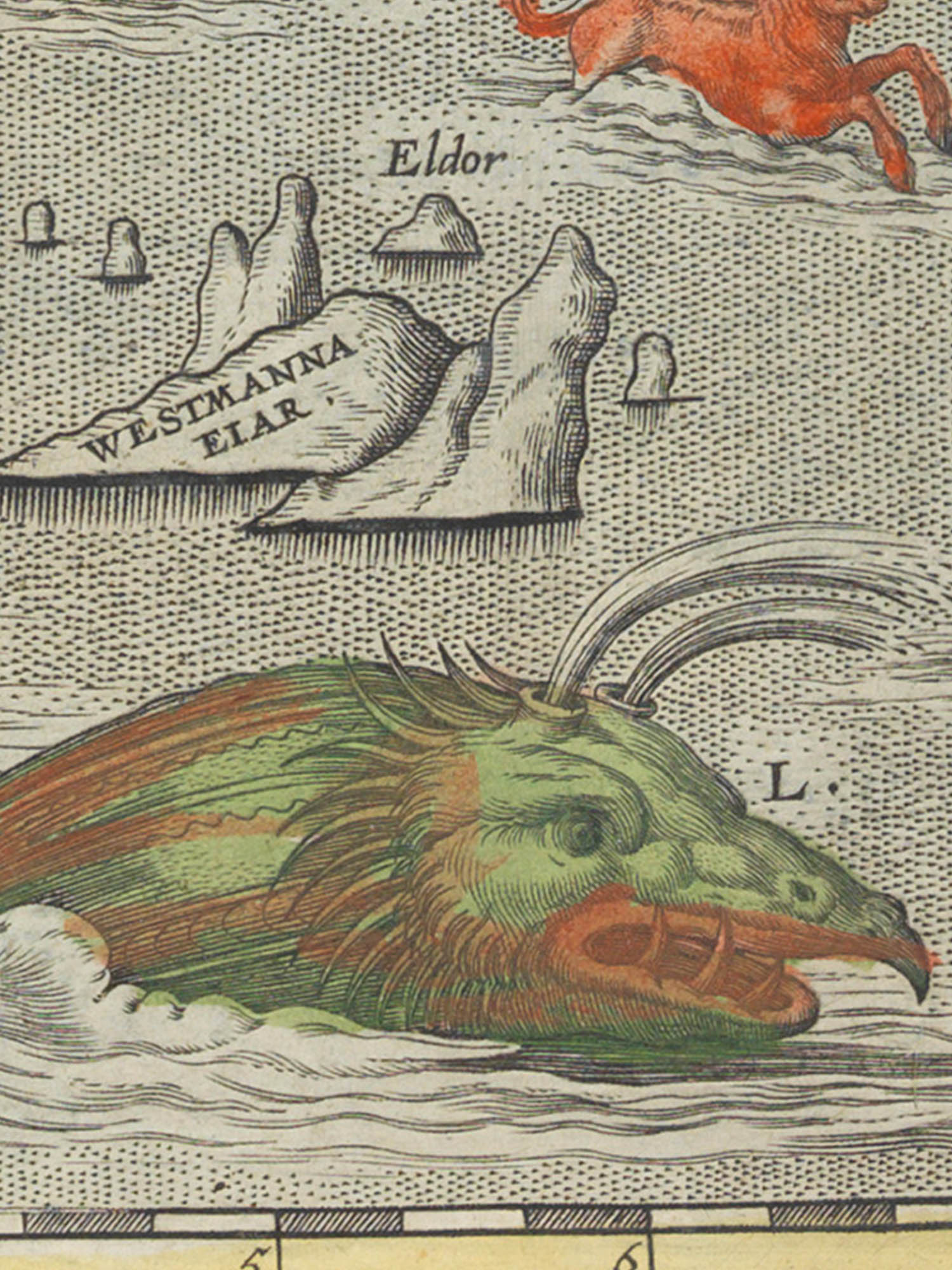 L. The Steipereidur
Steipereidur, a most gentle and tame kind of whale; which for the defence of fishermen fighteth against other Whales. It is forbidden by proclamation that no man may kill or hurt this sort of whale. It is in length an hundred cubites at the least.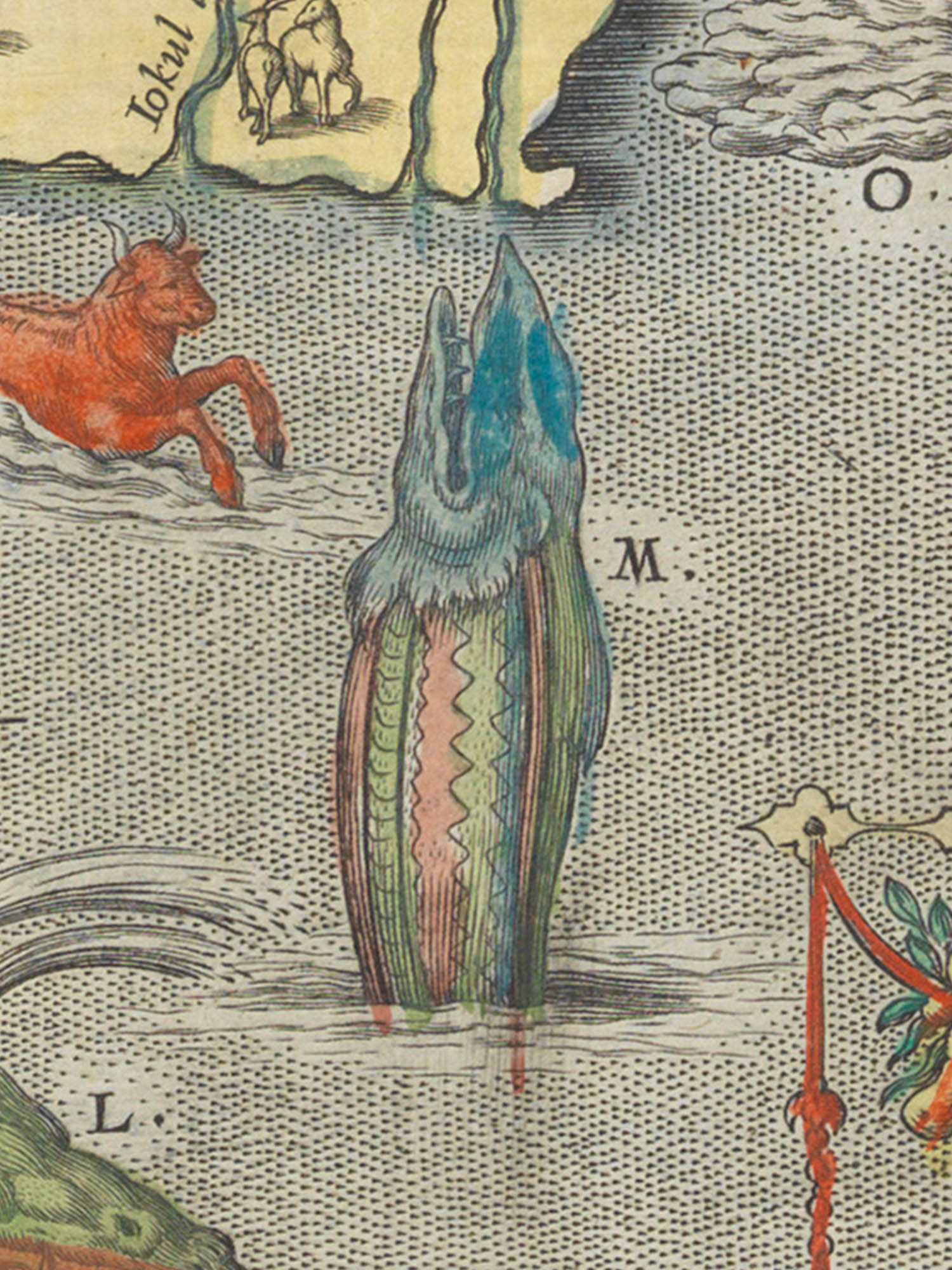 M. The Stuakul
Staukul, the Dutchmen call it Springual; he hath beene seene to stand a whole day together upright upon his taile. It is so called of leaping and skipping. It is a very dangerous enemy to seamen and fishers; and greedily seeketh after man's flesh.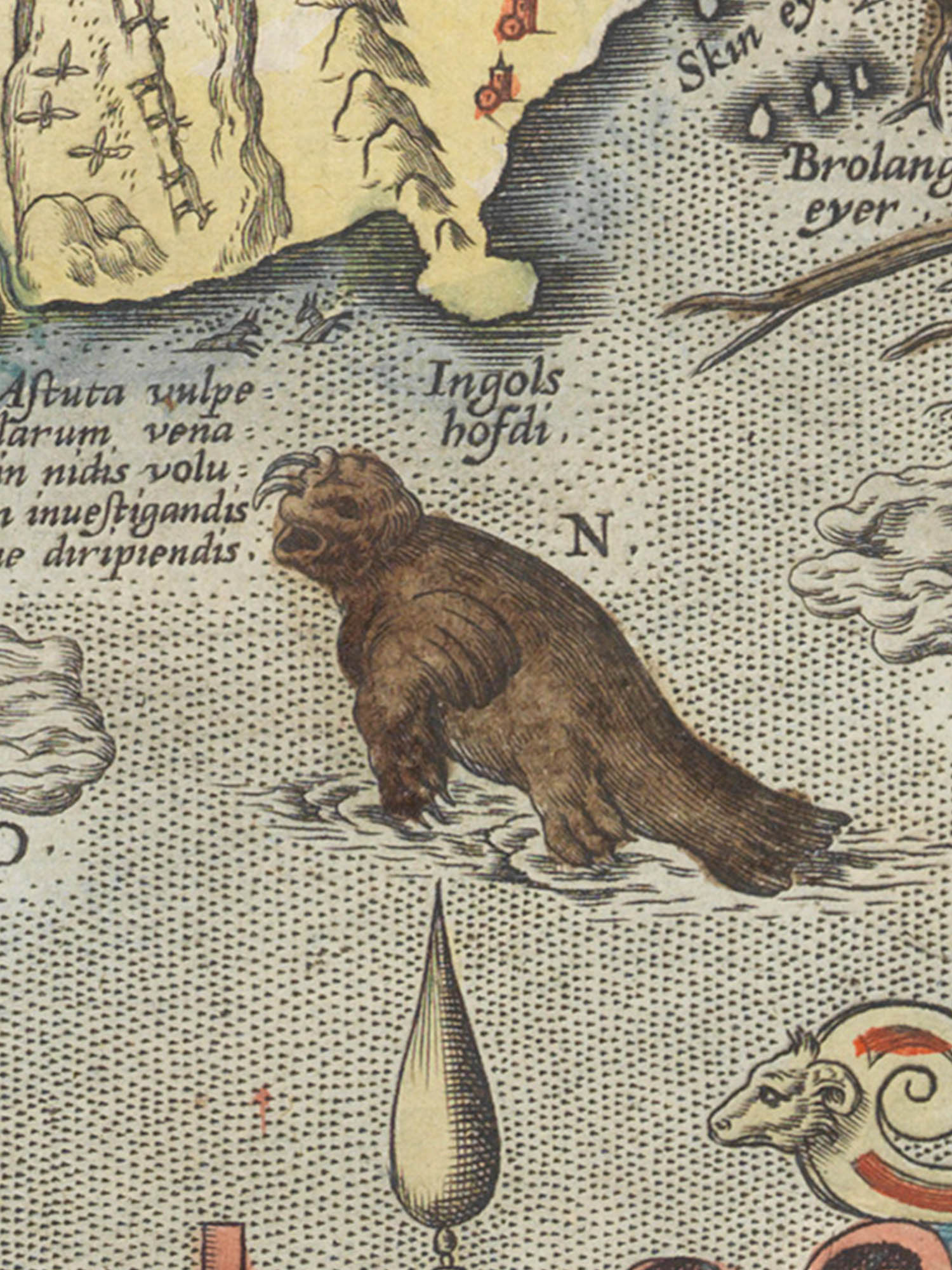 N. The Rostinger
Rostinger, (which is also called a Rosmar) is somewhat like a sea-calfe: it goeth to the bottom of the sea upon four feet, but very short ones. His skinne may be scarcely pierced with any weapon. Hee sleepeth twelve houres together hanging by his two long teeth upon some rock or cliffe. Each of his teeth are at least an elle long, but the length of his whole body is fourteen ells long.
You might have just about recognised this animal as what we now call the walrus. Its distinctive tusks were believed to be used for hanging off cliffs during sleep.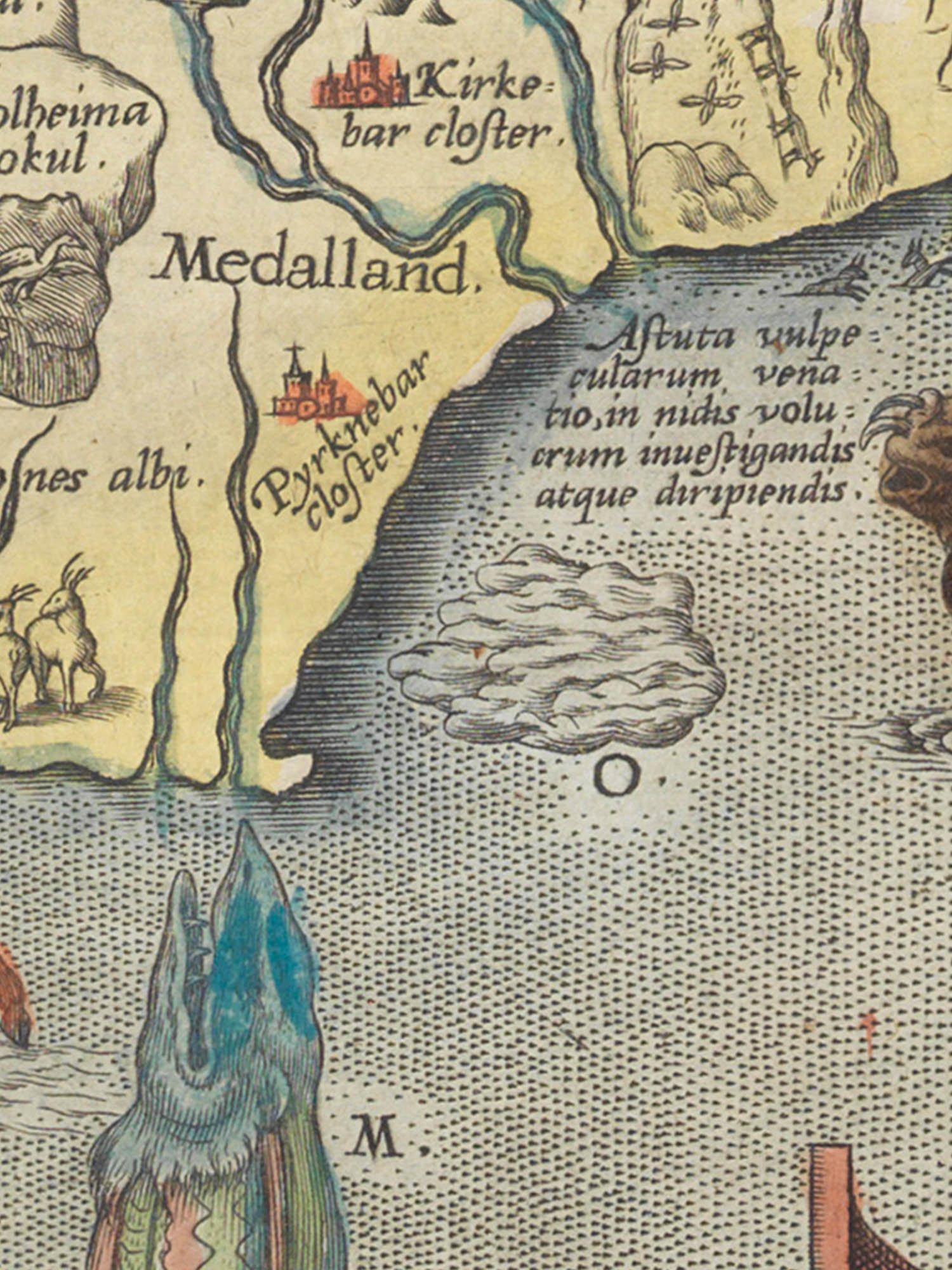 O. Spermaceti
Spermaceti, parmacitty, or a base kind of amber, they commonly call Hualambur.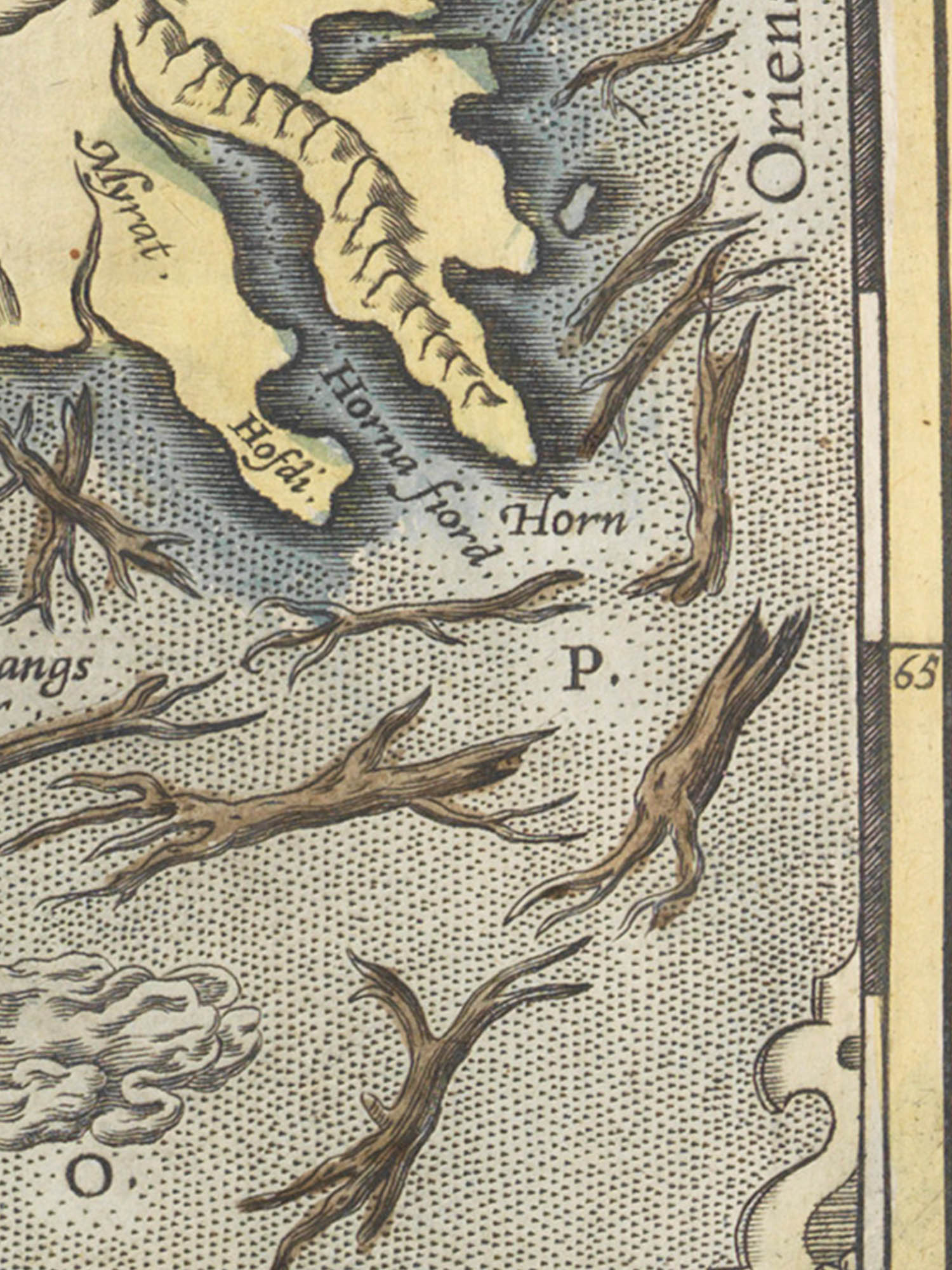 P. 
Blockes and Trunkes of tree by force of wind and violent tempest blowne up by the rootes from the cliffs of Norway, tossed to and fro and passing through many stormes at length are cast up, or do rest against this shore.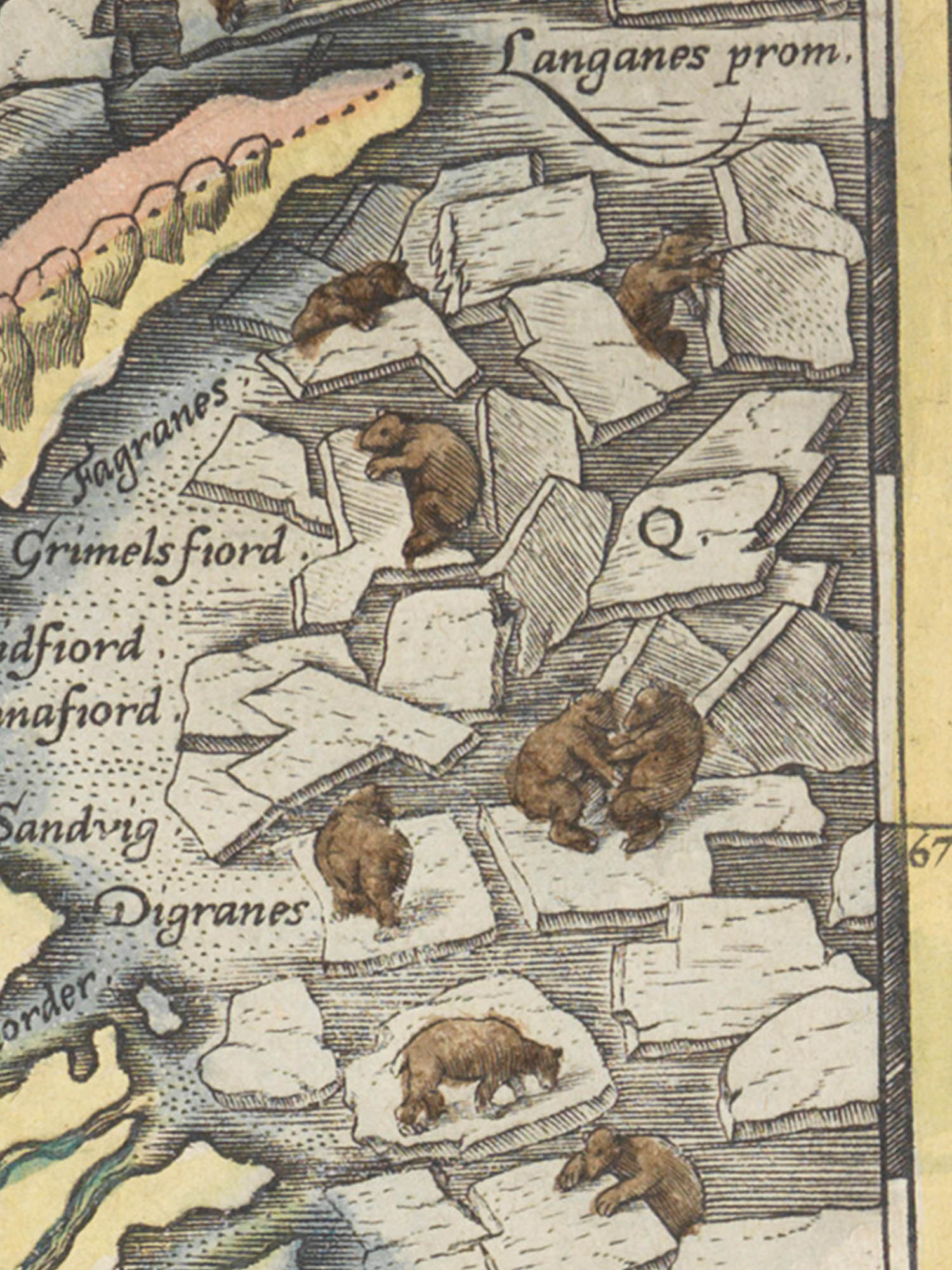 Q.
Huge and marvailous great heaps of ice brought hither with the tide from the frozen sea, making great and terrible noise and some pieces of which oft times are fourty cubites bigge; upon these in some places white beares do sitte closely, watching the silly fish which here about to play and sport themselves.