Set in a UNESCO World Heritage Site, the Queen's House Ice Rink is a magical place to skate and makes for a perfect end-of-term treat. 
Our open-air rink is set in front of the majestic Queen's House in the spacious grounds of Royal Museums Greenwich, which is based in Greenwich, south east London. 
The ice rink is open every day except Christmas Day from Thursday 18 November 2021 – Sunday 9 January 2022. 
We are offering schools a special 50% discount for a range of dates and sessions across the skating season.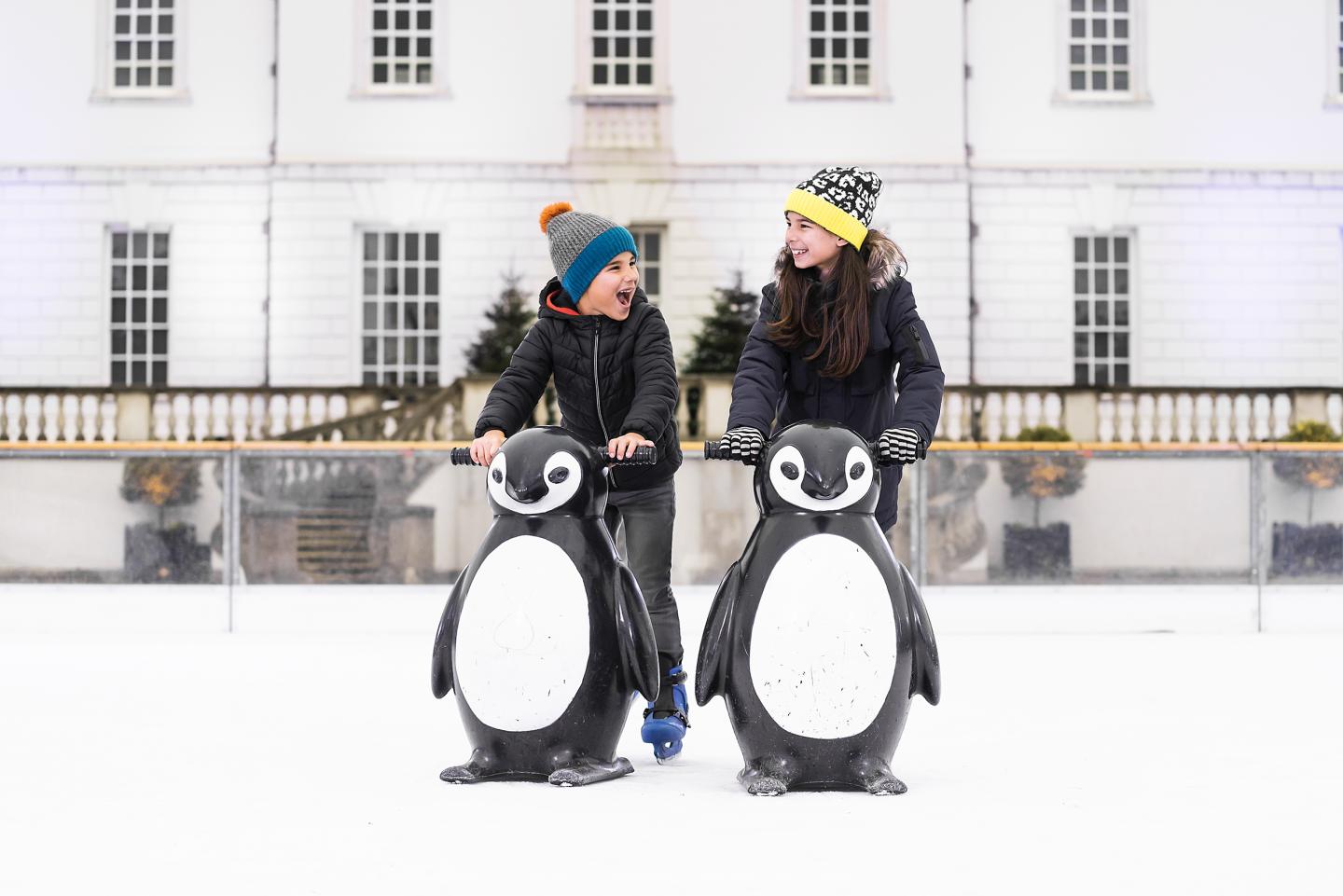 Pricing 
For school groups of 15+
| Ticket type | Adult price (aged 15+) | Child price (aged 3-14) |
| --- | --- | --- |
| Off peak | £7.50 | £4.25 |
| Peak | £8.50 | £4.75 |
Visits are subject to availability. 
Skate aids are available to hire and are available to book subject to availability.
How to book
1. Pick your session
The 50% discount applies to the following dates and sessions:

Thursday 18 November-Thursday 9 December (Monday-Thursday, 11am-7pm) 
Monday 13-Thursday 16 December, 10am-1pm 
Tuesday 4-Sunday 9 January, 11am-7pm 

There is a one-off transaction fee of £2.95 per order. The booking fee goes towards our transaction and associated booking costs which applies for online and phone bookings. Booking fees are non-refundable at any time. This booking fee is flat rate and applies to the purchase of any number of e-tickets and ticket types. 
Payment will need to be made by card by calling 020 8312 6608. You must pay for your skating sessions before they begin. We can arrange for you to pay by BACS if requested. 
We do NOT send invoices or accept payment by cheques. 
You might wish to include other things with your visit, like looking around a gallery and/or a lunchroom slot. That's not a problem - just let our bookings team know what you'd like to include in addition to the skating sessions. 
2. Read the FAQs and T&Cs  
Please familiarise yourself with our FAQs and T&Cs so you are fully informed.  
3. Complete the enquiry form
Our bookings team have created a webform so you can supply the information we need from you and cut down on lots of emails. Our bookings team will take you through the booking process and can answer any questions you have. 
4. Safeguarding and Risk Assessments 
There are different things to consider when it comes to keeping your students safe during a visit to the ice rink.  
You will need to complete your own risk assessments for your visit and bring the recommended number of supervising adults. All skaters skate at their own risk.  
Supervision 
You are legally responsible for your group at all times this includes on the ice and in the skate exchange.
You are responsible for your group skating safely and that they are following any instructions given by our skate marshalls.
Please note our skate marshalls are not skating teachers. They are on the ice to assist skaters and ensure safe use on the ice.
If at any time the behaviour of your group is deemed unacceptable or inappropriate, staff at the rink will issue a warning and speak to the lead teacher. If the issue continues the skater will be asked to leave the ice. 
Adults providing one-to-one support for a student should be counted separately, and there should be an appropriate number of other adults who are responsible for the rest of the group. So please ensure that you have sufficient staff with your group throughout the visit: 

KS1 – 1 adult per every 5 students (6 adults must accompany students on the ice per class of 32)  
KS2 – 1 adult to every 8 children (4 adults must accompany students on the ice per class of 32)  
KS3/KS4 - 1 adult to every 10 students (3 adults must accompany students on the ice per class of 32) 
Post-16 – 1 adult per 16 students (2 adults must accompany students on the ice per class of 32) 
 

A free ticket will be offered to all adults required to be on the ice. Any additional adults who want to skate will be eligible for the 50% discount. 
5. Have fun!  
That is it, pretty easy right?  All that is left to do is enjoy your visit.