Essential information
Date and time:
Friday 14 December | 18:45 - 19.45pm
Price:
Adult: £10.30 | Concession: £9.30 | Child: £8.20
Location:
Planetarium & Astronomy Centre
Dr. Jonathan Nichols from the University of Leicester shares the latest exciting Jupiter data from the NASA Juno mission.
For this years Christmas Lecture, we have invited Dr. Jonathan Nichols (University of Leceister) to explain NASA's cutting-edge Juno mission to Jupiter, as well as revealing some of the latests stunning images it has captured. Launced in August 2011, the spacecraft started it's mission in earnest when it entered orbit around the gas giant Jupiter in July 2016. Dr. Nichols specialises in studying Jupiter's magnetic field, but will be talking about the goals of the Juno mission in general.
More Information:
Jupiter, a planet of superlatives, is the largest and most massive planet in the solar system.  It offers humanity a glimpse into our place in the cosmos.  Jupiter's story is also the story of the solar system, including, of course, the Earth.  Its mysterious interior, atmosphere and magnetic field reveal how and where Jupiter formed in the solar system, with fundamental implications for the story of how we came to be on the Earth.  The gas giant allows us to test our understanding of how planets behave on a basic level, and reveals to us information about our own planet as well as the thousands we now know orbit other stars.  Juno, which arrived at Jupiter in 2016 and whose trajectory barely skims over the cloud tops of the giant planet, is designed to peer deep into Jupiter in a quest to uncover its past.  The spacecraft has already revolutionised our understanding of Jupiter.  Its stripes are revealed to be the tips of structures that extend deep into the jovian abyss, deep fountains of ammonia have been discovered near the equator, its lumpy magnetic field and auroras have been revealed in spectacular glory.  And the planet's storms, including patterns of cyclones clustering around the poles, and of course the iconic Great Red Spot have been photographed in detail.  In this Christmas Lecture we will take a journey to Jupiter, and discover its secrets as revealed by Juno.
Dr. Jonathan Nichols: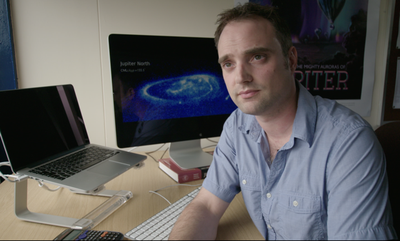 Dr Nichols graduated with a PhD from the University of Leicester in 2004 and has since held research associate posts at the University of Leicester and Boston University, Massachusetts, working with Hubble Space Telescope observations of Jupiter's and Saturn's ultraviolet auroras.  He currently holds a Readership in Planetary Auroras at the University of Leicester. Dr Nichols continues to work with Hubble Space Telescope data, having been awarded time to observe Jupiter, Saturn, Ganymede, and exoplanet WASP-12b, and is presently also working with Juno data as a Juno Science Team member.  He has also recently expanded his studies to consider exoplanets and Brown Dwarfs.