Essential Information
| | |
| --- | --- |
| Location | National Maritime Museum → Lower Ground → Sammy Ofer Wing |
| Date and Times | Saturday 23 October | 12pm-3.30pm |
| Prices | Free |
| | |
Message in a Bottle workshop
Part 1: Batik print workshop
12pm-1.30pm | Group Space
This workshop will unlock the meaning held in Yinka Shonibare's Ship in a Bottle and its iconic Dutch wax sails. Design your very own pattern and, using a batik printing process, create your own personalised printed fabric. Learn more about the significance of this fabric to the artwork, artist and its importance to African cultural identities today.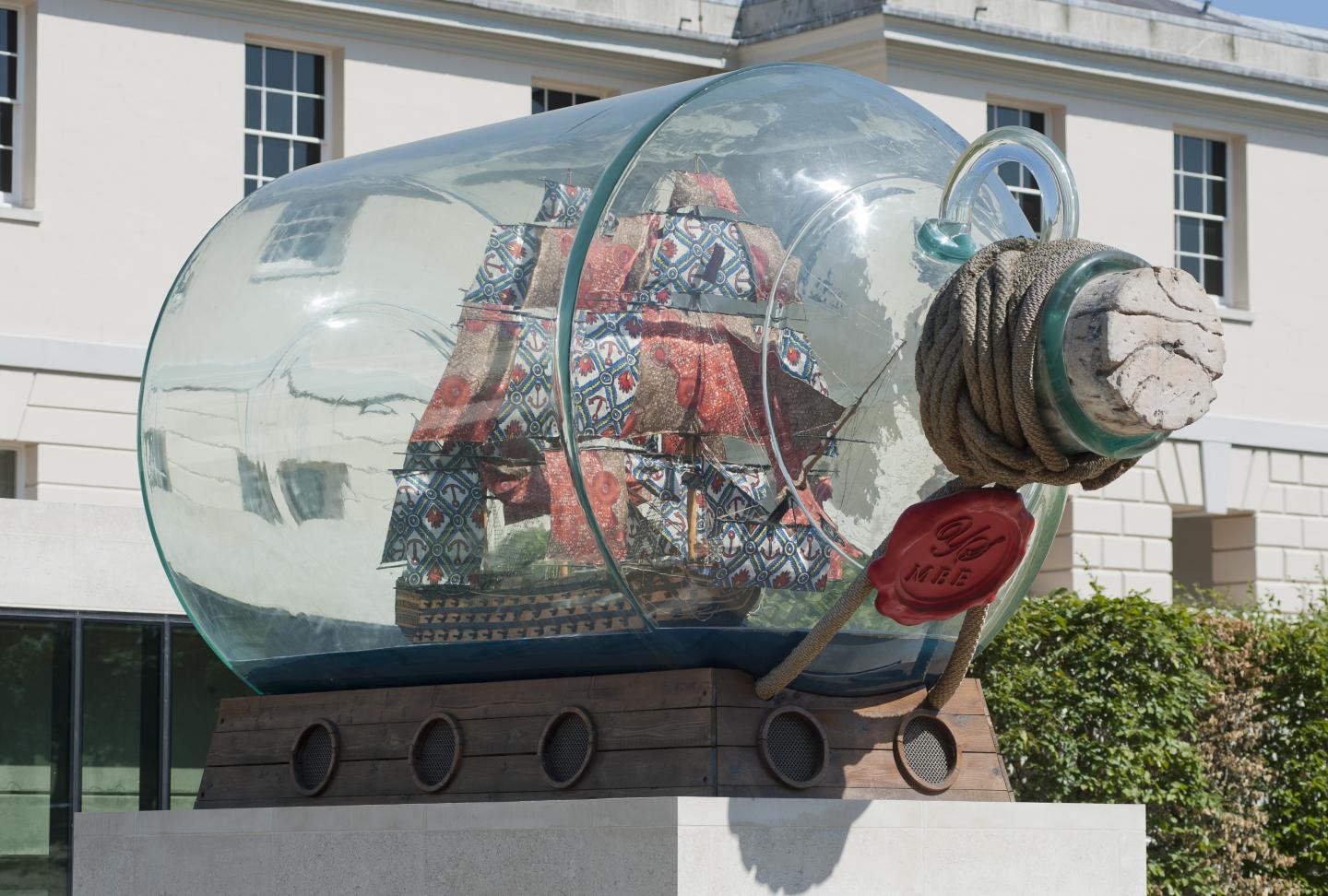 Part 2: Letter writing workshop
1.45pm-3.15pm | Sammy Ofer Wing: Rethink Space
In the second part of the workshop, we will look at the power of letters, exploring what they say about you and your hopes for the world. Explore the debate around a letter written by Lord Nelson on HMS Victory concerning abolition — views which he states, were shaped by his heritage. How has your heritage shaped your ideas about the world? Join us in this letter writing workshop and consider a letter as a force for good. What would you write?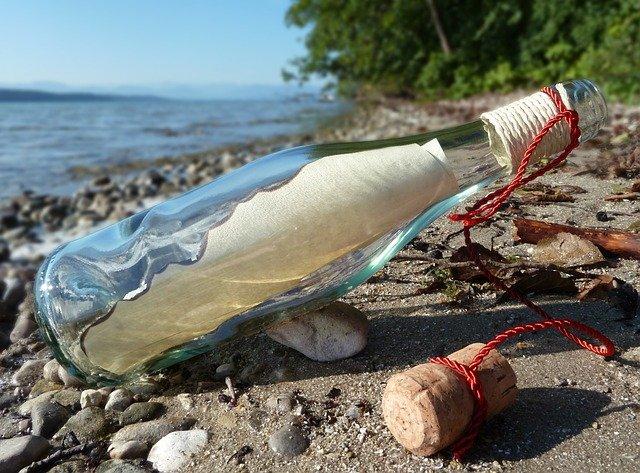 Book here to secure your place
This workshop is in collaboration with MA students from Westminster University. The workshop will encourage participants to question and interrogate their own heritage and identity.
If you would like to find out more contact learning@rmg.co.uk
A special commission
Below is a poem commissioned by Royal Museums Greenwich from poet Bunmi Ogunsiji. Bunmi is a re-emerging British-Nigerian writer in her 50s. She was commended in the 2016 Bath Short Story Award, shortlisted in the 2017 Bath Flash Fiction Award and was runner up in the Society of Author's 2019 Tom Gallon Trust Award. She is an alumna of 'The London Writer's Awards' - Spread the Word's annual development programme for talented London writers.
This poem was inspired by Yinka Shonibare's enchanting and vibrantly provocative Nelson's Ship in a Bottle. This public artwork, an object of timeless beauty and wonder, explores the interconnected threads of identity, belonging, emigration, cultural appropriation, colonialism and the invention of tradition in an intriguing and playful way — themes that are explored in the Message in a Bottle workshop. Bunmi explains:
"In responding to the work I was keen to draw on a similar creative playfulness and rather than approach Shonibare's piece from the 'outside in' as is often the case when we engage with public art, I wanted the poem to reflect a more immersive process and experience, for it to somehow explore the intricate features and workings of Nelson's Ship in a Bottle from the inside out.  An effective and fun way to do that was to place Nelson himself onboard the scaled down replica of his flagship HMS Victory.
"In light of what is known today regarding Nelson's support of Britain's colonial system and given the tragic death of George Floyd in the USA last year I felt it important that the poem speak in some way to the current discourse around racial inequality, the enduring reality of systemic racism and Britain's ongoing struggle to confront its deeply entrenched colonial past. How better to do that within the body of the piece than to have Shonibare and Nelson meet to discuss these issues, their very encounter representing a global interconnectedness, a dialogue between past and present, between colonial and post-colonial, themes central to Shonibare's work."
Watch Bunmi's performance of her poem
Nelson's Last Day or What The History Books Don't Say
The enemy's ragged line in sight I instruct my men to harness courage and verve, to hold their nerve and prepare for fight not flight.  Alone in my cabin, these failing eyes I close, in readiness to compose, my Trafalgar prayer, as we advance full throttle, only to find, upon opening them, myself inside a bottle, glazed and mounted on a wooden box and all around, a continuous whirring, fanning sound. Thinking myself in the throes of a dream I take to the upper deck, pinching my one good arm, and tell my crew, that England expects, as we sail into peril and harm, every man to do his duty against the enemy's line and yet in the melee of war I am sorely distracted from mine. For above my head, upon the Victory's towering mast, is not the billowing white of times gone past, but, as a light wind prevails, 37 brightly coloured patterned sails.
I give a signal here and there as an Admiral is expected to, rousing my men to surge forward and through, but I return to my reimagined flagship once more to ponder the manner of mind from which this sorcery has come, a magician's I'm sure. Indeed, glancing overboard during the battle's commotion, I find not the tepid waters of Spain, but a solid, textured ocean, and as we advance upon Admiral Villeneuve I think myself deranged for everything is as it was yet altogether changed. Then through the dense gun fire, I spot a gentleman dressed not in standard naval attire but swathed in a certain sartorial elegance, his hairstyle perhaps of some cultural significance, seated in a chair, his gaze, self-assured, playful, clear. Though my sight is now dim I know at once it is him. 
And we speak of many things, this gentleman and I, as all around us, bullets fly. We talk of creative authenticity, post-colonial hybridity, Indonesian hand printed cloth and such, imitated, produced in mass by the Dutch then sold across West Africa in vast quantities becoming central to many African identities. We speak of  80 guns, of oak and brass, hardwood, canvas and twine, of a flagship's yellow and black hull, faithful to my own Chequer design. We talk of a colonial condition, the creation of tradition, of intricate rigging, figure heads crafted in miniature, of a wax seal bearing his Nigerian-British signature. I mention 'the good old school', he calls me a fool, tells me slavery was an abomination, *stain on the very soul of a nation', we talk of the shadow of empire, an artist's need to enquire and we share our battle scars, he tells me of the flame in his spine, and I, in return talk of mine; the loss of an eye in Corsica, an arm in Tenerife, and before I am shot through the shoulder and dead, he tells me of a ship in a bottle in his head…
 © Bunmi Ogunsiji 2021
*These words borrow from Joe Biden's speech following Derek Chauvin's conviction for the murder of George Floyd.