HMS Hood is one of the most famous British battleships of World War II and in her time the largest warship in the world.
Named after one of the most distinguished naval families, she was a battlecruiser of 41,000 tons. Launched on 22 August 1918 and, after trials and a final fitting out, was accepted into Royal Navy service on 15 May 1920.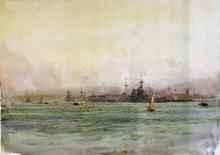 HMS Hood at Portsmouth c.1925-1929
By Christmas 1935 she was flagship of the Battlecruiser Squadron, Home Fleet and for Christmas dinner she was at Gibraltar, before a second refit in 1939. With the onset of World War II HMS Hood was involved in action in a number of places including the North Sea, the search for Scharnhorst and Gneisenau and convoy duty. Hood's demise is now firmly engraved in naval history, when she was sunk by the German battleship Bismarck on 24 May 1941.
Christmas menu from HMS Hood, 1935. Ref: MSS/83/173, Repro ID: F2121
Menus such as this give an insight into the very human side of life at sea and complements the other printed material held at the Caird Library relating to HMS Hood. It seems there was no turkey on Christmas Day but at least Christmas Pudding made an appearance!
Another great pic from the collection shows Wrens stirring a Christmas puddingRef: DAU/184/6, Repro ID: F2117
The papers were acquired by the Museum in 1976 and comprise volumes, loose papers and photographs dating from World War I to the 1970s. The majority of the collection relates to the work of Dame Katharine Furse (1875–1952), Commander-in-Chief of the Women's VADs and the first Director of the WRNS (Women's Royal Naval Service, now part of the Royal Navy).