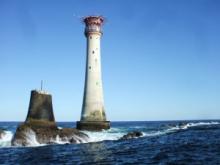 Eddystone Lighthouse - http://www.trinityhouse.co.uk/ Photograph by Paul Young
Eddystone lighthouse is considered one of the most famous lighthouses in the world. The Principal Keeper of the lighthouse between 1861 and 1866 was George Knott, the fourth in a succession of lighthouse keepers from the Knott family. He is now famous for the models he made of the lighthouses in which he served, including one of Eddystone lighthouse.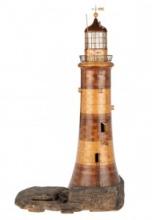 Model of Smeaton's Eddystone Lighthouse - http://collections.rmg.co.uk/ (P:\JPG\L\L04\L460-001)
 This model is a complicated construction of mahogany and walnut on a cork reef, furnished with numerous other materials. The lighthouse splits into six sections, depicting the internal structure and room layouts. The base shows the interlocking stone structure of the lighthouse's foundations and the sections proceed as follows: storeroom, upper storeroom, living room, bedroom and the lantern. I begin to wish that instead of the doll's house I had growing up, I had this model with all its hinged doors and windows and its miniature working crane.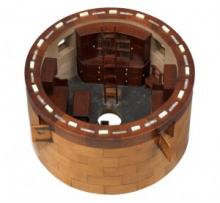 Inside of Model - http://collections.rmg.co.uk/ (P:\JPG\L\L04\L460-006)
Over the years there have been four different towers constructed on Eddystone, a red granite reef off the coast of Devon. The first, made of wood, was swept away in a storm, along with its three keepers and the designer, who was visiting the tower. The lantern of the second construction set fire to the roof, inflicting burns on the keepers from wood and molten lead. George's model is based on the third tower, a much stronger and less flammable structure of granite. Civil Engineer, John Smeaton designed the tower based on the shape of an oak tree using blocks of granite secured using dovetail joints, marble dowels and hydraulic lime, a revolutionary concrete that would set underwater.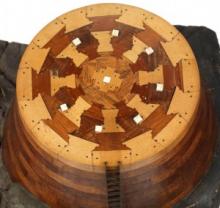 The interlocking structure of the base - http://collections.rmg.co.uk/ (P:\JPG\L\L04\L0460-012)
George's model of Smeaton's tower is of such a high-quality that he won prize medals in Plymouth Working Classes Industrial Exhibition in 1865 and in Bideford Fine Art and Industrial Exhibition in 1877. Both of these medals underwent conservation treatment removing the yellowing coating of lacquer, cleaning the metal surface with solvents and re-lacquering with frigilene. Although the new lacquer will inevitably discolour once more, it provides a protective barrier preventing the silver from tarnishing.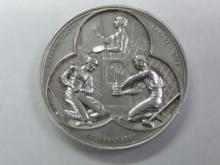 Plymouth Medal – Photograph by Laurie Price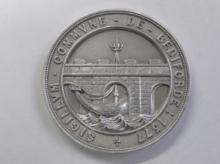 Bideford Medal – Photograph by Laurie Price
The model of the Eddystone lighthouse and Plymouth medal are currently on display in the Guiding Lights gallery at the National Maritime Museum. This exhibition celebrates the 500th anniversary of Trinity House, a corporation dedicated to the safety of shipping and of seafarers. The gallery is free of charge and will be open until January 2016.