There's lots to look out for in the night sky, and you don't need expensive equipment – just reasonably dark and clear skies and a bit of persistence.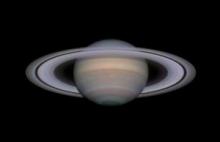 Saturn at opposition by Damian Peach (UK) - highly-commended entry to Astronomy Photographer of the Year 2013
Here's our pick of what astronomical events you can observe this month just with the naked eye, binoculars or a small telescope.
5 May – the full Moon rose last night. Tonight, look out for Saturn and the waning gibbous Moon in conjunction in the eastern sky (from London) after 22.00. Later on you might see the bright pink star Antares (the heart of the Scorpion) low on the horizon.
6 May – Eta Aquarid meteor shower peak – generally a light meteor shower.
11 May – last quarter Moon will be visible all morning.
13 May – Alpha Scorpiid meteor shower peak – another minor shower.
19 May – look out for the thin waxing crescent Moon and Mercury low in the western sky just after sunset.
21 May – look for Venus and the waxing crescent Moon in the western sky up until around 22.30, and then look to the right to see Jupiter.
23 May – Saturn at opposition – opposite to the Sun with respect to the Earth and closest to Earth, so best time for viewing the ringed planet.
24 May – Jupiter and the Moon will be in conjunction – see them before they set in the west just after midnight.
25 May – Moon reaches first quarter. Don't forget to share your pictures of the night sky and space with us on Twitter @ROGAstronomers or via Facebook. Looking for stargazing equipment? Kit yourself out for all your observing needs with our extensive range of telescopes and binoculars, all recommended by Royal Observatory astronomers.
Space and observation events at the Royal Observatory
If you'd like to know more about the night sky, why not come on a fantastic guided tour of what you can see for yourself in The Sky Tonight live planetarium show, presented by one of our astronomers? There's also beautiful photography of space to see in the Astronomy Photographer of the Year exhibition - come along and be inspired to take your own astro-photographs. And we've got lots more events for space-lovers this month, including: Daytime Sky Watch 28, 29 May: 13.00, 13.40, 14.20, 1500 £6.50 Adult | £5 Members/concessions | £4 Child/guardian Come and take a peek at the planet Venus through our amazing 18-tonne Great Equatorial Telescope. Find out more and book Elemental (planetarium show) Mon 25 May: 19.00, 21.15 Explores four theories of how the universe began, with live music, theatrical performance and striking visuals. Introduced by Professor Chris Lintott, presenter of the BBC's The Sky at Night. In collaboration with the Australia and New Zealand Festival in London. Find out more and book Think Space Lectures Thur 21 May: 17.00 (National Maritime Museum) Ruth Angus from the University of Oxford will be showing us data from the Kepler space telescope's mission to find Earth-like planets orbiting other stars. Find out more and book