BGY/E/3 is a file containing small collections relating to two members of the same family. It's been difficult to determine exactly how James and Edward Everard are related, however. We know that Edward Everard (1739-1819) had six children, and that his youngest, Rebecca, married Henry Prescott Blencowe, whose daughter Elizabeth was James Everard's mother. They are likely to be cousins of some kind as well.
By Harriet Braine, Archives Assistant 
Visit the Caird Library and Archive
The collection of James Everard (BGY/E/3/1) consists of transcribed copies of letters from him to his father describing the Bombardment of Algiers (1816), during which James was serving on HMS LEANDER. He describes the battle and aftermath, and there are mentions also of Lord Exmouth and accounts of the ship and crew while at harbour in Gibraltar and during battle. It also contains several small booklets containing a biography of James written after his death aged just 29, by one of his parents. We can infer this is the case, as the writer, between extracts, refers to James as 'my son', but neither parent, James Everard (of Lowestoff) or Elizabeth (daughter of Henry Prescott Blencowe) signed the documents. James was their only son. There is also a small biography written by his grandmother, which summarises that James was a Lieutenant in the Royal Navy, born in 1796 in Norfolk, died in 1825, and buried in Bangor Church, near his place of death.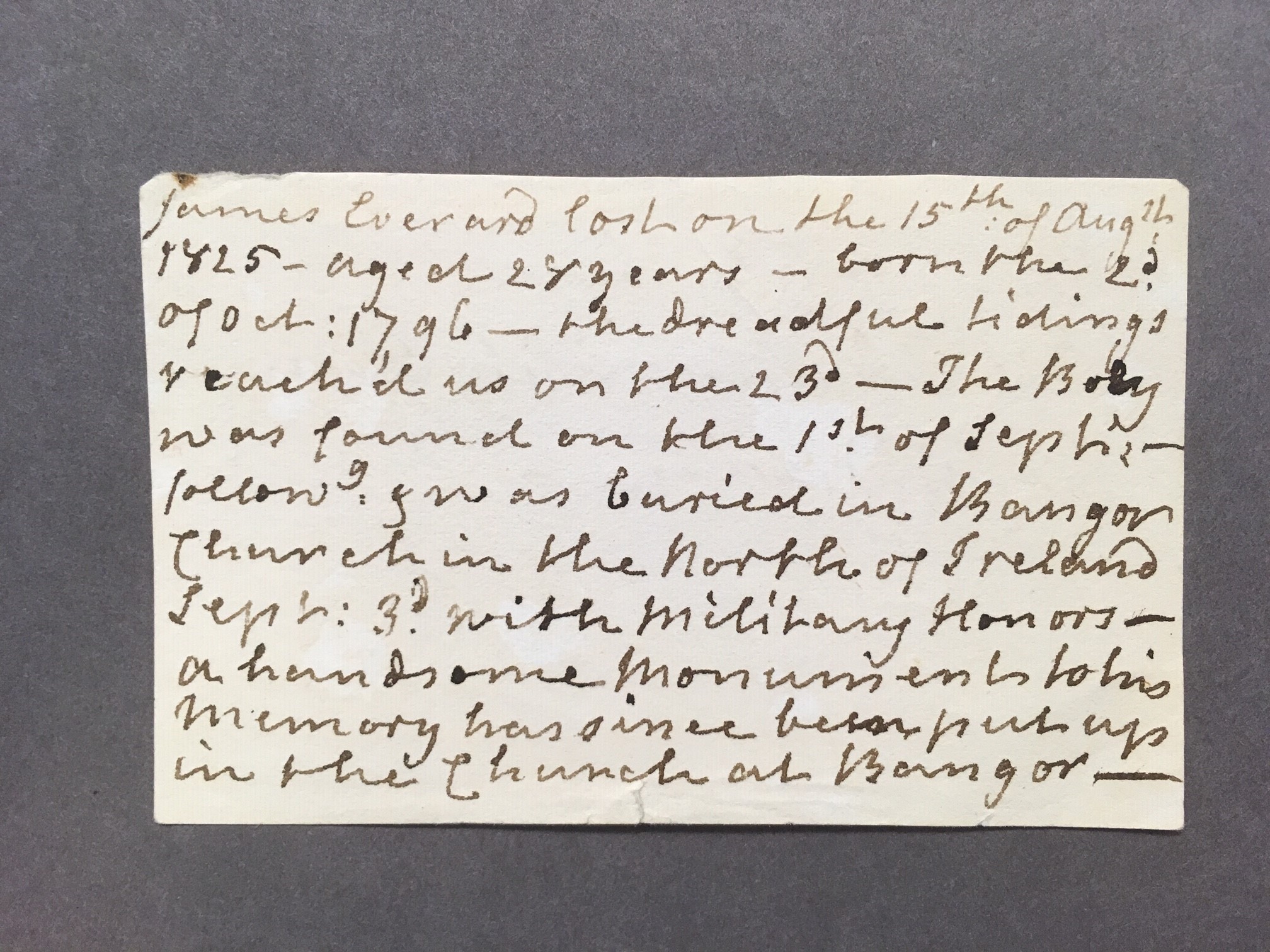 A short biography of James Everard
The biographies have been carefully put together from letters, diary entries, and eyewitness accounts of friends and family, and are obviously keen to emphasise James's excellent qualities as a son, and as a young Lieutenant in the Royal Navy. Intriguingly, the first booklet, covering James's childhood, has a rather startling message written on the last page, which reads: "Had better be burnt". This message is written in the same hand as the biography, and there is a later addition, presumably written by a descendent underneath it in blue biro, reading: "It had better not!".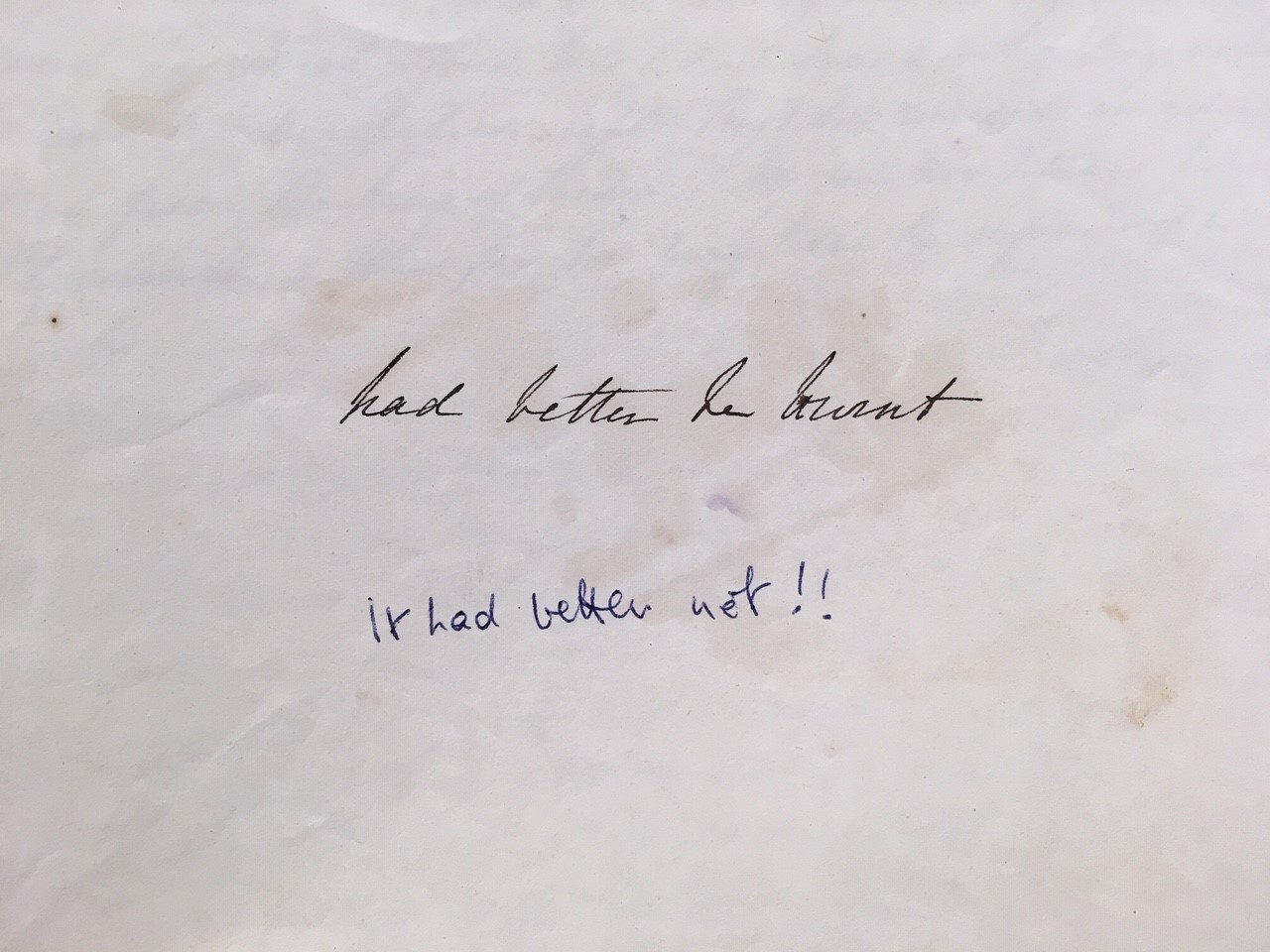 Intriguing messages left by different family members over time
The collection of Edward Everard is very different to that of James, consisting of three yachting log books. Edward owned several "pleasure cutters", represented in this collection are the NEPTUNE, the HEBE and the HEBE II. One of the logbooks covers the HEBE, 5 August 1793 to 27 October 1794 and the HEBE II, 7 May 1795 to 22 April 1796. It includes Information about each ship on front cover, and information about who was on board, which for August 1795 included Edward Everard, his son Edward and his wife, his two daughters Elizabeth and Rebecca, amongst others.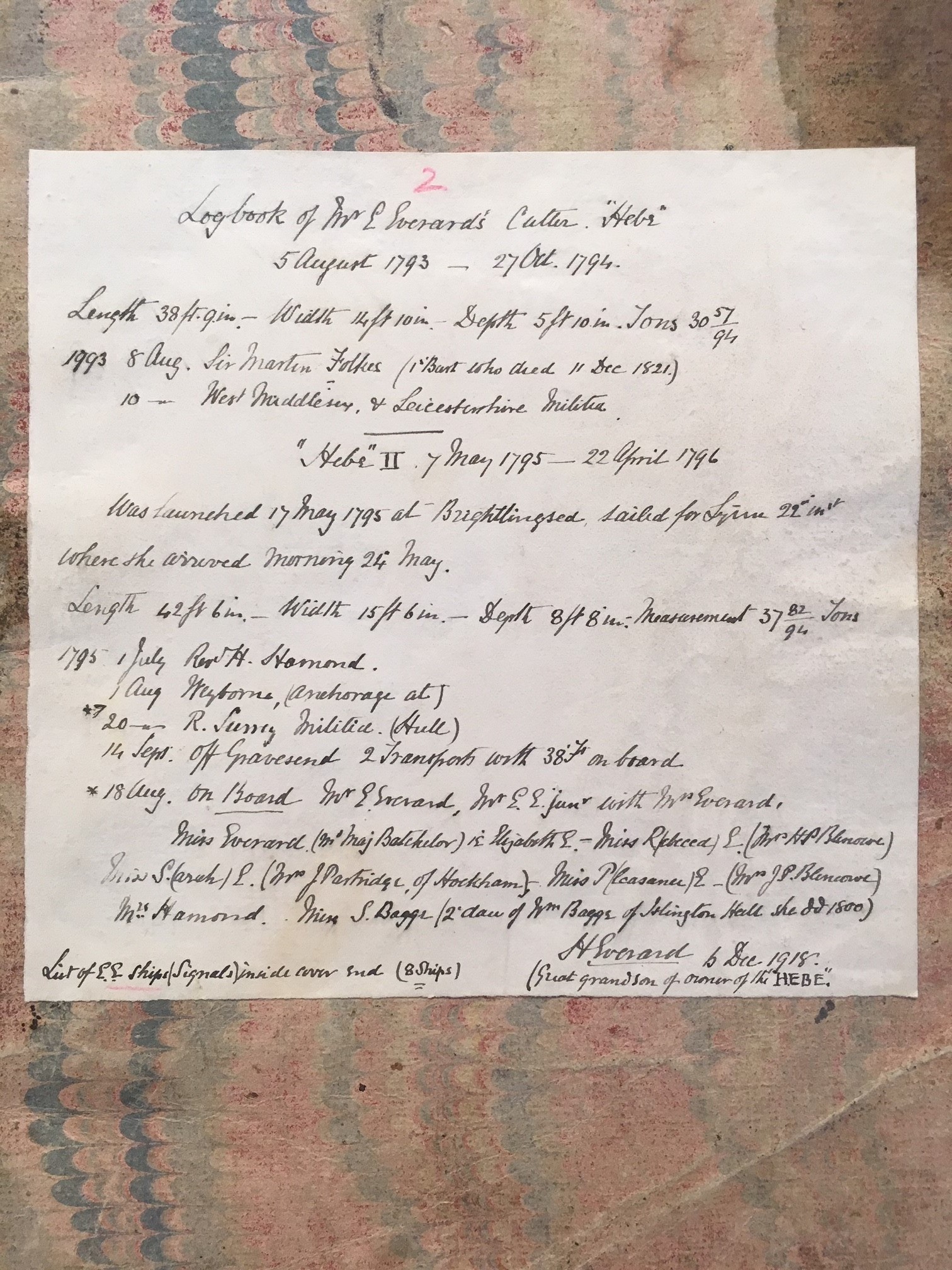 Front cover of Edward Everard's log of the HEBE and HEBE II, which has a note about the vessels pasted to it signed by H. Everard, dated 1918
It's interesting to think that Edward's maritime life was a very pleasant and leisurely one compared to his Royal Naval relative James who died young, attempting to complete a naval mission. Edward's great grandson H. Everard signed and dated notes compiling biographical information and ship information which can be found pasted to the front covers of two of Edward's logbooks. This biographical information has been essential to re-uniting these two members of the Everard family into one collection.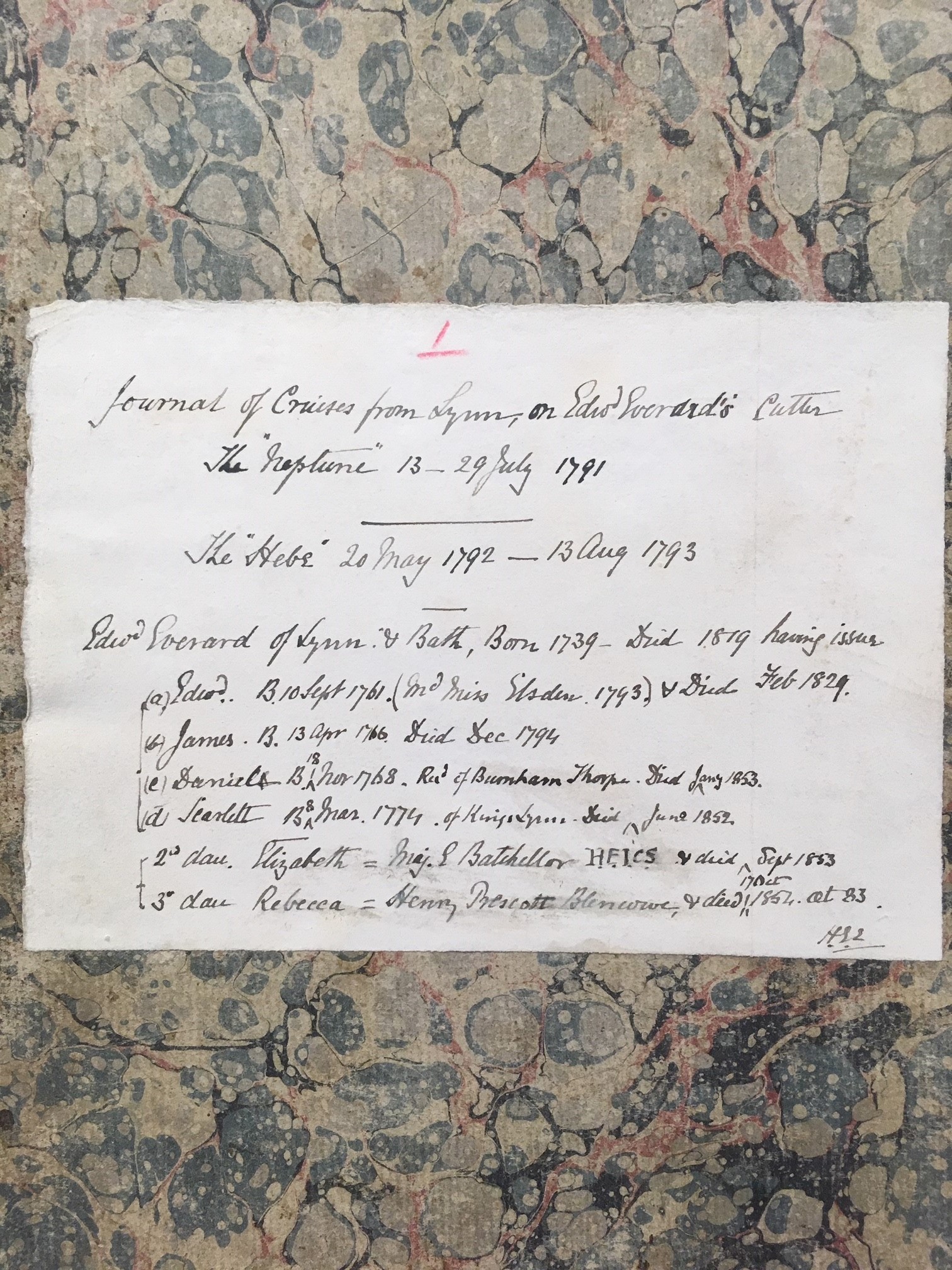 Front cover of Edward Everard's log of the NEPTUNE and HEBE, with family history note initialled by H. Everard, the author's great grandson.