When is the Caird Library open?
The Caird Library and Archive is open from Tuesday 13 April.
The Library will be operating in a socially distanced way to keep everyone safe. As result, the number of visitors we can accommodate will be limited.
How do I book an appointment?
Booking an appointment in advance is essential. 
To book your appointment please follow the three steps below:
Register with Aeon, our online ordering system - or use your existing account
Search our online catalogues and use the "order" button to place items you wish to study in "Keep for my review"  Archive Catalogue  |   Library Catalogue
E-mail Library staff at library@rmg.co.uk to schedule your visit (we regret we cannot schedule appointments by telephone)
When you contact the Library via e-mail, the member of staff handling your booking will ask you to confirm:
The items you would like to view from your "Keep For My Review" list. (This is also found under Review Requests in your account.)
Your planned arrival time at the Museum (Library admission is at 10.30am, 11.30am, and 1.30pm only)
Once your booking has been agreed, you will be e-mailed a timed entry ticket for you to enter the museum.
Book a Day to Visit:
| | |
| --- | --- |
| Visit |   Deadline |
| Tuesday 13 or Wednesday 14 April  |   12.30pm Wednesday 7 April  |
| Tuesday 20 or Wednesday 21 April |   12.30pm Wednesday 14 April  |
| Tuesday 27 or Wednesday 28 April |   12.30pm Wednesday 21 April  |
| Tuesday 4 or Wednesday 5 May |   12.30pm Wednesday 28 April  |
| Tuesday 11 or Wednesday 12 May |   12.30pm Wednesday 5 May  |
| Tuesday 18 or Wednesday 19 May |   12.30pm Wednesday 12 May |
| Tuesday 25 or Wednesday 26 May |   12.30pm Wednesday 19 May |
| Tuesday 1 or Wednesday 2 June |   12.30pm Wednesday 26 May |
| Tuesday 8 or Wednesday 9 June |   12.30pm Wednesday 2 June |
What happens when I arrive?
Each visit requires a separate entry ticket. Please bring your ticket with you, and upon arrival at the museum,  staff will scan and confirm your visit.
How often can I visit?
In order to provide as many opportunities for researchers to access the collections, visits should be scheduled no more frequently than once every other week.  It is possible to visit on each day the Library is open in a given week.
Please make it clear when booking your appointment if you plan to visit on more than one day.
We can provide access to a maximum of 10 collection items per reader per day. 
Please note that items held in off site storage are not currently able to be requested for viewings. Larger format items, such as maps and charts which require two members of staff to retrieve for use, may also be temporarily restricted. We will notify you of any items that are not available for viewing when scheduling your visit.
How to register
To register and to request items to view you will need to use the Library's online request  system, Aeon.
Preparing for your visit
We have prepared a detailed guide to visits to the Caird Library whilst social distancing measures are in place which can be found via the links below.
Based on the latest Government guidance, all visitors to Royal Museums Greenwich sites, including the Caird Library, should wear a face covering unless exempt for health reasons.
Access Policy
For a full description of our services, how we operate and our conditions of use please see the Caird Library and Archive Access Policy
Please note that although we hold many collections, maritime history research can be time-consuming so do allow plenty of time for your visit.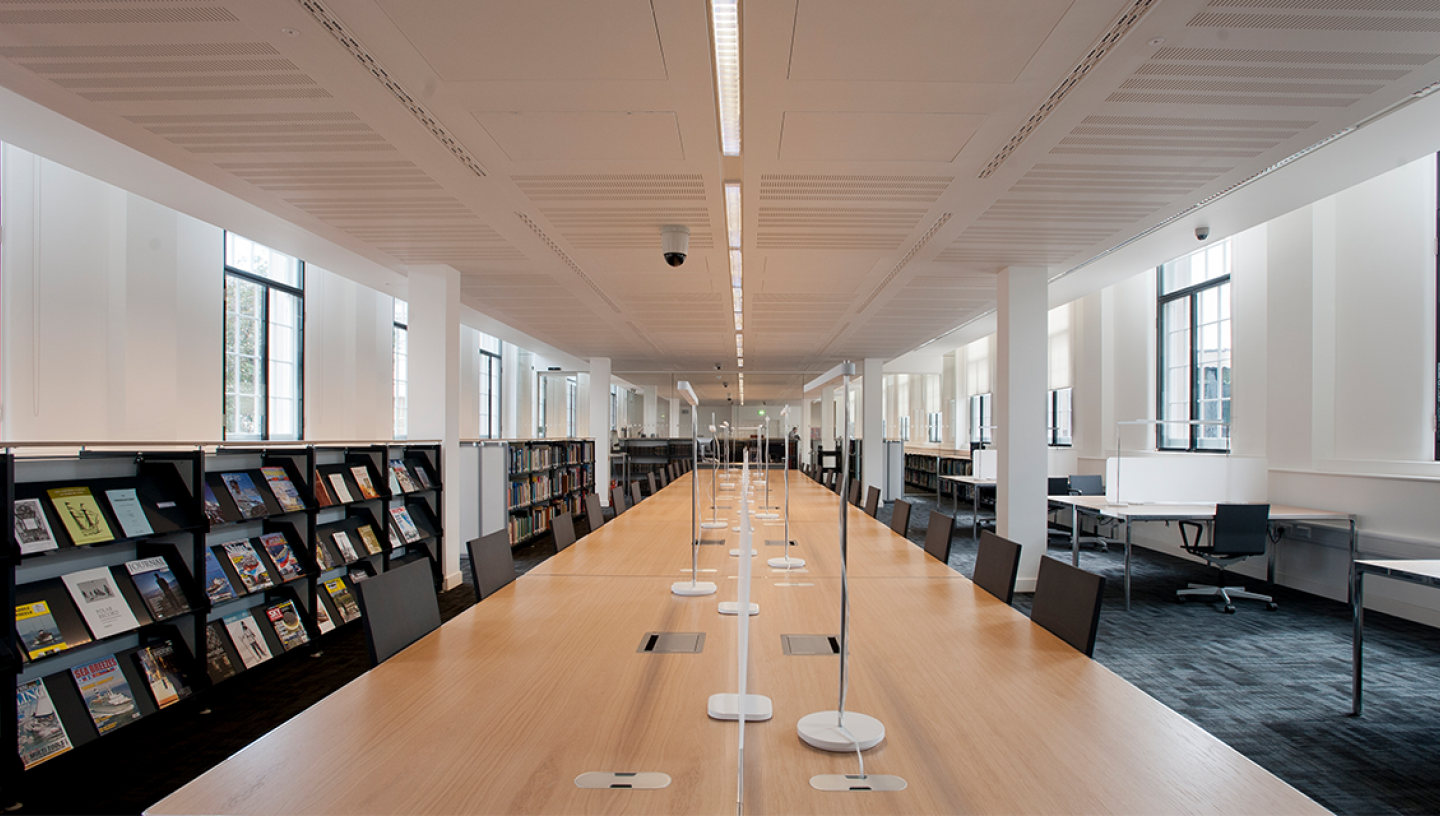 Caird Library and Archive
Learn more about the world's largest maritime library and archive collection