Our decorative art and craft collections feature silver, ceramics, furniture, glass, jewellery, textiles and sailors' craftwork.
Our collection range from valuable presentation pieces to inexpensive, disposable souvenirs that were fashionable at the time of production.
Ceramics
The collection comprises 2040 items dating mainly from the eighteenth to the twentieth century. A substantial number of pieces commemorate individuals, events and vessels. Generic material mainly depicts sailors, a genre partly inspired by nautical melodrama. Ceramics collected because they belonged to significant individuals include a number of important services ordered by Horatio Nelson (1758-1805) and a Chinese export teapot bowl and two mugs about 1750, associated with the family of Captain James Cook.
Glass
The majority of objects were collected from a historical perspective and contains around 700 objects. A large portion of the collection is commemorates the heroes and events in the Georgian navy.
Objets D'Art
The majority of objects focused on significant naval officers from the period of the French Revolutionary/Napoleonic Wars, and specifically on Horatio Nelson. The collection comprises over 800 objects from the mid-eighteenth to the twentieth centuries, primarily small decorative art items, many of which are distinguished by the ingenious use of less usual materials, and including small boxes (notably patch boxes), fans and other costume accessories, cut-paper pictures, furniture fittings, small sculptures and portrait plaques.
Jewellery
There are around 450 objects dating from the 16th to the late 20th century and consisting largely of seals, watches, broaches, buckles and lockets. Its strengths are in the Georgian navy, specifically in events relating to Nelson, as well as personal possessions of significant officers or individuals from the period of the French Revolutionary and Napoleonic Wars. Highlights include: Nelson mourning jewellery, including rings distributed for his funeral to immediate family members and associates; personal pieces belonging to Nelson, as well as more modest pieces relating to his immediate family. There are significant holdings relating to passenger travel and its hazards.
Furniture
The furniture collection was largely acquired by means of gift and bequest and contains approximately 1000 objects. Featuring sea-going/travel furniture; writing slopes; officers' personal furniture; and ratings' ditty boxes. Larger objects include cabin fittings, liner furnishings and furnishings from the Royal Yachts. Objects with personal associations include the domestic furnishings of notable individuals such as James Cook and Nelson. There are some commemoratives, which are largely made from ships' timbers such as the Royal George furniture, and site-specific objects such as furniture made for use at Greenwich Hospital.
Plate
The silver and metalwork collection comprises over 1000 objects and ranges in date from the early 17th to the 21st centuries. It provides a good survey of styles and techniques and has representative examples of the work of master craftsmen such as Paul Storr and Fabergé. The collection is strong in presentation pieces, especially those from the period of the French Revolutionary/Napoleonic Wars, while notable later examples of presentation silver include a wine set presented in 1842 by the passengers of the Britannia Steamship, among them Charles Dickens, to Captain John Hewitt for a safe voyage.
Uniforms, clothing and textiles
The Royal Navy uniform collection is of national significance and contains over 7,500 items of regulation dress, ratings' clothing, ceremonial wear and accessories from the first Royal Naval uniform pattern of 1748 through to the twentieth century. Highlights include a captain's full-dress coat of the 1774 pattern and five of Horatio Nelson's coats, including the undress uniform in which he was fatally wounded. A notable recent acquisition is a rare, possibly unique, lieutenant's dress uniform, 1812-24 pattern, belonging to William Hicks who was a midshipman at Trafalgar.
Flags
There are some 1064 items in total. The collection includes a large collection of house flags (shipping companies); also flags from all continents, including examples from Imperial China and Africa. The collection includes flags captured by the Royal Navy from other European powers. Some of these are extremely rare, representing short-lived regimes. British flags include union flags, ensigns, heraldic standards and banners, sledge flags, flags of colonies and civil departments of state, with some yacht flags. The collection relates to the depiction of flag designs in oil paintings, prints and drawings, library and manuscripts. This is an internationally significant collection, particularly in the number of early sea flags, which is the best in the United Kingdom.
Coins and medals
The 2987 commemorative medals date from the Renaissance period onwards and mark maritime events throughout the world. The smaller collection of coins and trade tokens all have maritime associations or depictions, with the exception of material found on site at Greenwich. The earliest coins date from the ancient world. The importance of the awards, decorations and service medals relate to the personal bravery and significance of the recipients. Largely British, the collection nevertheless has international coverage.
Ship badges, heraldry and seal casts
The ship badges were mainly acquired during the post-war period, the majority being transferred by the Admiralty from Chatham Dockyard where the official badges were cast. The 912-strong collection of full-sized ships badges, tompions, boat badges and presentation badges includes both official examples of ship badges, introduced in 1919, and the unofficial ones that had been in use from about 1855.
Using our collections for research
The collections at Royal Museums Greenwich offer a world-class resource for researching maritime history, history of art, astronomy and time. Find out how you can use our collections for purposes of research.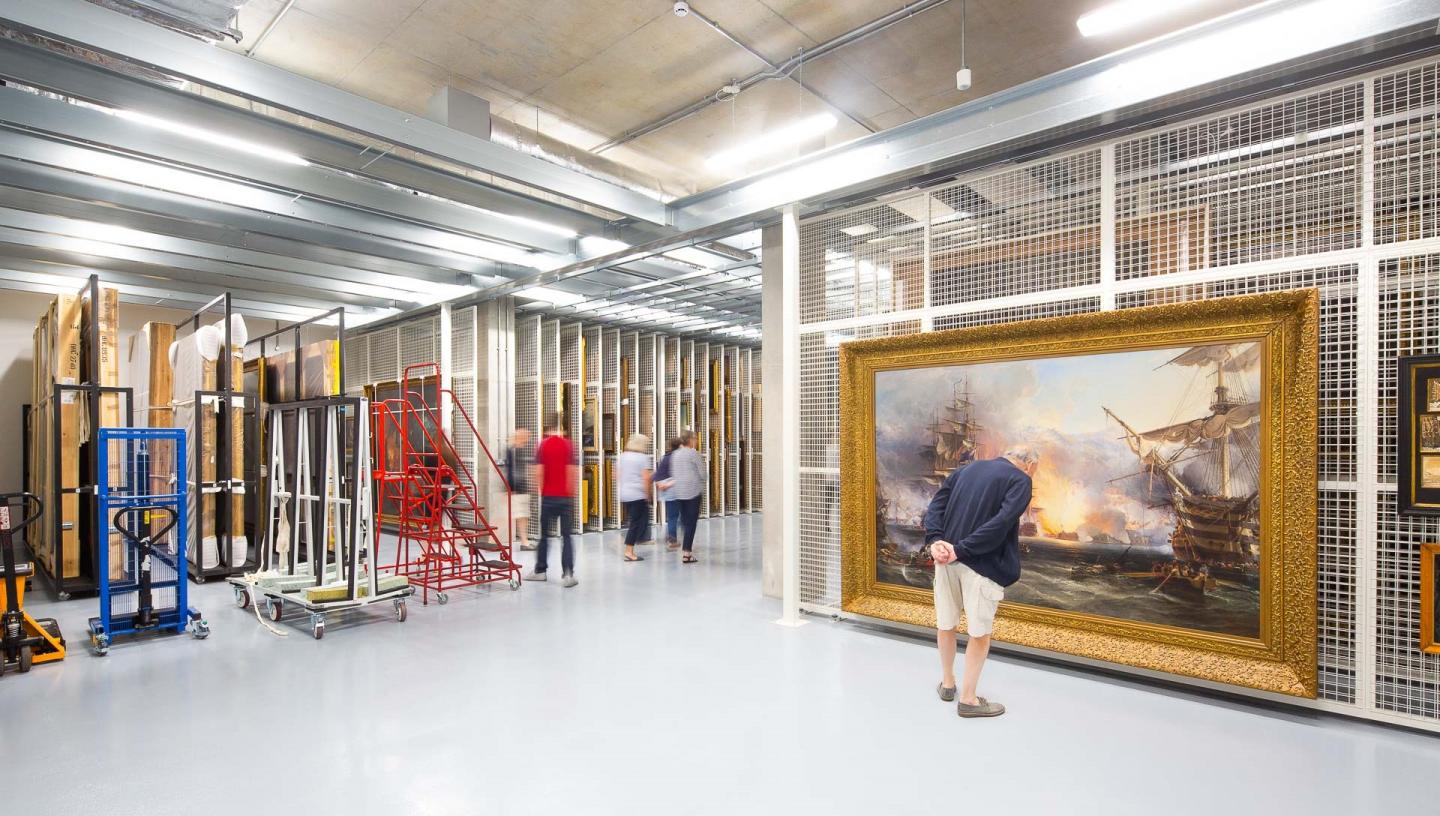 Explore our collections online
Search our digital database to find out more about our objects, paintings and archives