Royal Museums Greenwich holds one of the most significant art collections in Britain, including works by J.M.W. Turner, William Hodges, George Stubbs, Willem van de Veldes (Elder and Younger), Hans Holbein, William Hogarth and Thomas Gainsborough. 
Recognised as the finest collection of marine art in the world, our collection of fine art includes oil paintings, prints, drawings, portrait miniatures and sculpture. With around 70,000 works in total, many pieces are now on display in the Queen's House, England's first Classical building. Works on display throughout our other museums tell fascinating stories of the sea, ships, astronomy and time.
See great art on display in the Queen's House
Oil paintings
With around 4000 works, our collection of historical and contemporary oil paintings is one of the widest and most significant collections of marine art in the world.
Portraiture
Acquired to illustrate British royal, maritime and scientific history, portraiture in the collection includes monarchs, courtiers, merchant officers, naval pensioners, explorers and scientists. We hold examples of notable royal subjects, such as King Henry VIII, Elizabeth I and Philip II of Spain plus works by masters, including Robert Peake, Daniel Mytens, William Dobson, Peter Lely, Godfrey Kneller, William Hogarth, Thomas Gainsborough, Sir Joshua Reynolds, John Singleton Copley, Thomas Lawrence, William Beechey and William Orpen.
16th and 17th century Dutch and Flemish seascape painting
One of the most comprehensive collections of its kind, we hold over 400 works by 16th and 17th century Dutch and Flemish seascape painters. Works include battle scenes, ship portraits, naval parades, beaches, fishing, calms, storms and shipwrecks.
Internationally regarded items include pieces by the Willem van de Veldes (Elder and Younger), who lived and worked in our Queen's House, as well as Hendrick Cornelisz, Jan Porcellis, Simon de Vlieger, Abraham Storck, and Ludolf Backhuysen. The Dutch and Flemish collection also includes a small group of outstanding portraits by the likes of Ferdinand Bol, and a still life on a maritime theme by Edward Collier.
18th, 19th and 20th century British naval, travel and coastal subjects and seascapes
Notable paintings in our fine art collections include Greenwich Hospital from the north bank of the Thames, by Canaletto (1750-52), Kangaroo and Dingo by George Stubbs, works by artists William Hodges and John Webber, who accompanied Captain Cook on his second and third voyages to the Pacific, The Battle of the First of June 1794 by Philip de Loutherbourg (1795) and The Battle of Trafalgar by J.M.W. Turner (1822-24).
See Turner's Battle of Trafalgar gallery
19th century and 20th century paintings include ship portraits, coastal and river views, sea travel and seascapes by the likes of La Tangue, Edward Wadsworth, Alan Sorrell and L S Lowry. We also hold many works by war artists documenting naval life in the Second World War.
Contemporary art
Yinka Shonibare MBE's iconic sculpture, Nelson's Ship in a Bottle, stands proudly outside the Museum's Sammy Ofer Wing Entrance. A growing collection of fine art photography includes astronomical images by Turner Prize-winning artist Wolfgang Tillmans, Paul Duke's moving portraits from the fishing community of Moray Firth, and Tacita Dean's Teignmouth Electron series of work.
Contemporary art at the Queen's House
Prints and drawings
Our collection contains around 65,000 prints, drawings and watercolours ranging from the 16th to 21st century. Subjects include naval actions, portraits of people and ships, royal progresses, seaports, the history of Greenwich, Nelson and naval figures plus sketchbooks by naval artists and officers.
We hold around 1,500 works on paper by the Willem de Veldes (Elder and Younger), and large collections by James Gillray, John Brett, E W Cooke, James Tissot, James McNeill Whistler, W L Wyllie, John Everett. In addition there are preparatory drawings for the Painted Hall of the Greenwich Naval Hospital (now the Old Royal Naval College) by James Thornhill. 
Our holdings of war art also includes drawings and watercolours by the Wren Gladys Reed and the VAD naval nurse Rosemary Rutherford.
There is a huge collection of prints and materials and techniques of printmaking are represented by a small collection of original plates and of prints in successive states.
Portrait miniatures
Our collection of portrait miniatures contains around 250 items including outstanding examples from around 1540 to 1850 by Nicholas Hilliard, Samuel Cooper, Richard Cosway and Sir William Ross. Examples from the 18th and 19th century include those produced by professional and amateur artists, sets of naval wives and children, plus a few early 20th century examples, with one hand tinted photograph (c. 1900).
Sculpture
Our collections hold around 105 works. The strength of the collection is portraiture; in particular busts, statues and reliefs - we hold many near life size works.
We hold a series of sculptures depicting Vice-Admiral Horatio Nelson, including a life/death mask which offers a direct record of his head and face. Scientists connected with the history of the Royal Observatory are also present, including a stone version of Flamsteed, a Roubiliac terracotta of Sir Isaac Newton, plus two 17th century busts of Galileo and a wood carved relief of John Evelyn.
18th century works include three terracottas of Walter Raleigh, Francis Bacon and Cromwell (1750s) by Rysbrack, a marble bust of Admiral 'grog' Vernon, and a marble of the famous British architect, and designer of the Queen's House, Inigo Jones.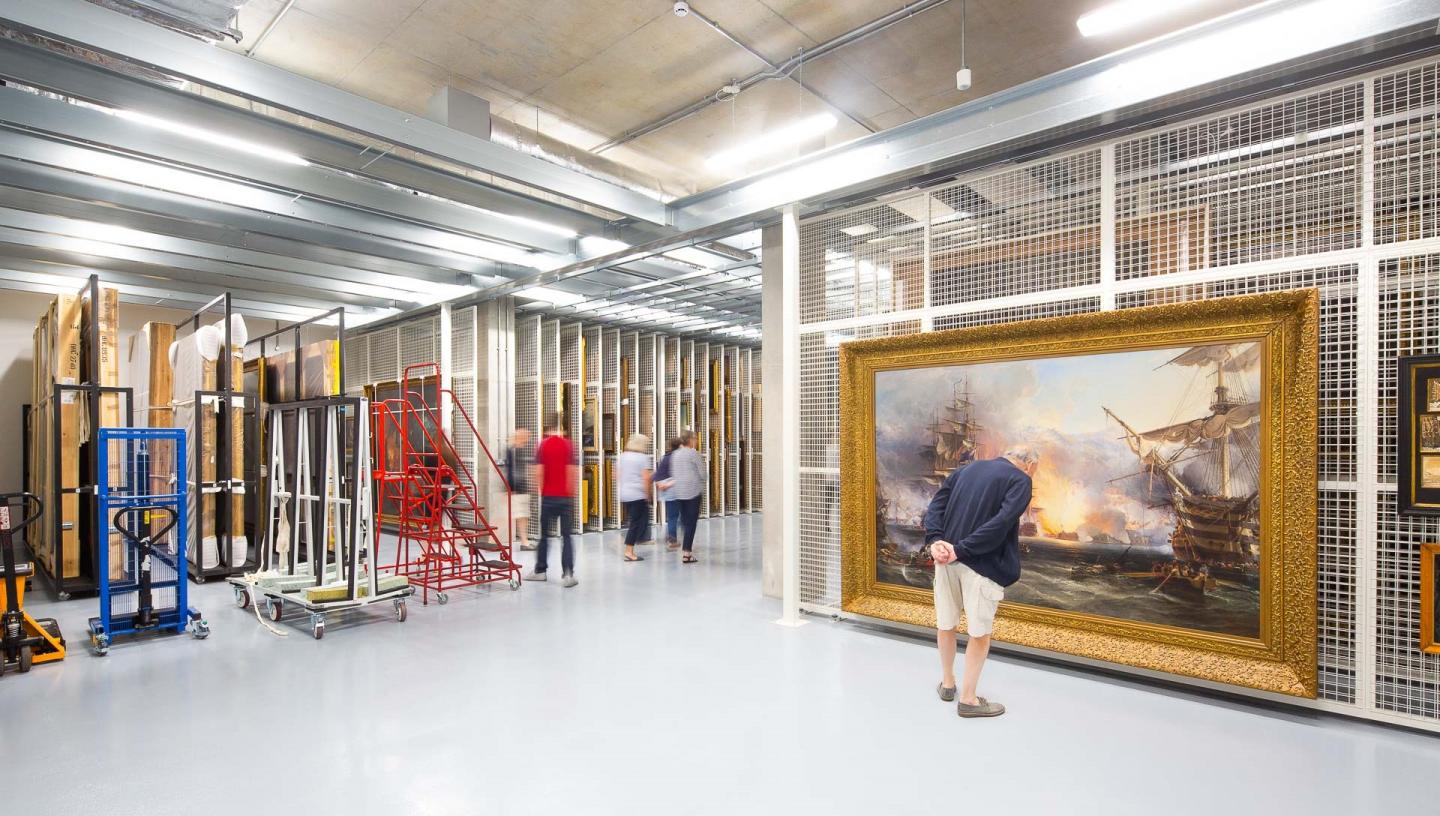 Explore our collections online
Search our digital database to find out more about our objects, paintings and archives