A special group of people from across the community have come together to organise a one-day festival. But who are they? And what was the result?
This year on Saturday the 7th of October the National Maritime Museum will be hosting its first ever Fun Palace!
'Submerged' is a community festival that celebrates art, science and all the skills and talent of our local community.
What makes this event extra-special is that it has been produced by a panel of eight Radical Fun Advisors. These are people from across our community with expertise in bringing people together in one form or another. They include festival organisers, a yoga teacher, a natural history curator, an LGBTQ+ history advocate, an environmentalist and a mental health practitioner. Think of them as an elite team of amazing people tasked with helping us build us a one-day festival.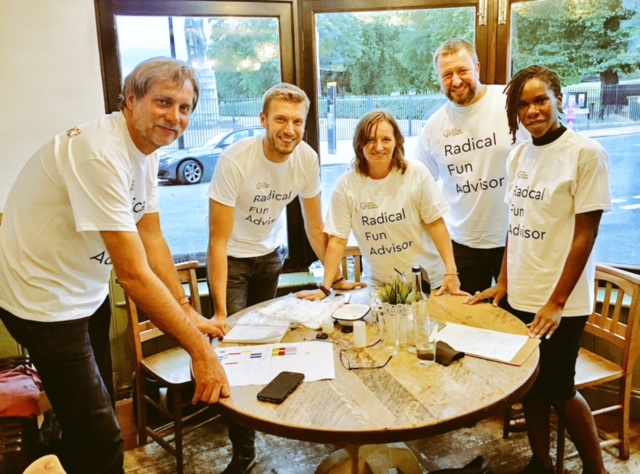 After a few meetings at a local pub in Greenwich they have been conspiring to create the biggest, weirdest, most indescribable event the Museum has ever hosted. So what exactly have these Radical Fun Advisors done?
Dan from V&A LGBT tours will be delivering storytelling and an alternative tour of our collections. He also introduced us to the amazing Olly Pike who will be reading his book on the day!
Miranda, from the Natural History Museum, is bringing her expertise in sea creatures to help deliver an amazing DIY coral reef with artist Alex Mckenzie.
Yoga teacher Amani, has linked us up with local youth groups and helped set the tone for the event so that it is full of movement and performance!
Tobin, Wyn and Lindsay have been championing science throughout. They invited our friends the Octonauts as well as linking us up with South London Samba and were the brains behind the underwater theme for the day!
AJ has brought his passion for ecology and the environment which can be seen in a number of our activities.
Finally the multi-talented Liz who is an artist and mental health advocate has helped keep our ideas for the day fun, accessible and interactive!
Find out who these amazing people are below (AND if you would like to be a Radical Fun Advisor next year get in touch through RMGenquiries@rmg.co.uk.
But to truly appreciate their hard work, see you at the National Maritime Museum on Saturday the 7th of October!
Meet the Radical Fun Advisors
Amani Eke
Amani is a yoga teacher to children, teens and adults. She founded Project Yogi in 2015 and decided to make it a not-for-profit organisation in 2016 in order to reach more children and families in need. Amani is a certified Egyptian Yoga instructor and has also trained with Youth Mindfulness, Teen Yoga UK and Kidding Around Yoga to gain more knowledge of teaching Yoga and Mindfulness to children and teenagers.
Project Yogi is a not-for-profit organisation that creates self-development and self-empowerment programmes using yoga, mindfulness and social emotional development activities. Their programmes, classes and workshops are designed for children, teenagers and families.
Amani has over 7 years of experience working with young people in education, as a mentor and as a tutor. She decided to set up Project Yogi to help teach young people the principles and practice of yoga and mindfulness, assisting them in combating some of the obstacles they may face on a daily basis.
AJ McConville
AJ is the joint co-ordinator of Thames River Watch, a project that is reconnecting Londoners with the Thames and training them to become it's custodians into the future. He has co-ordinated the Big Count events across London on the Thames which have highlighted the rising issues of plastic pollution to our iconic river and is developing a network of Thames Observatories – schools that use the river as a classroom and a source of inspiration for children.
Miranda Lowe
Miranda is a museum scientist and Principal Curator at the Natural History Museum, London. She is responsible for many historically important oceanographic specimens, including specimens from the Discovery and Challenger expeditions, and Charles Darwin's barnacles.
Her specialist area of interest is marine invertebrates especially Crustacea and Cnidaria. As a Fellow of the Royal Society of Biology she communicates her science, and has appeared on BBC Radio 4, BBC Four and CBBC. She is passionate about the role that art, science and museums play in our understanding of the natural world, and her favourite birds are puffins! Miranda was a finalist at the National Diversity Awards in the 'Positive Role Model Award for Race, Religion & Faith' category in 2013.
Dan Vo
Dan is a V&A ambassador and founded the permanent volunteer-led LGBTQ Tour at the museum. Dan promotes diversity, equality and inclusion in the UK museum sector as a Museums Association Transformer and Future Proof Museums Fellow of the AMA. Dan is director of Salon Outrē, a collective of LGBTQ / BAME dance, choral and spoken word performers presenting commissioned works at UK museums and galleries.
Tobin May, Wyn Griffiths and Dr Lindsay Keith
Lindsay and Wyn are the parents of the big chaotic disaster orientated SMASHfestUK Festival running in Deptford and across the U.K.. With the tagline 'A Festival. A Big Story. An ADVENTURE!' they have successfully hit the earth with an asteroid, disrupted all communications with a solar storm and destroyed Lewisham with a Super volcano. Scary people to be around! Using Science, Engineering and the Arts they, alongside their trusty side-kick Tobin and team, create big stories that look at solutions to survival challenges as a way to engage new audiences in STEM and the Arts education and careers. Is it possible to survive such disasters? And if not, do we have the resources to leave? The SMASHfestUK team, with experts from STEM, Arts, Media and Education are the perfect guides.
Liz Atkin
Liz is a visual artist based in London. Compulsive Skin Picking dominated her life for more than 20 years, but through a background in dance and theatre, she confronted the condition to harness creative repair and recovery. she creates intimate artworks, photographs and performances reimagining the body-focused repetitive behaviour of skin picking.
She is widely known for my #CompulsiveCharcoal series of free drawings on discarded newspapers for commuters on public transport around the world. She has created my free drawings in London, the New York Subway System, and Singapore's public transport system.