General Public to be able to Climb the Rigging at the Cutty Sark for the First Time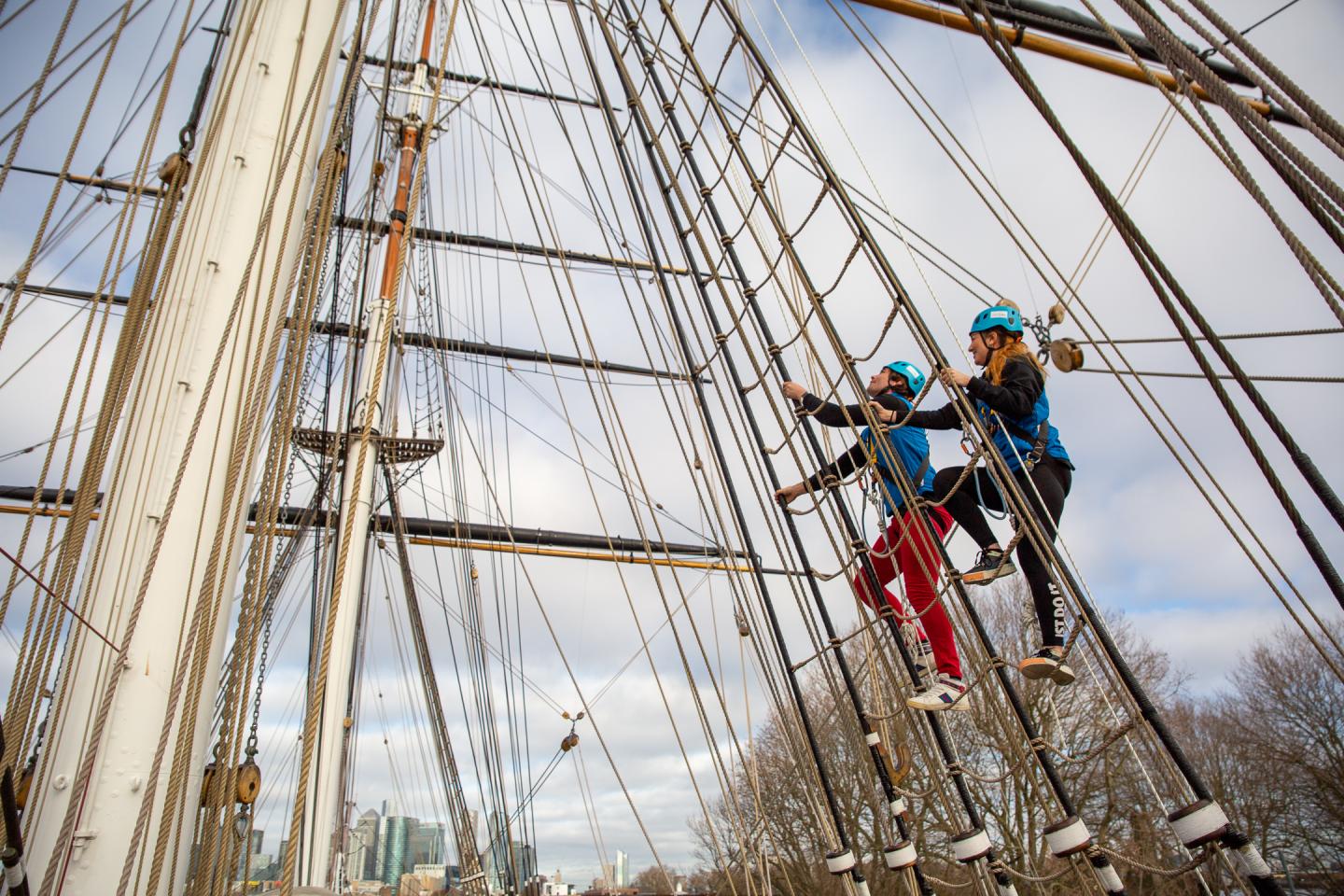 PRESS RELEASE
For the first time since arriving in Greenwich in 1954, visitors to Cutty Sark will be able to climb the famous masts.
'The Rig Climb Experience' will launch at the ship on 2 April 2022.  Starting with a briefing underneath the ship's beautiful hull, those that are brave enough to take on the challenge will step up from the main deck onto the ship's ratlines and climb up its shrouds, just as hundreds of sailors did during Cutty Sark's long and fabled career at sea.
Visitors will traverse one of the ship's lower yardarms before reaching the tops platform and taking in magnificent views, while standing amidst the rigging of a true London icon. Climbers will then experience something that not even the ship's crew did: a controlled descent from the rigging, down to street level aside the ship. This exhilarating end to the experience will provide a unique view of Cutty Sark and give participants something truly extraordinary.
Cutty Sark made its name as one of the fastest tea clippers of its day, and this was partly down to the modern engineering techniques behind the rigging. To help the ship reach speeds of 17 knots, Cutty Sark had over 11 miles of rigging, an original sail area of 32,000 sq. ft. across 32 sails, and a main mast standing at 152ft. By taking part in this new exhilarating new experience, visitors will be able to gain an insight into what life would have really been like at sea and hear tales from the crew about the treacherous conditions' sailors would have had to work in.
Emma Massoud, General Manager of Cutty Sark said "We're so pleased to be able to offer such an exciting and authentic experience at Cutty Sark. Now our visitors can get an insight into what it would have been like to be a sailor in the 1800's. It goes against all your survival instincts to be up that high but if you like an adrenaline rush and beautiful views, this is the experience for you. The sunsets from up on the rigging, with the red skies over London sites such as St Pauls Cathedral, Tower Bridge and The Shard, are truly spectacular."
There are two different experiences on offer at Cutty Sark: the Cutty Sark Rig Climb Experience and the Rig Climb Experience Plus.
Standard Rig Climb prices start from £41 for adults and £26 for children.

Plus prices start from £51 for adults and £36 for children.
These prices include general admission to Cutty Sark, meaning you can take part in the climb and explore the ship on the same day. Tickets also include all safety equipment and free storage of personal items.
Peak prices apply during weekends and school holidays.
The Cutty Sark is located in Cutty Sark gardens; a short walk away from Cutty Sark DLR and within walking distance of Royal Museums Greenwich's other sites, the National Maritime Museum, the Queen's House and Royal Observatory Greenwich.
Tickets go on sale at RMG.co.uk on 1 March 2022
ends
GENERAL INFORMATION
Cutty Sark reopened to the public in April 2012, marking a new chapter in the extraordinary life of the last surviving tea clipper and one of the world's most famous ships. Visitors to Cutty Sark can venture aboard and beneath the beautiful three-masted clipper: walk along the decks in the footsteps of the merchant seamen who sailed over a century ago; explore the hold where precious cargo was stored on epic voyages; and even walk underneath the 963-tonne ship in the dry berth below to view the elegant lines of the hull. 
Cutty Sark, National Maritime Museum, Royal Observatory Greenwich and Queen's House operate under the banner of Royal Museums Greenwich.
Cutty Sark is open 10.00 – 17.00, Monday – Sunday (subject to change please see website for details www.rmg.co.uk/cuttysark).
Royal Museums Greenwich members receive free entry to Cutty Sark among their membership benefits.  Admission to Cutty Sark is by ticket, available in advance online, by telephone or in person on the day.  Due to high demand tickets may be unavailable on the day to those who have not purchased their ticket in advance.  Tickets can be purchased online at www.rmg.co.uk/cuttysark or by calling the bookings line on 020 8312 6608.
Royal Museums Greenwich offers free admission to carers accompanying visitors with disabilities.
Cutty Sark is located a short walk from the Cutty Sark DLR, and Maze Hill and Greenwich train stations. The closest tube stations are North Greenwich (to change to local buses) and Canary Wharf (to change to DLR), both on the Jubilee line.
For details on National Maritime Museum and Royal Observatory Greenwich opening hours and admission visit the website www.rmg.co.uk.
-ends-
For further information of images please contact:
Royal Museums Greenwich Press Office
Tel: 020 8312 6545/6790
Email: Press@rmg.co.uk