Explore some of our best learning resources and activities for all ages from the comfort of your home. 
What do you want to do today?
Primary resources
Explore our collections to inspire stories of piracy, exploration and shipwrecks on the high seas.
Our Stories from the Sea resources were developed with writers and teachers and are suitable for children aged 3-11 years.
You'll find films, activities, resources and useful links - everything you need to create your own adventure story. 
Create your own adventure story
Our Cutty Sark Learning resources are designed with the help of teachers for primary school children. Activities include:
Writing a letter from ship to shore 
Keeping a ship's log
Designing your own figurehead
Practical science activities based on what makes the ship go.
Download your Cutty Sark activity pack
Secondary resources
The Armada Portrait of Elizabeth I is packed full of symbolism. 
Watch expert films and discover the meanings behind mermaids, ruffs and pelicans.
What symbols would you include in your own portrait?
Cut up the cards and learn more about Queen Elizabeth I.
The Armada Portrait Game 
Watch three films sharing local stories and using the National Maritime Museum and June Givanni Pan African Archives to explore ethnicity, identity and migration.
Each film has been produced and edited by local Young Volunteer Filmmakers aged 15-19 years old.
These are their stories, what are yours? 
Black history through art 
Poet Tatianna Ellis performs her powerful piece inspired by the biography of Olaudah Equiano - African, slave, author, abolitionist.
Learn what spoken word is and in three simple steps you can create your own.
Share your spoken word poems with us. 
All ages
Think you can do better? Have a go!
Colour in the Armada Portrait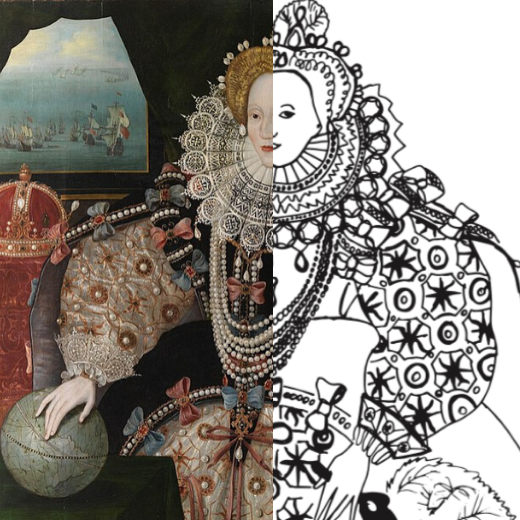 If you're missing our Coder Dojo sessions you can still get creative from home, and enter our competition, inspired by the Maiden. 
Other sites and topics
Journey into space
Discover learning resources and activities from the astronomy education team at the Royal Observatory.
Find out more about learning at home with the Royal Observatory